But the case isn't over, insists Marcus Ball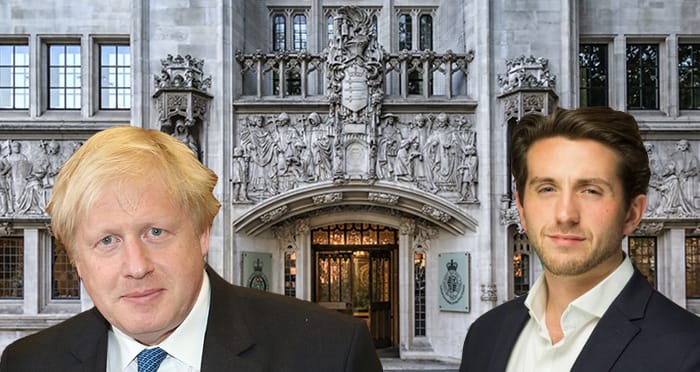 Crowdfunding campaigner Marcus Ball has lost a bid to take his private prosecution of Boris Johnson to the Supreme Court.
Twenty-nine-year-old Ball had applied for permission to appeal directly to the country's top bench after the High Court reversed an earlier decision to issue a summons against Johnson for allegedly lying to voters during the EU referendum campaign.
The highly unusual legal move focused on the eye-catching claim, repeated by Johnson, that "we [the UK] send the EU £350 million a week" in membership fees.
It has now emerged that Ball, who has raised more than £570,000 in crowdfunding over three years, has been unsuccessful in taking his legal fight to the Supreme Court.
Rejecting Ball's application, Lady Justice Rafferty, one of the two High Court judges who quashed the original decision, is reported to have said that the "problem of false statements in the course of political campaigning is not new", but that parliament had to enact law to deal with "certain false campaign statements which it considers an illegal practice". This, however, did not include false statements relating to publicly available statistics, she added.
Ball, who told Legal Cheek during an exclusive interview last month that the final failure of the case would see him "ruined" financially, now has the option to apply directly to the Supreme Court for permission.
Reacting to the High Court's decision, Ball said: "This isn't over, we are not giving up. We are pursuing it, absolutely."
Update: 13:08pm
Ball confirms he's "considering" a number of options including taking his case to the European Courts, appealing directly to the Supreme Court or "simply prosecuting him [Johnson] again in an attempt to force the courts to follow the law".
We are considering our options moving forward including taking this to the European Courts, appealing directly to the Supreme Court(the HC gave no reasoning when SC guidance requires they do) or simply prosecuting him again in an attempt to force the courts to follow the law.

— Marcus J Ball #BallVJohnson (@MarcusJBall) August 14, 2019