Scrapping of LPC, shift to apprenticeships and focus on tech prompt enthusiasm and anxiety in equal measure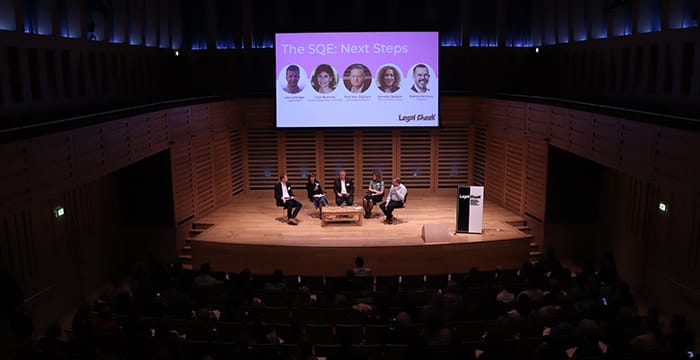 With just two years to go until the Solicitors Qualifying Exam (SQE) is introduced in place of the Legal Practice Course (LPC), amid similar changes at the bar aiming to make vocational legal education cheaper and more efficient, the profession is on the cusp of a new era for the training of its young.
Judging by the audience questions at last week's Legal Cheek Future of Legal Education and Training Conference, the transition to these new regimes is provoking a fair bit of anxiety. Chief among them is the fear that the SQE will lead to the formation of a "two-tier profession". In the elite tier, the theory goes, you'd have City law firm trainees who have been put through expensive, extended SQE-LLM courses; then in second class there'd be the students who do the exam via a combination of cheaper preparatory courses and on-the-job learning.
Will this vision come to pass? SQE architect Julie Brannan of the Solicitors Regulation Authority (SRA) is sceptical, arguing at the conference that the rigour of the centrally assessed SQE exam — which is expected to be harder to pass than the LPC — will actually improve standards. At the same time, Brannan believes that lower training costs associated with having part two of the SQE effectively taught on the job will boost access to the profession. Not that everyone will follow this approach.
For Patrick McCann, the global head of learning at magic circle firm Linklaters, the tricky thing with the SRA's vision of the SQE process is that it does not include any real element of tailored, practice-specific legal learning (eg as is what is currently the LPC) and that the assumption is that SQE2 (the skills part) will be taken during the qualifying work experience (QWE), with skills being learnt on the job, presumably taught by more senior lawyers. The challenge here is that lawyers aren't always great teachers, and even those who are tend to have very high hourly rates that would be better put towards fee-earning than teaching. As such he reckons it will be much more efficient to front-load parts one and two of the SQE before the training contract, and provide teaching by educational experts in an approach very similar to the current LPC.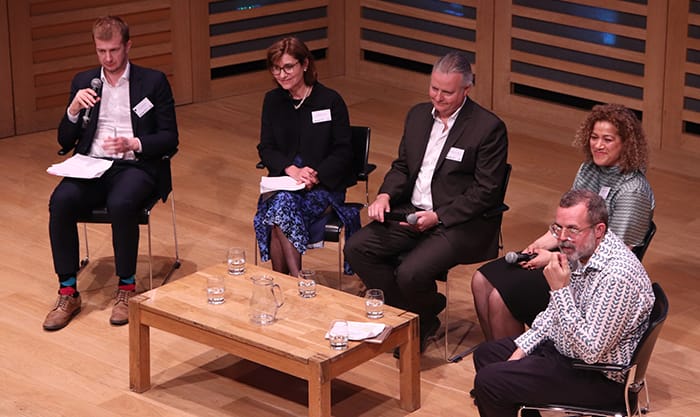 The challenge for the likes of The University of Law (ULaw), which trains Linklaters' future trainees and whose head of business development Morette Jackson joined McCann and Brannan on the panel, will be to come up with a variety of SQE courses to meet different needs. On one hand they'll need to suit City law firms' requirements; on the other they must also cater to students taking new routes into the profession — such as ULaw's legal apprenticeship and two year LLB — who may be more likely to join smaller firms where on the job training is blended with the SQE. Jackson said:
"The University of Law is designing a range of innovative programmes to prepare aspiring lawyers both for the SQE and for the realities of modern legal practice. Whether students are interested in specialist programmes for global law firms, pathways for those wanting to qualify into specialist areas of practice or flexible programmes to combine work and study at the same time, the university's programmes will ensure a smooth transition into legal practice."
But the introduction of the SQE isn't just about reimagining vocational training structures, it's also an opportunity to rethink the substantive content of preparation courses. For example, BPP University Law School is keenly focused on law firms' growing interest in technology, and is working to incorporate legal tech training into its soon to be released extended SQE masters programmes, which it runs in partnership with a host of leading global law firms. BPP head of development (innovation technology) Adam Curphey said:
"The legal team of the future is one where lawyers work closely with wider specialised teams to provide the best and most innovative services to clients. At BPP, we are training future solicitors to develop a toolkit of skills that will allow them to understand the fundamentals of project management, process mapping, legal design, risk management, business finance and strategy, data and, of course, legal technology. Nobody knows what the future holds, and we believe we are equipping our students with a strong foundation to adapt to any advancement or innovation, whether that be technological, process-driven, or organisational."
Already there is movement in this space at undergraduate level, with York University recently announcing a tie-up between its law and computer science departments, and Norton Rose Fulbright. Manchester University has been operating something similar in a pioneering partnership with Freshfields and DWF. Key figures in both ventures joined Curphey on stage at the conference, while later in the day delegates heard from keynote speaker Professor Richard Susskind, who expects the coming together of law and technology to transform the legal profession over the next decade.
For LexisNexis, one of the premeninent global legal tech companies, this theme is a constant. Its director of global solutions, Dani McCormick, told the conference:
"At LexisNexis we recognise two big themes that are going to become more and more prevalent moving forward in the delivery of legal services. These are, the fusion of non-legal professionals working with lawyers to deliver services as the product portfolio expands to include project management and legal tech consulting as well as legal advice. The second, but related theme is the disintegration of the value chain allowing outsourcing and automation where possible. To cater for this LexisNexis is working in collaboration with legal professionals to create a new generation of analytics and workflow tools that help support lawyers to become more efficient, improve quality of the work they produce and offer undiscovered insight."
Legal tech offers a particularly good opportunity for academics specialising in clinical legal education to design new courses for digital natives drawn to the intersection between law, technology and practice — even where they have no specific science training. During the afternoon session of the conference, Richard Seabrook, the Europe managing director of Neota Logic and London South Bank University head of law Professor Andy Unger gave details about their partnership in this space. Seabrook said:
"Legal tech opens up new possibilities in clinical legal education by exposing students to the potential for digital technology to transform the delivery of legal services and at the same time delivering actual, measurable results in the clinics through such resources as free online legal advice apps."
Meanwhile, Laura Pinkney, the head of the Legal Advice Centre at Nottingham Law School, which is one of the UK's first ever teaching law firms, gave her perspective on the wider clinical legal education model. She said:
"Opportunities offered to students in a teaching law firm, such as ours, give them a huge advantage over their peers, with the evidence showing that they perform better in their degrees and have greater graduate prospects. Together with vital technical and practical skills, it helps to build their confidence and resilience and gives them a competitive edge in applications and interviews. The regulated environment teaches professionalism and accountability and enables our students to experience litigation and advocacy, which is rare in a university law centre setting. Importantly, the students gain a real sense of pride and achievement by providing access to justice to those in need."
Another area where the current shake-up of legal education could yield improvements is around the until-recently taboo topic of mental health — long an Achilles heel of a profession that is notorious for its high stress levels. During the afternoon session of the Conference a panel of top academics and lawyers from Freshfields, Macfarlanes and Hardwicke argued for greater openness around wellbeing at the junior end of the profession. Hardwicke joint head of chambers PJ Kirby QC, who sits on his set's pupillage committee, said:
"Being more open, understanding and supportive of those — and there are many — with mental health issues is essential if we are to ensure both the bar and the solicitors side of the profession are open to all and are enabling each of us to work to the best of our ability and develop to our full potential."
Also representing the bar at the Conference was Cornerstone Barristers' public law specialist Andrew Lane, who gave his take on the coming changes to barrister training — which like the SQE will see students given the option to do the course in two parts. Lane said:
"The dichotomy between needing to open up access to the bar to a more diverse input, not least in the socio-economic field, and improving the prospects for pupillage is one that has to be addressed. There is not just one answer to this but a reduction in course costs, more and better publicised "scholarship" awards from the Inns and others, and greater access to understanding the reality of life at the junior bar are three areas that would go some way to improve the route into pupillage for many would-be applicants."
As the biggest changes to legal education draw closer, and regulators' put the finishing touches to course requirements as law firms and chambers scramble to ready themselves in time, it is set to be a busy year. No doubt there will be lots to talk about next year at The Future of Legal Education and Training Conference 2020.