Mayumi 'Maz' Pacheco graduated from Sheffield Uni this summer, just days after joining the Hammers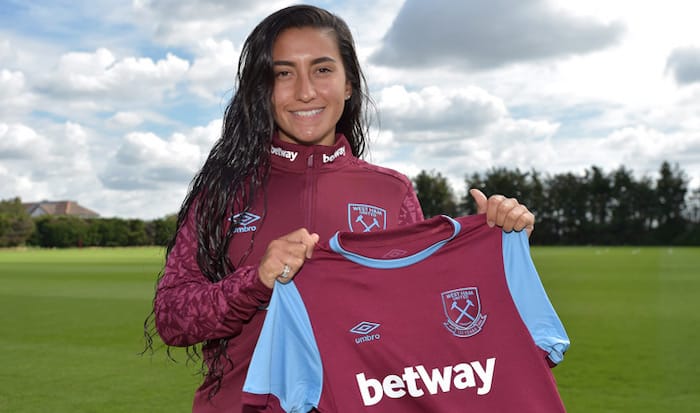 West Ham United signed a Sheffield University law graduate this summer who has revealed ambitions to launch her own law firm.
Mayumi 'Maz' Pacheco, 22, graduated just 11 days after signing to Women's Super League (WSL) club West Ham United. The left-back moved to Hammers after two seasons with Reading.
"I wanted to do my family proud and show them that I could get an education and play football at the same time," Pacheco reflected in an interview with Forbes today, adding:
"For me, the biggest aim and my ambition, obviously after football, is to own my own law firm so that's the journey I want to carry on with. I am quite fortunate that I can balance it with football."
We are delighted to announce the signing of defender @MazPacheco ⚒#WelcomeMazhttps://t.co/oytCAjFUO3

— West Ham United Women (@westhamwomen) July 10, 2020
Born in Ormskirk, West Lancashire, Pacheco spent her formative years as a footballer with Liverpool, where she was handed her WSL debut as a 16-year-old in 2015. She joined Doncaster Rovers Belles in Yorkshire on loan in 2016, which led to a permanent posting in 2017, the same year she started at nearby Sheffield Uni as an undergrad.
"[W]hile I was at Doncaster, I was pretty much in [university] every day, which was fine because we trained in the afternoon so it kind of worked out well," she said.
A transfer to Reading followed for the then 19-year-old in 2018, and she found herself having to commute throughout the final two years of her degree.
"I had to move down south. I spent two years studying away, which was really hard because I had to travel on my off days. I'd drive three and a half hours on Monday and Friday, stay in class from 9-5 and then drive all the way back to Reading ready for training the next day," she said. "It was hard to balance because I'd train and then have to get back from training to my normal five-hour day of studying in my room but I know it was worth it in the end because it's something I can now say I've got. It's definitely worth all the graft and worth all the struggles that I had to go through."
So it's official….I have a law degree! 3 years of graft has finally paid off ?

— Maz Pacheco. (@MazPacheco) July 21, 2020
The Irons are pushing for the top three places after finishing eighth last season as this will guarantee qualification to the UEFA Women's Champions League. "I want to be playing in Champions League games and competing for all the big trophies," said Pacheco, who will play in Claret and Blue for the first time when the league recommences later this month.