6 easy ways wannabe lawyers can ace their vac scheme video interviews
As demonstrated through TikToks 🎶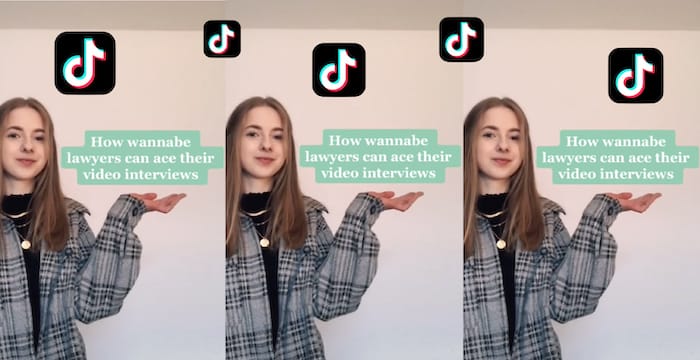 Well done everyone, we made it through January.
No more feeling guilty about sheepishly abandoning your resolutions two weeks in; no more more umms and ahhs about whether it's still appropriate to begin emails with 'Happy New Year'; and, for aspiring lawyers, no more frantically filling out vac scheme applications before the January deadlines.
But for those that make it past the initial application stages, now comes the tough part: video interviews. With that in mind, here are six easy ways you can ace virtual vac scheme interviews — with a little help from TikTok (because, why not?)
1. Make virtual eye contact
Lift up your laptop to leave a good first impression.
2. Research, research, research
Want to woo an employer? Follow this basic, but critical tip.
3. Have your hot topics to hand
Brush-up on the latest business news and big commercial themes.
4. Shine with the STAR method
Add some sparkle into your answers with the classic STAR technique.
5. Set-up your interview space
If you're struggling to concentrate at home, here are some practical steps to get in the zone.
6. One-way interview? Don't panic
Here's how to prepare for a pre-recorded interview.
You can find Legal Cheek on TikTok, at @legalcheek. Watch our latest clips and don't forget to give us a cheeky follow.