Meet the duo repping City law in music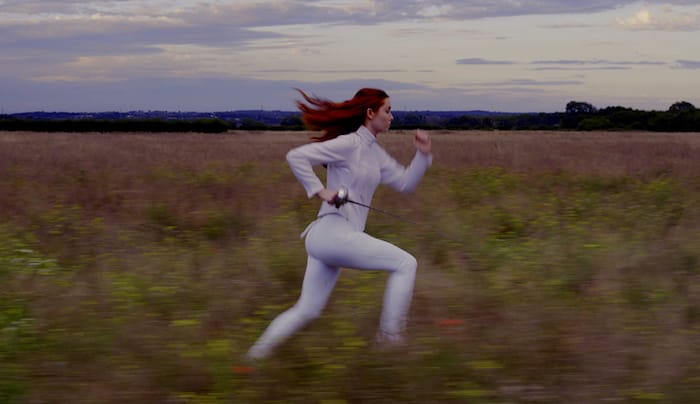 An employee at RPC has scooped the award for best music video at this year's British Independent Film Festival for her single How Much Sadness Can You Swallow?
Maya Whatton, who goes by the name Maya Yenn when she's performing her alt-pop music rather than working in the marketing department at RPC, collaborated with Taylor Wessing media exec James Langley to produce the award-winning music video with "no budget".
"Shooting the video across Derbyshire, Cheshire and Crosby Beach in Liverpool took two months in total and it took a further 3 months for the post-production. All the VFX work was done by one guy!", says Maya acknowledging Langley's contribution to the visual effects.
The video follows a woman dressed in a fencing outfit as she charges through the English countryside in pursuit of a mysterious object that has crash-landed on earth. Whatton explains, "I had this image of a woman with a sword trying to fight an alien invasion where the aliens have some kind of psionic powers and can distort your reality or wipe your memories".
The mysterious object is eventually revealed as being an ethereal diamond created by Langley's captivating visual effects. Whatton's creative inspirations are derived from contemporary allegorical horror and sci-fi with references to the films Melancholia (2011), Arrival (2017) and Annihilation (2018).
"There's something so beautiful about the sci-fi genre. It has this uncanny ability to pull our own humanity into sharp focus in this icy, delicate way like no other genre can. I really wanted to get that right with the video so even though it took some time I can only hope it's worth the wait", she details.
This is not the first taste of fame for the digital marketing guru, who caught the attention of TikTok users with her inventive beats using samples from everyday sounds and household objects.
After dropping her debut tiptoe, Maya is "so happy" with the success of her sophomore single's music video, as are her employers.
RPC's director of brand, marketing & sales Ed Fitzgerald said:
"The reaction internally to Maya's win has been brilliant. The story on our intranet has gone viral, in relative terms at least. Her talent speaks for itself, of course, but what also looms large are her commitment and hard work in chasing her dreams. We're all so pleased for her that she's getting this kind of well-deserved recognition, not least as she just an all-round lovely person."