Blackstone barrister's star status among Sky Blues fans hits new highs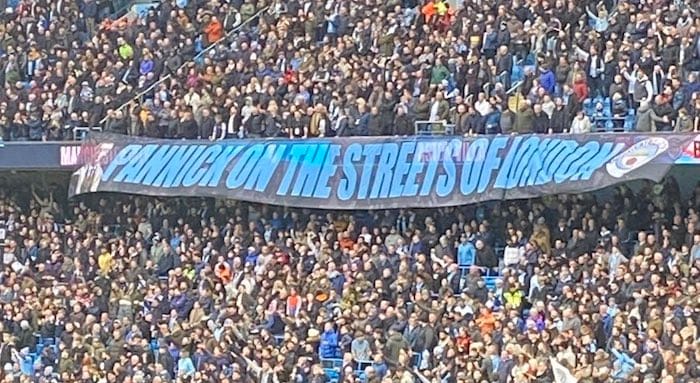 Lord Pannick KC's newfound celebrity status among Manchester City fans reached new highs yesterday when a huge banner was displayed in his honour ahead of their clash with Aston Villa.
The eye-catching tribute from fans comes as the top Blackstone Chambers silk prepares to defend more than 100 charges relating to financial fair play rules brought against the club by the Premier League.
Not many barristers get their name on a banner. Lord Pannick KC unlocking new levels of success at the Bar! pic.twitter.com/5wg4iVgpXO

— Douglas Lloyd (@DouglasLloydUK) February 12, 2023
In scenes normally reserved for the club's talent on the pitch, the enormous banner read: "Pannick on the streets of London" alongside the club's crest and an image of the leading lawyer himself.
The tribute sparked a mixed response from lawyers on Twitter. "When football fans are celebrating the club's lawyer, it's probably not a sign that everything is going well," wrote fellow barrister Douglas Lloyd. Meanwhile, Doughty Street's Adam Wagner wrote simply: "OMG".
Pannick, a constitutional law expert, famously represented Gina Miller both when she forced parliament to legislate before Article 50 could be invoked and when she challenged Boris Johnson's plans to prorogue parliament in the run-up to Brexit. More recently, the top lawyer was hired by the government to examine a Commons committee's approach to the inquiry into 'Partygate'.
If you're more interested in what's happening on the pitch rather than off it — Man City went on to win the game 3-1.