On voluntary basis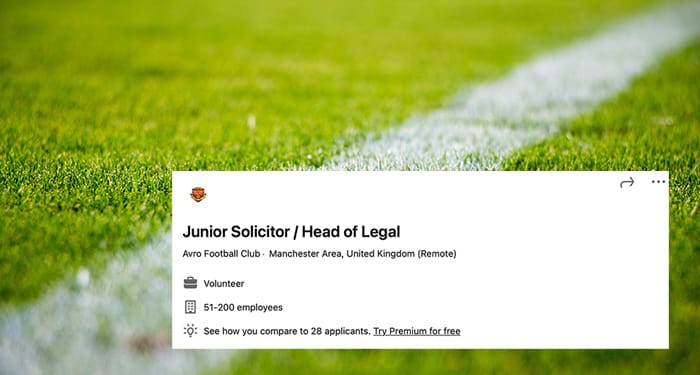 Aspiring lawyers seeking to take their first tentative steps on the career ladder may wish to consider this new opportunity courtesy of Avro Football Club.
The Oldham-based semi-pro side is seeking a "trainee/student or experienced individual" for the newly-created role of "Junior Solicitor / Head of Legal", according to a job ad shared to LinkedIn.
The post goes on to say that the successful candidate — who at least in theory could still be grappling with the SQE — will provide "key legal and regulatory support" to staff in different areas of the club.
Responsibilities for the fresh-faced legal eagle include: "Assisting in the drafting, review, and negotiation of Commercial and Partnership Agreements", "Drafting and enforcement of Rules and Regulations and/or Terms & Conditions" and "Drafting policies and procedures for different areas across the business".
The role would suit an "experienced individual" looking to support a football club or "student/trainee solicitor looking for experience within the field".
The ad states that although the role is voluntary, "reasonable and agreed expenses will be paid".
Check it out in full here.