Projects message on High Court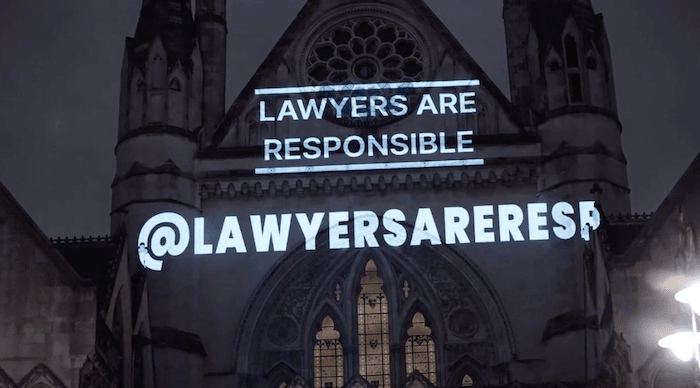 A group of eco-minded lawyers is pushing ahead with plans not to act for companies supporting new fossil fuel projects or to prosecute peaceful climate change protesters, despite the move attracting criticism from some sections of the legal profession.
Lawyers are Responsible today issued a "declaration of conscience" outside London's Royal Courts of Justice as part of a peaceful demonstration led by psychoanalyst and author Anouchka Grose.
Legal Cheek reported over the weekend that 140 lawyers had signed the declaration which the group says is prompted by the legal profession's "service of the fossil fuel industry".
News of the letter late last week triggered a heated debate across social media, with some lawyers warning that the move would be in breach of the 'cab rank rule', a barrister's professional obligation to represent everyone.
As part of today's official launch, the group released a video of their message being projected onto the Royal Courts of Justice. You can watch the clip below.
Lawyers Are Responsible. What will you do?
Royal Courts of Justice, Londonhttps://t.co/oY3NTgJd6F pic.twitter.com/CrS9Br14qZ

— LawyersAreResponsible (@LawyersAreResp) March 29, 2023
Lawyers are Responsible features some big legal names including Jolyon Maugham KC, Professor Leslie Thomas KC and Paul Powlesland. You may recognise that last name from Legal Cheek's recent coverage of his stand-off with Northamptonshire police during a protest against tree-felling.
Commenting on the launch, Jodie Blackstock, a barrister at Garden Court Chambers who has signed the declaration, commented:
"As a barrister committed to access to justice throughout my career, I have signed the Declaration because humanity has reached a point from which there is no return. Colleagues brokering these deals need to be aware of the consequences. The Rule of Law promotes and protects the rights of the marginalised. It is subverted when those causing the harm go unchallenged but those raising the alarm are criminalised."
---
Further reading: Cab rank rule row rocks the Bar [Legal Cheek]