Akhmed Yakoob tells Legal Cheek how he cultivated his online following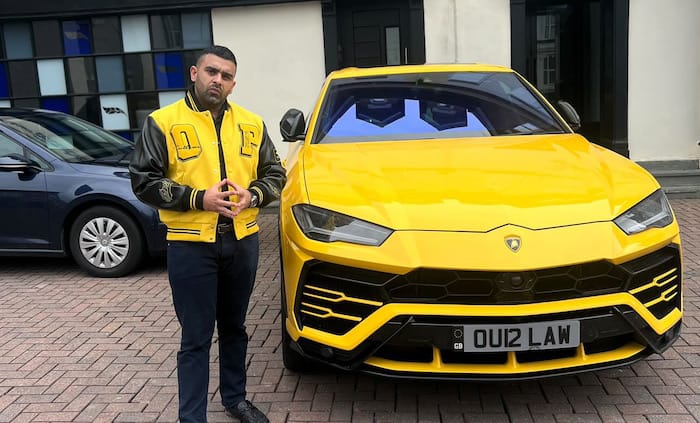 Lambo-driving lawyer Akhmed Yakoob is the latest lawfluencer on our radar, educating the masses on TikTok about law and crime.
Yakoob, a criminal defence solicitor, has amassed a strong 105,000 following on the popular video-sharing app, plus over 1.3 million likes since he set-up his account in October 2020.
He says his following grew substantially when he started posting at least once a day towards the end of last year, telling us his main driver is to have "more people educated and less people convicted".
His videos feature motivational advice ("get comfortable being uncomfortable"), interesting cases he's worked on, as well as criminal law insights such as what to do if you're caught with cannabis and what not to do when pulled over by the police. His snappy vids often end with his catchphrase, "there's a defence for every offence".
In one video he recalls working on a murder case at the Old Bailey. In another, he recounts successfully defending two clients charged with conspiracy to supply class A drugs.
In several of his videos Yakoob, a serious crime specialist of over 15 years, is seen driving a £200,000 yellow Lamborghini Urus, one of two he owns, with the personalised number plate '0U12 LAW'.
Some of his videos are just for laughs, and in one video (below), he contrasts what people think it's like being a lawyer (this time driving a Ferrari) versus what he actually gets up to (paperwork, reading and answering the phone to "constant new clients").
Yakoob is the director of Maurice Andrews Solicitors, a criminal law practice in Birmingham founded in 1988. He took over in 2016 and claims to have propelled the business to "making millions". The firm specialises in areas including drugs, murder, terrorism and serious fraud.
"What inspired me to be a lawyer was when I was 16 years old one of my close mates was arrested for attempted murder, and I believe he was innocent of that," he shares in another TikTok. "However, he still ended up doing nine years in prison." The British Pakistani practising Muslim then went to college and though his grades weren't "up to the standard to get me into a university" through the help of a tutor he was able to secure a place to study law at Wolverhampton University, graduating in 2010.
After completing the Legal Practice Course at The University of Law in Birmingham, he goes on to explain in a video uploaded to YouTube, where he is also active and has over 180,000 views, he struggled to find a job. His dad eventually stepped in, took him to a law firm and said, "you don't need to pay him, keep him, teach him what he needs to learn". He worked there for two years, before moving to his present firm.
Yakoob credits working for free, often from 5am until 10pm and making as many connections in his starting years as the drivers contributing to his success. "Hard work puts you where good luck can find you," he says. "When you're young, you work to learn, you will earn later, and so any experience you can get, just grab it with both hands because some opportunities will come to you and they will be guised as free work, early mornings, late nights, you just have to keep going — with that kind of attitude you can succeed in any area of life."
Did you know Legal Cheek is also on TikTok? Give us a cheeky follow — @legalcheek.