Living walls, solar panels, bug hotels and more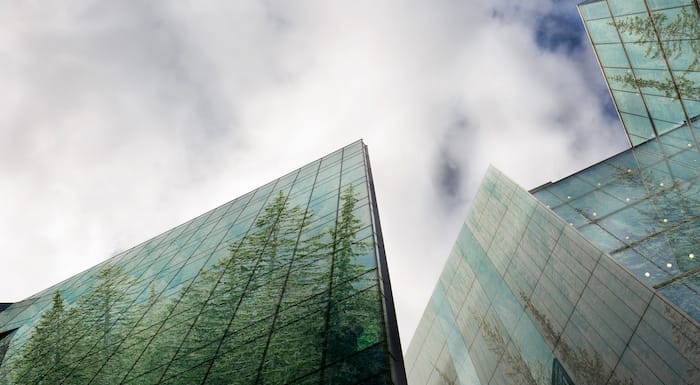 From moss walls to carbon-capturing cladding, sustainable offices are all the rage at the moment and Hill Dickinson just became the latest firm to secure greener pastures.
The outfit's Leeds operations team are set to move to a new development at 11 Wellington Place, which is touted as "one of the most sustainable office developments in Yorkshire". The 'smart building' allows real-time monitoring of air quality and generates its own electricity through nearly 8,000 sqft of solar panels.
Tas Quayum, chief operating officer at Hill Dickinson, commented:
"11 Wellington Place marks a key milestone for our Leeds team and clients. It is a vibrant city with one of the fastest-growing economies in the UK, and we see it as an important part of the future growth of Hill Dickinson. We are looking forward to being in the space with our team and clients later this year and celebrating this next step of our journey within the city."
And the firm is not the only one to secure more eco-friendly digs. Again in Leeds, Reed Smith recently revealed plans to relocate its support hub to a new eco-conscious development which promises to cut energy consumption to 27% below the average. Elsewhere, TLT's Manchester team is planning a summer 2024 move to the Eden building in Salford, where more than 350,000 plants, alongside bird boxes and "bug hotels" are being incorporated into the design in an attempt to deliver a 174% net gain in the biodiversity of the area.
In London, Allen & Overy (soon to be A&O Shearman if partners agree) will make the switch to a new "environmentally friendly" office in the City by early 2027. The new residence at 2 Broadgate is part of the firm's commitment to reduce carbon emissions by 50% by 2030.
Meanwhile, Taylor Wessing opted to undertake a major office refurb on its current space at 5 New Street Square. The firm made the decision to "retain and repair… rather than replace", as part of its efforts to become more sustainable.
Osborne Clarke also recently moved its flagship Bristol office to a new low-carbon complex called the Halo building. The new digs are spread across the top five floors of the building and feature indoor gardens and living walls.