From grizzly bears to wildfires, former Akin associate Nick Avis tells Legal Cheek what it's like to leave your high-paying job to embark on the adventure of a lifetime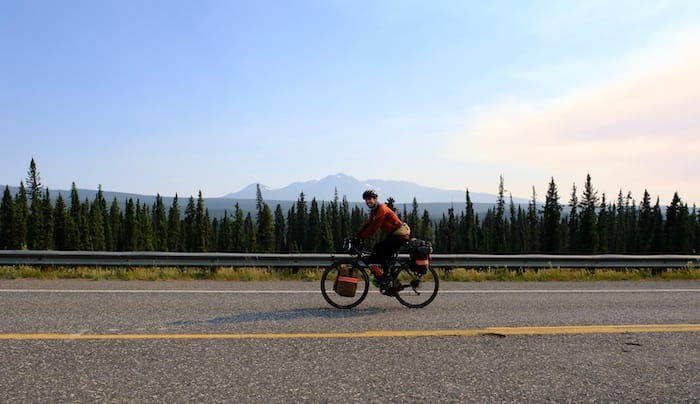 Nick Avis, a former financial restructuring lawyer in Akin's London office, quit his job to pursue his dream of cycling all the way through North and South America — and raising money for charity in the process.
The epic 14,000 km journey will take him from his starting point of Tuktoyaktuk, a hamlet on the Arctic Ocean and the most northern point in Canada accessible by public roads, to Ushuaia (Argentina) at the southernmost tip of South America.
When Legal Cheek caught up with Avis (he finally had phone signal!), the cycling enthusiast had already reached the interior of British Columbia, some 2,000 km into his ride. His stretch on the Dempster Highway — often considered Canada's more challenging highway to traverse by vehicle, let alone by bicycle — is thought to be the fastest bicycle trip on the Dempster Highway to date, and has been submitted to be recognised as a world record.
Where did the idea come from, is this something you have always dreamt of?
A few years ago, I read a mémoire by an American lawyer who cycled from Oregon, USA, to Terra del Fuego, Argentina ("To Shake the Sleeping Self" by Jedidiah Jenkins). His story planted a seed; since then, I've wanted to go on a similar trip — but I've always dismissed such desires as infeasible and unpractical.
Beginning in 2023, however, I started to think more seriously about a long-distance bike tour. I was entering my 30th year at this point, and realised that, since university, my life had been dedicated to building myself professionally while pushing aside many personal goals. Being a lawyer, after all, is a highly demanding profession; it can be hard to find the time to accomplish personal objectives.
I knew that I would like a long-distance bike tour (I've done some I the past and loved them), but was it worth quitting my job to ride my bike? I pondered this question for a long time, but ultimately answered it in the positive. I was young, healthy, dependent-free, and had roughly five years of legal practice under my belt. If I delayed any further, these factors could easily change and make such a trip impossible. Now was the time to bike.
My initial plan was to ride Canada to Argentina. But the more I trip planned, the more I realised that I really wanted to see Canada, my home country. Soon, I was plotting a route from coast-to-coast-to-coast, telling myself that if I still loved biking by the time I reached Canada's Atlantic coast, then I could turn south and travel to Argentina.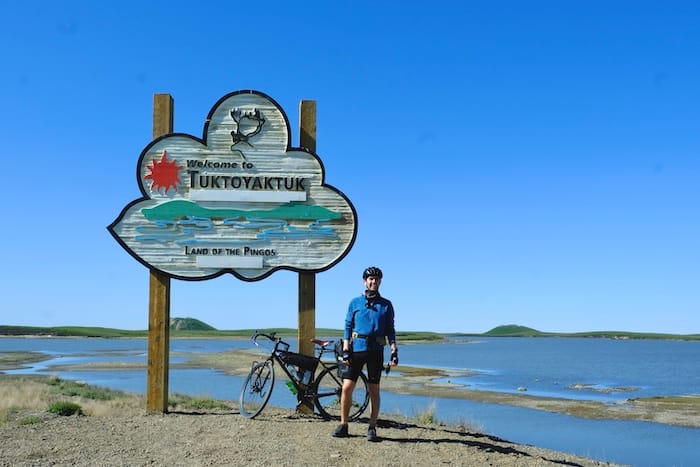 Could you tell us more about the RAVEN Trust, why did you choose this charity?
RAVEN is a legal defence fund that partners with Indigenous Nations across Canada to raise money to help them uphold Indigenous rights and protect their traditional territories through the justice system.
RAVEN's mission is important because Canada has an on-going history of infringing and encroaching on Indigenous rights — a history shared by the United Kingdom given its colonial links to Canada.
Indigenous Peoples often have few options but to enforce their rights by engaging in protracted litigation with Canada's federal, provincial and territorial governments and businesses.
My brother, who works in Indigenous land planning, first introduced me to RAVEN. He rightly thought that this would be an organisation that fit my world view. As a lawyer, I am all too aware of how challenging it can be to access justice. Access to justice is often contingent on access to resources, and in particular access to money. RAVEN works to remove those financial barriers to justice so that Indigenous Nations' can pursue legal claims and defences.
The benefits of honouring Indigenous rights are wide-reaching and impact each of us, like protecting the health of the water, maintaining clear air, and saving important ecosystems and species. RAVEN is funding cases that, amongst other things, press for climate justice, push back against environmental racism, preserve unspoiled natural areas, protect treaty rights, and support Indigenous communities. These are all causes that I want to support and bring attention to in the legal community.
My goal is to raise one canadian dollar for each kilometre that I'm biking. Using some dubious lawyer math, I took the liberty of rounding up and set my total goal at C$15,000 (£8,700). I've raised over C$4,000 (£2,300) so far and am optimistic that I'll reach my goal in the coming months. Every little bit helps (and motivates me to keep riding)!
What previous cycling experience do you have? Have you ever attempted anything like this before?
I've been biking since childhood, although I only got into bikepacking (i.e. minimalistic bike touring on rugged routes) while studying at law school. My first big trip was from Ottawa (Canada's capital city in the centre of the country) to Halifax, Nova Scotia (on Canada's Atlantic coast). That ride was approximately 1,400 km spread over twelve days. I loved it and finished it wanting more.
My next big trip was between my training contract and starting as an associate. During my time off, I bicycled the Great Divide Trail. This trip went from the north of Mexico to Canada — it was 4,200km atop the Rocky Mountains, spread out over 21 days. It was gruelling experience, but equally rewarding.
I've also put in many thousands of kilometres on the Eurovelo routes running across Europe — they're much more relaxing than the North American bike routes!
Has the first leg of your journey been what you expected?
I've now past the 2,000 km mark of my journey. Every day has been full of adventure and surprise. Most of the trip has not aligned with my expectations, but then again there are so many variables involved in a trip of this size that expectations don't really mean much.
The weather, for example, has surprised me. I packed cold-weather gear for the Arctic portion of my ride, but was instead met with 30°C and a fierce 24-hour sun (in the Arctic, the sun doesn't set in the summer). Colder weather, however, set in once I got further south. I miss the warm Arctic Circle weather!
One of my worst fears was realised shortly after I crossed the border from Yukon into British Columbia: wildfires. Canada has experienced a record-breaking number of wildfires this year, and unfortunately one popped up less than a kilometre away from a road I was riding. The ash-filled smoke severely impacted visibility and breathing. Thankfully, I had an FFP respirator on-hand to protect my lungs; I had to wear it for over 100km as I travelled through the smoke.
I've been surprised by how well my legs have held up. I've been riding anywhere from 100 to 200 km per day, averaging around 140 km per day. Somehow I still wake up fresh and ready to ride each morning!
How are you feeling about the kilometres ahead?
Depending on the route I take, I'm looking at about ten to twelve thousand more kilometres. That's a daunting, overwhelming distance. It's so big that I can't quite wrap my head around it. I've tried to avoid thinking about it and instead focus on things one day at a time.
I won't lie — part of me is scared about what comes next. I'm now riding the interior of British Columbia, home to large grizzly and black bear populations. My food rations have to sustain me for days on end; I'm travelling roughly 1,200 km between full-service grocery stores (imagine cycling tip-to-tip across the UK just for groceries!). Where I next get cellular phone coverage and electricity is an open question.
But any fear I feel about continuing my journey is outweighed by thrill and excitement. The natural beauty of Canada is unparalleled; I've already passed through Arctic tundra, boreal forest, and Yukon deserts. In the coming weeks, I'll ride through rain forests, see thousand-year-old trees, and ascend the Rocky Mountains. Along the way, incredible people introduce themselves to me and tell me their stories. This is what keeps me going. This is what makes the journey worthwhile.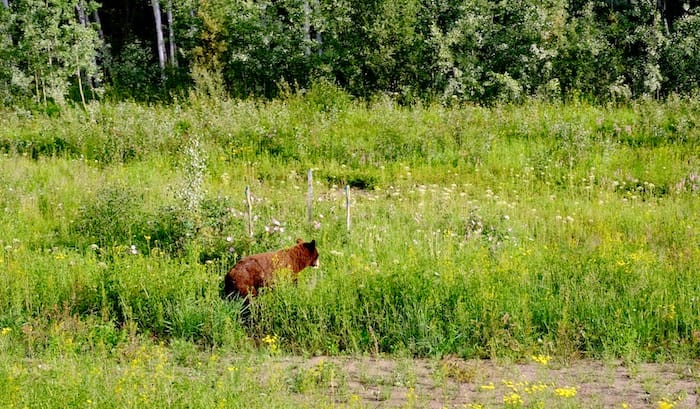 What do you plan to do after completing the journey? Will you return to law?
I'm not sure what comes next, in part because I view this as an unstructured, flexible trip of indefinite length. I haven't set an end date because I don't want the pressure that comes with a deadline; if I love biking, then why stop? Alternatively, if I get tired of riding at any point then I want to feel comfortable calling it quits.
I can see myself returning to law at the end of my trip, but I'll be doing so with a new mindset. I'm now more attuned to the importance of establishing boundaries and allowing more time to develop my personal life. While I want challenging, exciting work as a lawyer, I want to still have the time and energy to pursue personal passion projects.
You can find out more about Nick's journey at his website and help him fundraise for RAVEN here.