Meet the pioneering Black women lawyers creating a more inclusive and equitable profession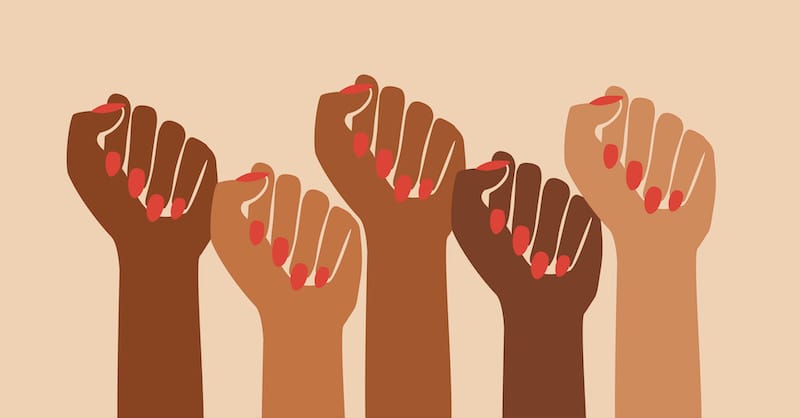 Following the legal profession's 100 years of women in law, October 2023 marks the 36th year of Black History Month and this year's main theme is: 'Saluting Our Sisters', honouring the achievements of Black women. This article will highlight the achievements of eight Black women lawyers and how they're supporting the next generation of would-be legal professionals.
Jessikah Inaba
Jessikah Inaba is a trailblazer in the legal world, making history this year as the UK's first blind and Black female barrister. Her remarkable journey saw her qualify for the bar after five years of dedicated study, including completing the entire course in Braille. Inaba's story is one of resilience and determination, as she shattered not one, but three barriers — being a minority in terms of gender, ethnicity, and ability.
In her pursuit of a more inclusive society, she founded Realeyesation; a platform dedicated to breaking down barriers, raising awareness, and fostering inclusivity. Through Realeyesation, Inaba is enriching the lives of professionals and students by meticulously designing services that prioritise understanding and accessibility. Her legacy is an inspiration to all aspiring lawyers and a testament to the power of perseverance.
Adeola Fadipe
Adeola Fadipe is an employment and discrimination barrister at Doughty Street Chambers and founder of not-for-profit group BME Legal.
BME Legal is a group made up of barristers, volunteering their time to improve diversity at the bar. Their main objective is the advancement of education of people of African, Asian, Caribbean and other ethnic minorities in the UK; and those from socio-economically underprivileged backgrounds. Their focus is therefore on diversity, social mobility and talent nurturing among these target groups. BME Legal has a strong understanding of the challenges faced by individuals from diverse backgrounds.
BME Legal is at the coalface of top talent from diverse backgrounds obtaining pupillage offers from reputable barristers' chambers. Their numbers speak for themselves; over 60% of their three cohorts have obtained pupillage.
Nia Marshall
Nia Marshall is a pupil barrister by day and advocate for international students by night. Alongside completing her pupillage at Exchange Chambers, she is also the founder of International [future] Barrister Mentorship (IFBM).
IFBM provides a bespoke three-stage mentorship programme to international applicants pursuing the bar of England and Wales. They also host annual pupillage workshops and social events. As an international student herself, Marshall understands that there are extremely limited resources offering guidance on overcoming the unique hurdles that they face, such as obtaining visas to study and work in the UK and work restrictions. This is why she created IFBM to offer guidance to international applicants with the aim of eliminating isolation and fostering a sense of community. IFBM emanates from her YouTube channel Life Law Bim where she shares the journeys of several barristers and offers advice to aspiring lawyers.
Ife Thompson
Ife Thompson is a community organiser and movement lawyer. She specialises in criminal defence and family law at 1MCB Chambers as well as the founder of Black Learning Achievement and Mental Health (BLAM UK). BLAM is an educational, advocacy and wellbeing not-for-profit that teaches weekly Black history, culture and wellness workshops in schools, youth centres and youth offending teams (YOTs) across the UK. The organisation also provides teacher training on anti-blackness and decolonising the curriculum.
Thompson founded BLAM in 2016 initially through a static protest in Brixton as part of the global Black Lives Matter protests that year. BLAM's work revolves around cultural learning and mental health awareness for the Black community. Every month, the organisation offers free virtual racial wellness workshops which is run by Black psychotherapists, called Zuri Therapy.
BLAM has a range of online resources for teachers, young people and parents across one of them being our Black History Bites podcast which was ranked the 11th most popular education podcast in the UK.
Ruth Reid
Ruth Reid is a criminal law barrister at 3 Temple Gardens Chambers and founder of the peer-based networking society, Cake & Counsel. Launched in 2017, Cake & Counsel began as a small tea party with aspiring barristers and solicitors, fast forward today, it is now a well-known NGO that provides support for aspiring lawyers. Cake & Counsel is a safe space for law students to make connections and nurture their wellbeing whilst carving out their legal career.
Cake & Counsel facilitates peer-based networking and creates a well-being platform for aspiring barristers to achieve their aims through workshops, networking events and application support workshops.
In the past, the organisation has held workshops for aspiring barristers on 'How to stand out' in the field of law. The workshops have also informed students about opportunities they may never knew existed and provided them with unique insights.
They've also hosted panel events like 'Pupillage reflections' where their panel of pupillage secretaries and future pupils shared tips and insights on how to succeed in the next round of pupillage applications.
Dorothy Adu-Mfum
Dorothy Adu-Mfum is a corporate M&A associate at Clifford Chance and founder of Law City. Launched in 2019, it provides access and information about the legal industry to aspiring lawyers from low socio-economic backgrounds. They achieve this by connecting aspiring lawyers with legal professionals in the City of London. The connections are made during events which provides aspiring solicitors the opportunity to meet leading legal professionals and gain insights into the legal world. It also delivers interactive workshops which engage young people in discussions and provide help in developing their legal careers.
Lorraine Chimbga
Lorraine Chimbga is a qualified lawyer who previously completed her training contract at the Magic Circle giant Clifford Chance. She started Life of a London Law Student nearly a decade ago. She found herself in her second year of law school at the beginning of networking season and what struck her at the time was that she barely came across black trainee lawyers let alone associates and partners. Chimbga couldn't see anyone that looked like her, so she created a resource with the hopes to reach many and prevent other Black people from feeling the same.
The purpose of her blog is to mentor, provide a resource and hopefully encourage at least one other peer or future aspiring lawyer to know that they are not alone and there are others who have pursued this path and made it through the glass ceiling.
Things have changed now with the rise of other legal bloggers, but at the time, she felt there was a lot of gatekeeping of information from study notes to how to approach the training contract process.
Grace Ishola
Grace Ishola isn't just a Future trainee at the international law firm Allen & Overy, she is also a founder of The MobiliTea Show; a podcast that spills the tea on social mobility and how to level up in life. The MobiliTea Show has 16 podcast episodes on Spotify ranging from tips on how to secure that evading training contract at a Magic Circle firm to advice on how to craft your personal brand in the corporate sphere.
The guests that feature on the episodes are from different backgrounds ranging from investment banking to law, including, Clifford Chance, Russell-Cooke, Sidley Austin and Goldman Sachs. The diverse group of guests means its listeners can learn about career development, entrepreneurship, education, financial success, mental health and personal growth. Whether you're a "fresh grad, a hustling professional, or just figuring things out, The MobiliTea Show has practical tips and strategies to help you climb higher and conquer any obstacle."
Finally…
From breaking through barriers as the first blind and Black female barrister to founding organisations dedicated to social change, these remarkable women continue to create ripples that will impact generations to come. They're not just lawyers; they're architects of a more inclusive, equitable, and compassionate future and we're lucky to have them.