So. Much. Cringe.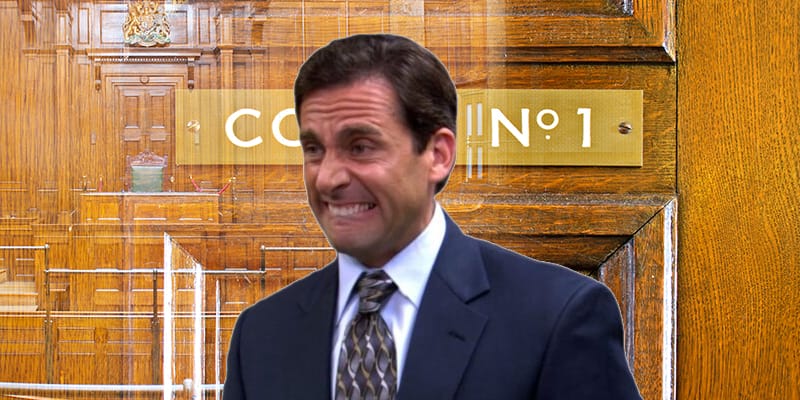 Striding around in smart suits and delivering polished speeches, lawyers can sometimes be idolised, likened to omniscient beings beyond mere mortal humans. In their crusade for justice and intellectual dominance, these figures are often praised, admired, and occasionally worshipped.
As it turns out, however, even those with the shiniest shoes and silkiest statements can trip up. Courtesy of The Secret Barrister, a large degree of professional humility, and an outdated misconception that tweets, or X's?, aren't publicly visible, we've put together a selection of legal tales to remind you that lawyers aren't always as smooth as they may seem.
So sit back, procrastinate that email for five more minutes, leave the contract reading for later, and enjoy our top nine responses to The Secret Barrister's request for "your embarrassing court stories".
A warning to every John Smith
In the cells increasingly fractious conference with female client who insisted case had absolutely nothing to do with her. About to advise psychiatric assessment. Transpired Holloway had sent a woman with exactly same name as my client.

— Max Hardy (@MaxJLHardy) October 14, 2023
HHJ Honeybun
Return to work post maternity leave. High court trial. cross examining expert. Eye2eye contact to put baby brain away. Hear distracting noise to one side. It doesn't stop.Extend a hand with hand up 'wait' kinda signal.Say 'hang on a minute honeybun'. Silence falls. 'Noise'=judge

— Prof Jo Delahunty KC (@JoDQC) October 14, 2023
A classic legal manoeuvre
Of course, along with so many others, I have the "flip seat flipped up when I was on my feet and I sank to the floor as I sat down" story. In my case however, having recovered from the embarrassment, I managed to get up & then immediately did exactly the same thing again.

— Crimsolgirl (@CrimSolGirl) October 14, 2023
Guilty of being in the wrong place at the wrong time
Fully wigged and gowned ready to go. Decided to wait in Court. Sat in non-secure dock thinking it was the public gallery.

— Laura Paisley (@PaisleyLaura) October 14, 2023
It doesn't get much worse than this…
Court of appeal 2006 , arguing for a reduced sentenced for indecent images of children . I place my hand in my pocket to reach for a handkerchief while on my feet and pull out a pair of Dora the Explorer knickers belonging to my toilet training daughter .

— Jonathan Black (@jonblackbsb) October 14, 2023
Or maybe it does?
Week 1 of 2nd 6. Client late; I've been hiding in the loo. Finally they arrive. I go into court: "Sorry for the delay" NOT "Siri play". Blink 182 at max volume ensues. The bench witnesses a pupil barrister blaring music, frantically beating his own chest in an attempt to stop it.

— James Lloyd (@James_M_Lloyd) October 14, 2023
'For the benefit of the tape, we just cringed, a lot'
In interview at the cop shop, lent forward in my chair and thought 'that feels odd'. Lent back and the seat of the chair dislodged and I fell to the floor. I squeaked on the way down. 'For the benefit of the tape, the solicitor has fallen off her chair…'

— lex (@Lexytinks) October 14, 2023
Mistaken identity?
One I've told here before: In examination-in-chief, my first question to my client was "Is your name James Turner?". Answer from witness: "No, but yours is."

(Classic example of mind and mouth out of synch.)

— James Turner KC (@JamesTurner37) October 14, 2023
Bargain blunder
Last one. During hard times of pupillage I bought a suit in the sale at a supermarket. Spent a whole morning in the mags court with several clients. Only at lunchtime did a kindly usher tell me that I had "Sale £3" proudly displayed in a bright yellow sticker on my right boob.

— Crimsolgirl (@CrimSolGirl) October 14, 2023
If you've been affected by any excessive third party cringe, or have yourself been the victim of a hilarious barrister blunder or solicitor slip-up, the comments section (and an immortality of cringe) awaits…