Five barristers came together at a recent Legal Cheek event to share their career insights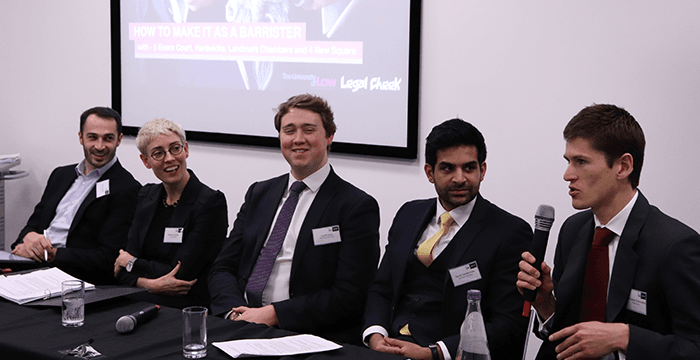 Applying for pupillage is challenging, time-consuming and frequently confidence-sapping — but it will be worth it in the end, so go for it. To give you a helping hand, a panel of junior barristers assembled at The University of Law's Moorgate campus and our latest bar student event, 'How to make it as a barrister', to answer questions on their own career journeys at the bar and offer advice to others considering the same. Here are a dozen tips from those in the know.
1. Keep trying, even if you receive no offers
All the panellists had experienced rejection. Two of them were not kept on after pupillage and had to do a third six. Some of them received no offers of pupillage at first so re-applied the following year.
ULaw's Joseph O'Leary, who is due to begin pupillage at 5SAH in September, said: "I went through enormous amounts of rejection and it was horrible, and at times I thought 'I don't want to do this anymore', but I reminded myself why I wanted to do it. I almost don't like calling being a barrister a job as I think it's more of a lifestyle. The way I dealt with it was by working out where the gaps were — I had no real advocacy experience and no real pro bono — and doing some CV top-up as it's called."
It's important to develop resilience. All barristers will experience setbacks. Most chambers will give feedback to rejected applicants, so you can see where there's room for improvement.
2. If you can't find pupillage, go to a law firm
In fact, a stint as an employed barrister can pay dividends.
Hardwicke commercial barrister Laurence Page said: "I wanted to get out of medical negligence and into commercial work. The pivot for me was working at a solicitors' firm called Plexus Law. I said at interview that I was going to give them two years and nothing more, and they were happy for me to do that. I built up my contacts and experience while there and, when I went back to the bar, had firms instructing me from day one."
3. There's a reason why pupillage interviews can seem strange
Your interviewers want to test your advocacy skills and how you cope under pressure because in real life judges can be irritable and the circumstances of a case can suddenly change. Not getting flustered, being able to read a room and coping when someone tries to throw you off your stride are all part of the barrister's skillset.
4. Make your application stand out from the crowd
Remember that the person who reads your application will be reading many others. Public law and human rights barrister Yaaser Vanderman, Landmark Chambers, said: "The tick box elements are your academic achievements, work experience and advocacy skills — after that, you can try to be more creative so that you leave an impression that makes you stand out. For example, I was interested in human rights law, so I went to Cape Town for a few months to work at the Human Rights Commission." Make sure you explain in your application why your work experience or skillset is relevant. Write coherently and clearly about your reasons for applying. Be honest and authentic.
Working in the field of practice or as a solicitor can really help. Commercial barrister Chris Greenwood, 4 New Square, remembers two particularly outstanding applications. One applicant had set up their own successful building company before retraining and wanted to specialise in property law, therefore showed both insider knowledge of the construction trade and business acumen. Another had done a mini-pupillage at the chambers and done well, and also completed mini-pupillages at several competitor chambers.
5. Explain why you've chosen this chambers
Look at the chambers' website. Find out as much as you can about them, as each one is unique. Be honest, be authentic. Police law and civil liberties barrister Beatrice Collier, 5 Essex Court, said: "It really stands out when the person knows what we do and why they would be a good fit."
6. Mini-pupillages are great
Applicants are expected to have completed a mini-pupillage somewhere, and it's particularly good to do one at the chambers you then apply to, in fact some chambers insist on this.
7. Developing your advocacy skills also helps your overall confidence
There are lots of different ways to develop your advocacy skills, for example, all four Inns of Court have debating clubs.
8. Experience outside the bar can be useful
Pro bono work or volunteering at a law centre or Citizens Advice Bureau are useful additions to your CV, as is any experience that develops communications skills. The best experience involves talking to potential clients, for example, if you want to specialise in media law, you could apply to do an internship at a media law solicitors' firm or newspaper's legal department.
9. Starting out is difficult but it gets better
"At first, you are learning on every single front and that's exhausting. I've made a mental note to be pleased when I can answer something in 20 minutes that, when I first started, might have taken me all day," said Collier.
10. Say yes to your practice team and pass the generosity on to others
"Take the opportunities that come to you, be very open and, I think the number one rule, always say yes to the practice team in your first three years of practice if you can. The relationships you build in these early years could set you in good stead for many years to come," said Page. "And be generous with other people when they come looking for opportunities because it's a virtuous circle and the bigger your network, the bigger your client base."
11. Your biggest client base is inside the building
There, in chambers, you will find the senior people who will give you the little bits and pieces of work from where you will build your practice, but you have to build relationships.
Page said: "Not many people can sit in their room and wait for the phone to ring. You have to go out and meet people. That's where chambers really comes into its own because it has this enormous institutional knowledge and client base that's just sitting waiting for you to join up to, and to contribute to business development initiatives, so start going along to events like drinks and coffee meetings."
12. 12 is a good number
On average, the panellists had made about 12 applications (the maximum number of applications bar hopefuls can make through the Pupillage Gateway is now 20) each. They agreed there is no "magic number" and applicants should only do as many as they have time to do well. You can apply again next year. Ultimately, keep trying until you've done your best and you feel it's simply not meant to be.