Legal technology leaders lay down some home truths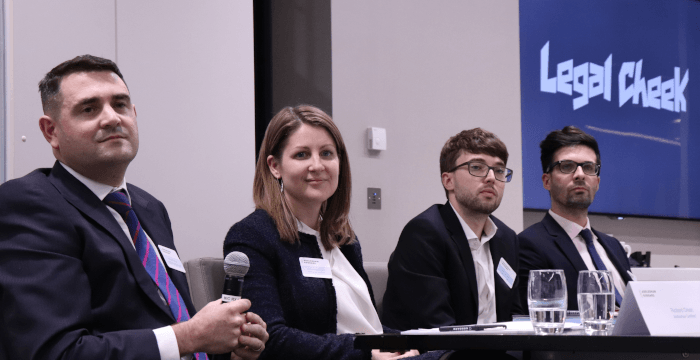 Wannabe lawyers were dazzled by no fewer than four experts from lawtech pioneers Addleshaw Goddard at a Manchester Q&A last month. The panel, featuring AG lawyers from trainee to partner, treated students to their insights on how technology is changing the legal biz. It may not come as a shock to anyone that tech is shaping legal practice a fair bit — but here's five insights that take that premise a few steps further.
1. Lawtech is mostly driven by client demand
The first rule of legal services is, always give the client what they want (within reason and the law). These days, what clients tend to want is this legal technology they've heard so much about. Even if firms aren't particularly into it, they have to respond to that demand.
That's not just because lawtech is sexy. The whole point is to make cost savings which can, clients hope, be passed on them. "Clients want to know how we can become more efficient and save them money by implementing tech", says Richard Oman, a corporate banking partner at Addleshaw Goddard. Banking is one of the practice areas affected by smart software that can do some of the grunt work traditionally reserved for junior lawyers — and bankers know it.
"Recently I was pitching for a large project", Oman recalls. "The pitch was not really about our legal capabilities — those were taken as read. It was about how we would implement AI [artificial intelligence] and other tech systems in order to drive efficiencies. All the questions were about tech — there were few questions about anything else".
2. Lawyers should play down the capabilities of legal technology, not hype it up…
Addleshaw Goddard uses Kira, machine learning software that identifies and extracts particular legal provisions from contracts and other documents. It's a nifty piece of kit — but describing it as "artificial intelligence" makes clients think that there are fully formed robot lawyers on the loose already.
"People call everything AI", said AG lawtech trainee Michael Kennedy, "from your phone telling you that you've reached a place you might like right up to Terminator. Kira is more narrow: specific machine-learning that you train to recognise certain patterns. It doesn't think for itself, you have to train it."
The key, Kennedy thinks, is to understand what a given piece of software can and can't do to replace lawyers — and be honest with the client about that.
"A lot of law firms and AI suppliers are guilty of over-hyping things", the Manchester native cautions. "The hype around legal tech at the moment is pretty crazy but when that filters down to the actual work we're quite honest and upfront about what it can achieve."
3. … but the pace of technological change means that the hype will soon be justified
Oman agrees that "there is, to an extent, a misconception about how far down the track we are at this stage". But, the University of Leicester graduate continues, "all of this changes week by week, month by month. What we could do a year ago compared to what we can do now with tech is completely different".
Kennedy thinks that a piece of software that can do something truly magical — flag legal issues with a particular document, for example — is "around the corner". Within five years, there'll be products combining various lawtech functions that today only exist in separate programmes. Real estate lawyers, say, will not only be able to run leases through a programme and have the alienation clauses collated, but also able to get the same programme to spit out answers to specific questions about the alienation conditions.
4. Lawtech start-ups aren't really a threat to established firms
Addleshaw Goddard associate Nicholas Parkin does worry about the impact of tech on the junior end of the profession. "It's always a thought at the back of your mind because tech works to simplify and commoditise work that might traditionally be done by a trainee or paralegal", the banking and finance specialist says. "But there is always going to be a need for trainees and paralegals to do the actual legal advice work".
That's partly why the idea that lawtech start-ups will soon sweep established law firms off the map is a misconception. As Addleshaw Goddard real estate partner Catherine Fearnhead points out, to practice law you still need lawyers.
"The bulk provision of legal services in certain areas is not new", the real estate partner points out. "WH Smith has off the shelf deeds you can buy – that is a form of legal service. Tech start-ups can do the equivalent of that, but it's only part of the package. This is a highly regulated industry".
5. There's a lot of tech happening in Manchester
The majority of the Addleshaw Goddard tech team is based in Manchester. With Oman pointing to the city's long history of innovation and Kennedy noting the prohibitive costs of living and starting a business in London, there's no reason to think that the big breakthroughs in lawtech will necessarily happen in the capital.
About Legal Cheek Careers posts.