ULaw campus dean Sarah Pooley discusses her career, legal tech and how prep is the key to success, ahead of her appearance at an in-person student event on 14 November in Southampton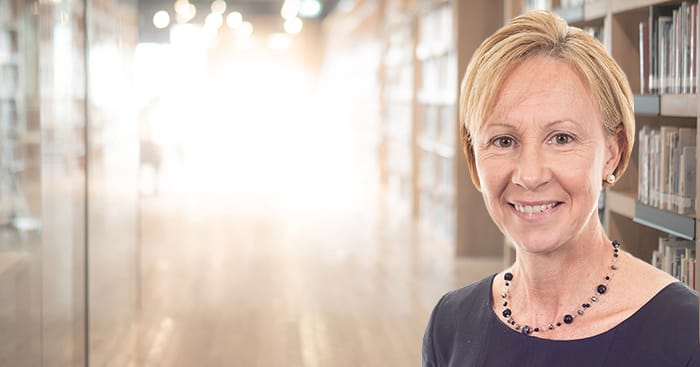 This month Legal Cheek is hosting an in-person event for students interested in starting legal careers in Southampton. Ahead of the event, we caught up with The University of Law (ULaw) Southampton campus dean, former Magic Circle lawyer and panellist, Sarah Pooley, to find out what makes the South a great place to start a legal career.
Can you briefly tell us about your background and your role at The University of Law?
I studied history at university and converted to law by doing the CPE (now the PGDL) and the LSF (forerunner of the LPC/SQE) at the Bloomsbury campus of The University of Law (then College of Law). I trained at Slaughter and May and qualified into their financial services unit (banking compliance). I joined ULaw's Guildford campus as a tutor in 1997. I have worked as the head of students at Guildford, head of tutors at London Moorgate and then campus dean at the Guildford, Reading and Southampton campuses. I am chair of the ULaw's Ethics Committee and became an associate professor in 2015.
You trained and qualified as a solicitor at Magic Circle law firm Slaughter and May. What was that like?
I began my training in one of Slaughter and May's company/commercial departments. My seats also included litigation, real estate and banking. The latter also entailed a secondment to a world-renowned US investment bank. A key aspect was the firm's blue-chip clients and working on transactions that were important enough to be reported in the Financial Times. The work was interesting and challenging but also exciting.
In what ways does legal practice differ now to when you were a solicitor?
Technology! I was in practice just as computers became common in the workplace. Solicitors were only starting to do their own typing and there were plenty of associates and partners who were dictating letters/memos and marking up hard copy contracts which secretaries typed up for them. There were no emails or texts — we wrote internal memos. All of this meant that whilst the hours were long, the day finished when you left the office as no one could email or text you at home during the evening!
What prompted your move into legal education?
I had studied both undergraduate and postgraduate history and higher education had been a possible career from that time. When an opportunity arose at the College of Law I decided to return to higher education and give lecturing a go. I immediately found teaching and supporting students very rewarding and have never looked back!
What advice would you give to students aspiring to join the legal profession?
Preparation is key. You need a plan which encompasses both extra-curricular activities which are active rather than passive (so not just a member of a society but a member of the organising committee) and also work experience/part-time work/holiday work which is client-facing and entails a measure of responsibility. You are effectively collecting examples of times when you had to show leadership, powers of persuasion, flexibility, teamwork, resilience, commercial awareness etc. which you can then use to support your applications and interviews. When you apply, it is better to submit fewer well-researched applications than to adopt a scattergun approach. And, at all times, remember that the employer is looking for evidence that you want to be a solicitor at their firm and that your skills are a good fit for their business.
Having spent time in both London and Southampton, what makes the South a great place to start a legal career?
The South East has such a broad range of firms with a wide variety of ways of recruiting prospective lawyers. There are large international firms and substantial regional firms who sponsor and adopt the traditional LPC/training contract or SQE/QWE route. There are also small and medium sized firms who employ trainees, legal executives, paralegals and apprentices and are very flexible about the routes to qualification. The diverse range of legal practice in the region offers future employees the opportunity to train in many different areas of the law and with both private and commercial clients.
How does ULaw's Southampton campus (located at Southampton University' Law School) support students who are looking for a training contract?
The University of Law's Southampton campus is no different to any other ULaw campus in that there is a dedicated employability officer who delivers one-to-one appointments helping students to hone their CVs, applications, interview technique and approach to assessment centre tasks. Students have access to pro bono opportunities to enhance their CVs, employer talks to provide networking opportunities and ULaw's nationwide jobs database. They are also able to attend the University of Southampton Law School's employer events including their law fair.
Sarah Pooley will be speaking at 'Secrets to Success Southampton — with Shoosmiths, Womble Bond Dickinson and ULaw', an in-person student event taking place on Monday 14 November. You can apply to attend the event, which is free, now.
About Legal Cheek Careers posts.