University of Law campus dean Zoe King makes the case for legal life in Bristol and Exeter, ahead of Thursday's in-person workshops and networking evening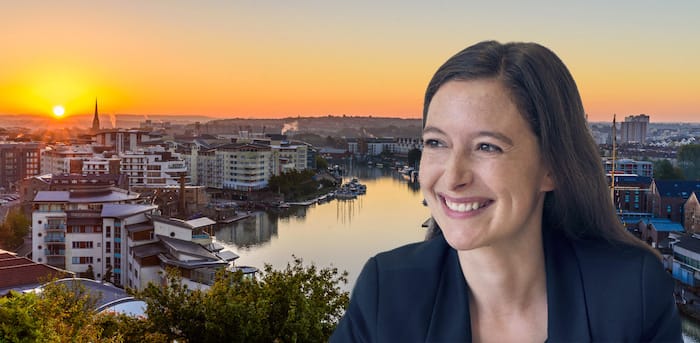 Ahead of Legal Cheek's in-person workshops and networking evening in Bristol — with Burges Salmon, CMS, TLT and The University of Law, we sit down with ULaw's Bristol and Exeter campus dean Zoe King to discuss legal life in the South West, the latest commercial awareness topics and why preparation is key when it comes to interviews. Check out the Q&A below.
Can you briefly tell us about your background and your role at The University of Law
I decided on a legal career only after graduating. I trained and worked as a solicitor in a large commercial law firm in Bristol before joining The University of Law as a tutor. I then took on the role of programme and student lead for the undergraduate and conversion programmes in the Bristol campus and then became campus dean for Bristol and Exeter.
What makes the South West such an attractive place to study?
For students studying law, there are innovative schemes to help students engage with the community through pro bono work. Looking ahead to the future, there are interesting opportunities for launching a legal career in the South-West in law firms, in-house or in legal publishing, legal technology or corporate governance. Bristol is vibrant with a large student population, festivals like the Festival of Ideas, Harbourside Festival, Balloon Fiesta, and unique independent shops, cafes, and experiences like the inland surfing venue. Exeter has lovely places to study and relax, and the location in gorgeous Devon means it is surrounded by beautiful scenery.
What connections does The University of Law have with law firms operating in the South West?
The University of Law has connections with many of the local and national firms who send their future trainees to train at the University and use The University of Law for the ongoing training of their trainees and junior lawyers. We also have a mentoring programme, law fair and a series of talks and workshops run by legal employers. We hold roundtable discussions with local firms on topics such as SQE, apprenticeships and junior lawyer training.
You trained and worked as a solicitor in Bristol. How have you seen its legal scene develop over the years?
Bristol-based firms have been going from strength to strength with top-quality work and we have seen other firms opening offices in Bristol, such as Simmons & Simmons and Clyde & Co. With the introduction of the new SQE routes there are also some legal employers who have not previously offered training contracts who may be offering QWE and apprenticeships. There is an emphasis on wellbeing, community engagement, sustainability and quality work for trainees and junior lawyers.
What are some of the top commercial awareness topics that should be on law students' radars over the coming months?
Given the current headlines, law students should be considering what the economic changes mean for different sectors and law firm departments e.g. is there going to be a change in the level of investment in property-based projects? Firms are also continuing to look at the implementation of legal technology and legal project management to gain advantages in efficiency and client satisfaction. The University of Law resources section of the website and The Law Society website insights publications offer updates on these and other topics.
What is the best piece of careers advice you have given or received?
Preparation for interviews is crucial. If you do not know much about the employer it will show in the application and at the interview. When you are in the role, be prepared to try new opportunities and look to expand your experience.
What was your 'dream job' when you were growing up and why?
At various points I wanted to teach, be a lawyer and I seem to remember wanting to run a seaside café until I realised that I would be busy working on sunny days.
Zoe King will be speaking at the 'In-person workshops and networking evening in Bristol — with Burges Salmon, CMS, TLT and The University of Law' on Thursday 13 October. This event is now fully booked.
About Legal Cheek Careers posts.