Harrison Denner discusses his career to date, from law student to tenant at Henderson Chambers, ahead of his appearance at this month's annual chambers panel event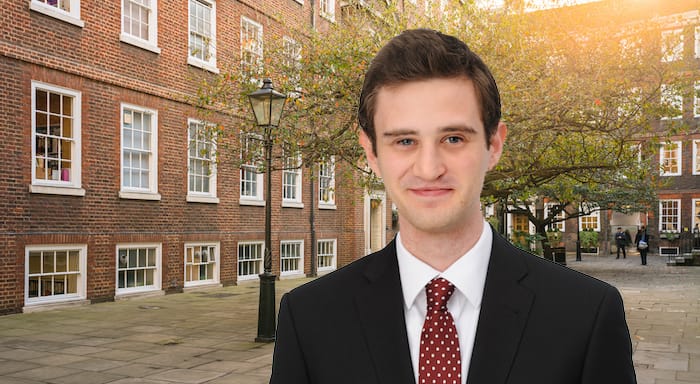 Harrison Denner had always wanted to become a barrister. Whilst many students are torn as to which path to follow, barrister or solicitor, the thrills of the academic rigour of the bar, and the independence of being self-employed helped him to make up his mind from an early stage.
He describes his early career journey as fairly unimaginative. He read law at Oxford University before completing an LLM at UCL and then the BPTC (as it was then) at The University of Law. During his time at university, he was involved in debating, volunteered at a legal clinic, and also dabbled in mooting. He filled his spare time by serving as president of both his college's Junior Common Room (undergraduate student body) and Lawn Tennis Club.
It seems that Denner was as set on practice areas as he was on the bar generally. He knew from an early stage that commercial law was right for him, having enjoyed his contract and commercial law modules during his undergraduate degree. His decision to focus on commercial law was reaffirmed to him through completing around eight or nine mini-pupillages — more than he considers was necessary looking back. He decided to complete an LLM to further his academic knowledge and give him a competitive advantage in pupillage applications. Rather than completing an outright commercial law masters, however, he instead decided to complete a general masters to "avoid putting all of his eggs into the commercial basket" — though he did predominantly select commercial modules.
When it came to making pupillage applications, Denner describes the entire process as "tough and very time consuming". He didn't have any family or friends who had been through it and so had to figure the process out largely for himself. Henderson Chambers, a leading civil set, stood out to Denner due to its commercial strengths as well as the range of work that it offers — the set does everything from product liability (for which it is the top set in the country) to environment law. He had also completed a mini-pupillage at the set and had been impressed by how friendly everyone was.
Denner tells us that, going into the pupillage application process, you must inevitably be prepared for lots of rejection. He unfortunately didn't secure pupillage the first year he applied but was offered his pupillage at Henderson the second year of applications. Finding himself with "a year to kill" in between the two application rounds, Denner decided to work as a corporate paralegal at US firm Simpson Thatcher's London office, something which he feels boosted his applications the second time round as it gave him "something to talk about at interview and also helped develop soft skills in a professional environment". Looking back on the two application years now, he concludes that the big difference between his applications was that they were much more structured the second year. He backed up any claims he made with evidence: for example, rather than just stating his interest in commercial law, he used the commercial modules from his LLM and his paralegalling experience to demonstrate this. Clearly it worked as Henderson gave him an offer to begin pupillage in 2017.
When asked how he found pupillage, Denner responds saying that it was "enjoyable". He went on to explain that it is obviously an intense year: "you can't get away from the fact that it is a year-long assessment". He says, however, that he has heard stories from friends at other sets which make him very grateful that his pupillage was at Henderson. Throughout the year, he didn't feel overworked, and was always supported by his supervisors and other members of chambers. He received prompt feedback on work and was clear about what he was doing right and what he needed to improve. Like other pupils at the set, Denner started to take on his own cases in his second six, something which helped prepare him for tenancy. He also completed a secondment in the Turks & Caicos, something which all pupils at the set are offered, and which he describes as "amazing". Whilst it was a busy year, Denner says he "looks back on it fondly". Henderson was supportive throughout and they eased the journey into tenancy, which Denner was offered.
Now four years into tenancy, Denner has a broad practice, especially focusing on product liability and commercial litigation. He says it is not unusual for tenants at Henderson to take on a variety of work across different practice areas, as well as to work on a mixture of bigger, led cases, and smaller cases as sole counsel. For Denner, the opportunity to get into court when working unled is one of the biggest advantages of being at Henderson: "at bigger, pure commercial sets, you might not get this smaller work. That might seem like a strange thing to complain about, but it would mean you wouldn't get into court as often. And that's what being a barrister is all about". He tells us that he is typically in court around three times a week. He had his first big trial last summer, where he was led by a silk in chambers. The trial, which was about rubber seals in cars, lasted three weeks and was "an incredible experience" — especially as they won the case!
There is certainly a steady stream of work for the juniors at Henderson. Denner says that he has never had to worry about not having enough work. Equally, he does not feel overworked. He says he typically works 40 to 50 hours a week, which is quite impressive for the bar. He typically won't work weekends or late into the evening but there are inevitably crunch periods. A big advantage of commercial work is that there is usually a fair amount of lead-up time before a hearing, giving good time for preparation. He remains very happy at Henderson, continuing to benefit from the supportive environment and social events organised by the set.
Looking back to his pupillage application years, Denner tells us that "they felt like a lifetime at the time" but that in the long-run it is absolutely worth it. His three top tips for those applying this year are: first, when writing your application, treat it as a piece of written advocacy. Ensure that it is structured, and that you provide evidence for every claim. Second, when it comes to interviews, try and be relaxed. Acknowledging that it is easier said than done, Denner says it is important as it allows you to show your human side. Ultimately, those on an interview panel need to want to work with you. Finally, Denner says to stick with the application process. Even if you are not successful the first time, keep trying as it is worth it in the end. "Being a barrister is the best job in the world," he gushes.
Harrison Denner will be speaking alongside other barristers at 'Pupillage application masterclass — with Gatehouse, Henderson, Landmark, Radcliffe Chambers and 2 Temple Gardens', a virtual student event taking place on Tuesday 24 January from 4-6pm. You can apply to attend the event, which is free, now.
About Legal Cheek Careers posts.