Mills & Reeve associate Louis Geary-Smith reflects on his move from marketing to law and how the firm is going the extra mile on diversity and equality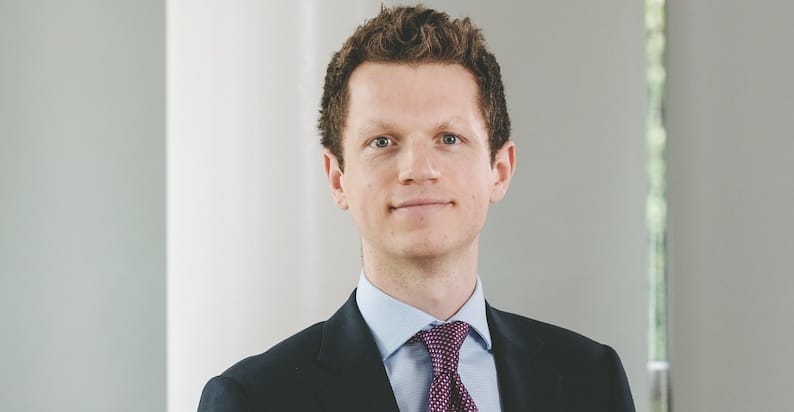 Mills & Reeve associate Louis Geary-Smith looks back without regrets on his move from marketing to law, and from London to Norwich. The now-experienced solicitor left university seeking a career where he could pursue his interest in "persuasive language and negotiation", building upon a general fascination with relationships between people and the workings of society. Both marketing and law, he says, ultimately come down to understanding people and their needs, and turning clients' problems into solutions.
To aid this pursuit in steps, Mills & Reeve, a leading law firm with a growing presence in the City, provide a full-service package. "When it came to deciding on a firm for vac scheme applications", he recalls, "Mills & Reeve stood out by offering all of the areas I was most interested in and being well-known as a great place to work". Speaking on his subsequent training, Geary-Smith remarks that "the firm's six-seat training contract is ideal, and something that sets us apart from other firms in a positive way". The structure, which he says allows recruits to see a wider range of work and test out a broader selection of practices, "ultimately helped me to settle on employment law, and then gave me the opportunity to spend my final seat in the team that I would be qualifying into."
The upbeat junior then goes on to discuss his subsequent life at the firm. "Mills & Reeve undermines a lot of the stereotypes about firms that do big-ticket work", he candidly says.
"Everyone is really nice, and I've never been asked to work on weekends or on holiday. We're committed to delivering outstanding client service, but there is certainly no artificial time pressure." This friendly, jovial, and welcoming atmosphere, he assures me, doesn't come at the cost of the exciting high-calibre work that most fresh associates are keen to get their teeth into. "I've dealt with big government contracts, large commercial entities, and various international matters," he explains, all whilst maintaining a work-life balance and homely atmosphere. "At Mills & Reeve, you really get a great balance between serious work, talented colleagues and leaders, collegiality, and a respect for your private life."
Relishing his working environment, Geary-Smith goes on to talk about one of his professional and personal passions — increasing diversity and equality within the legal industry. Having dyslexia himself, the associate describes the accessibility of the legal industry as being both "big for myself, and for the firm". Building upon his earlier comments about the friendly, welcoming, and supportive environment at the firm, he goes on to say that "we don't just sit and hope diverse talent comes to us — instead, we actively work on creating an environment that makes people of all backgrounds want to apply and stay.
For disability inclusion, this involves proactively offering examples of support rather than simply waiting for people to come and ask for it. For ethnic diversity and social mobility, it involves outreach with local schools and mentoring through IntoUniversity. There are also "a variety of internal support networks, with focuses that include disability; race; ethnicity and cultural heritage; the LGBTQIA+ community; parents and carers; and gender equity".
Geary-Smith recalls an internal panel event to discuss and understand LGBTQIA+ terminology, welcoming students from underrepresented backgrounds into the London office for a day of mentoring, and organising specialist training for colleagues with Specific Learning Differences, as just a few recent initiatives from across the firm.
Perhaps most poignantly, he says, "we're not just here to scrape the minimum standard. We want to go beyond supporting those we're legally obliged to and make sure everyone feels comfortable and able to perform at their best".
We then move on to discuss several of the key commercial issues within Geary-Smith's employment practice. "Looking big picture", he says, "employment law is about regulating how people work, and that's always changing. Increases in flexible work patterns, remote working and the gig economy have all been significant developments and underlie many of the queries an employment lawyer might come across. Beyond that, there is uncertainty over retention of EU employment law, the speculated new employment bill, and the continued impact that the cost of living will have on both employees and employers." On that last point, he expands that "employers are struggling with rising costs, squeezed margins, and therefore difficult employment decisions, whilst employees are in high demand and tending to seek higher wages and more flexibility, and unions are growing in prominence."
Before wrapping up our interview, the junior lawyer offers a few words of wisdom for those looking to walk a similar path. However, the advice, he says, entirely depends on the addressee.
"If you're someone who isn't confident that they can make it in the legal profession, perhaps you have a condition that you think is a barrier, or that you won't fit in, or your needs won't be respected or accommodated, I would strongly urge you to give law a shot and not be put off as I once was", he pleads.
But, "for those who are going into the field because of some heavy parental influence, because they're looking for a chunky pay-packet, or because they thought being a lawyer looked cool on TV, I'd encourage you to question whether that motivation will be enough to push you through the more difficult times." This isn't to say that any person should or shouldn't go into law, he confirms, but simply that everyone should consider their reasons, and question whether law is the right option for them, or whether another professional service or different career entirely may be a better fit. "Don't settle on the first thing that you come across or see, be it law or not, or any particular firm. Always challenge your own view, explore your options, and gather as much information as you can to make sure you're choosing the right route."
Part of the reason for this necessary self-reflection comes within the junior's next piece of advice – be prepared to face a great deal of rejection. "Securing a training contract is very difficult. The number of people applying is far greater than the number of jobs, and that applies particularly to the most sought-after firms". "Even with an outstanding CV you can expect to face many more rejections than offers, and it's just something you have to accept, focussing on making each application better than the last".
Whilst spam messaging isn't suggested by Geary-Smith, "if you don't have family or friends in the profession, then contacting specific practitioners on LinkedIn to ask them about their firm or their work can be a great way to gather information to help you find the right firm and tailor your applications". "To increase the chance of a response, try to make it easy for people to reply, easy for them to decline, and ask about specific work they've been doing, or particular elements of their firm or practice".
Follow @millsreeve
About Legal Cheek Careers posts.