A panel of lawyers and legal education experts discuss the region's thriving legal scene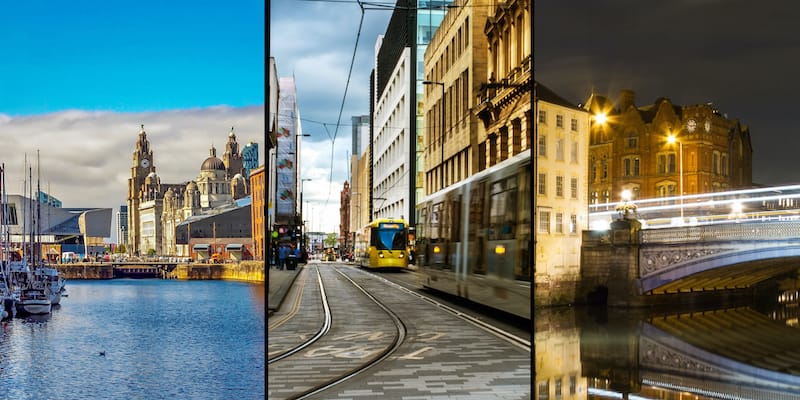 At Legal Cheek and The University of Law (ULaw)'s latest virtual event, 'Secrets to Success North', a panel of lawyers from CMS, Fieldfisher, Mills & Reeve and a legal education expert from ULaw shared their thoughts on the northern legal scene, the impact of COVID-19 on their practice areas, and what students need to know about the Solicitors Qualifying Exam (SQE).
---
The speakers
• Niall Innes, partner in the insurance disputes team and head of the Manchester office at Mills & Reeve
• James Lappin, partner in the dispute resolution practice group at Fieldfisher's Manchester office
• Aimie Farmer, associate in the environment, health and safety practice group at CMS' Sheffield office
• Amanda Hedayati, dean of The University of Law's Manchester campus
---
With global heavyweights Amazon and Microsoft recently opening offices in Manchester and law firms increasingly opening offices in northern cities, the North is proving itself to be a thriving hub for businesses and law firms alike. "The future is very bright in the North," Fieldfisher partner James Lappin shared with the virtual audience of over 250 students.
Offering top quality work and a good work/life balance, budding lawyers should have the North on their radar. The panel highlighted a possible misconception, reassuring aspiring lawyers that law firms in the North offer the same quality work as their London counterparts.
Aimie Farmer, associate at the Sheffield office of CMS, shared the high level of responsibility she has: "From day one as a newly qualified solicitor I was working on a large litigation case. I was responsible for the day-to-day running of the case, with appropriate supervision, and keeping the partner up to date." Farmer also frequently finds herself working with CMS' London team, for example, on due diligence matters. When looking at her work compared to that of the London office, Farmer shared "there is no difference in the quality, type or value of our work".
When it comes to deciding where to complete your legal studies, Amanda Hedayati, dean of ULaw's Manchester campus, told students that there's no need to study in the area of the country in which you'd like to practise. "If you know where you want to be that's great, but if not, don't put pressure on yourself," she advised. ULaw's employability service operates on both a national and local level, so wherever ULaw students are in the country they can seek careers advice and connect with firms nationwide.
Amanda Hedayati, campus dean at @UniversityofLaw Manchester, discusses tailoring an application to a Northern office and the skills law firms are on the lookout for across the board #LCCareers pic.twitter.com/xip5B0aScd

— Legal Cheek (@legalcheek) May 5, 2021
In terms of the impact of COVID-19, Niall Innes, partner in the insurance disputes team and head of Mills & Reeve's Manchester office, noted an uptick in insurance disputes along with an increase in workflow in life sciences, tech and employment. "The employment team has been incredibly busy with the almost daily changes in the guidance for employers and the unfortunate redundancies as a result of COVID," Innes explained.
When the pandemic first hit there was a drop in transactional work which Innes said is now recovering. "Property and corporate work is not where it might have been had we not been in a pandemic, but the situation is a lot better than many feared last March", he added.
While transactional work was inevitably affected by the pandemic, Lappin highlighted that litigation has gone from strength to strength: "Litigation is extremely resilient", he remarked, "in good times parties have the resources to litigate and in tougher times they sometimes have no choice", emphasising that this versatile practice area can thrive in different economic climates. The coronavirus, for example, has left many businesses unable to fulfil contractual obligations thereby provoking disputes.
What's more is that COVID is changing the way people work. Not only did the country move to working from home almost overnight at the start of the pandemic but, from a litigation perspective, Farmer added that "we're doing our work in a different way now", reflecting on the shift to virtual meetings and court hearings.
The discussion then turned to the introduction of the SQE. "With any shift in regime the core aspect ULaw considers is firstly what students need in terms of the knowledge and skills to pass the exams. Equally important though are the broader knowledge and skills students need to begin their careers and ensuring that we deliver all of these aspects in a way that meets the differing needs of our students," explained Hedayati. ULaw has worked to achieve this is by developing a suite of flexible study options ranging from exam prep courses to masters level programmes. ULaw has also developed an app which gives tailored feedback to students enabling them to focus on the specific areas of the course in which they need to improve and to challenge themselves.
We're live at Secrets to Success North, our latest student event run in partnership with @UniversityofLaw. Here are some of the key themes on the agenda for the panel of lawyers from @CMSEarlyTalent, @MandRTrainees and @Fieldfisherjobs ⬇️ pic.twitter.com/3YFW9qTh1T

— Legal Cheek (@legalcheek) February 9, 2021
About Legal Cheek Careers posts.