Experts from Freshfields, Pinsent Masons, Hill Dickinson and ULaw talk career setbacks and how they overcame them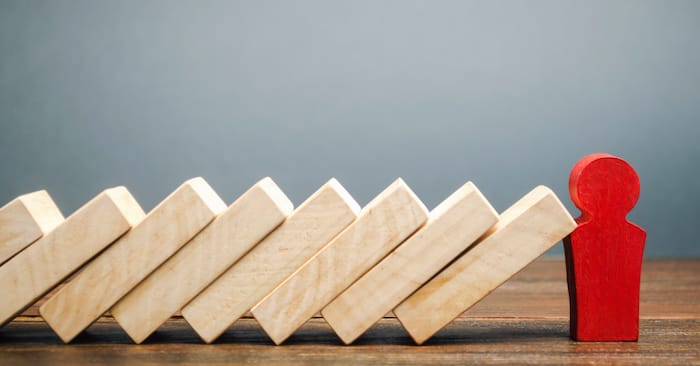 It would be easy to believe that lawyers never get it wrong. For law students, the thought of entering a 'perfect' profession where mistakes are never made, all work is faultless and every individual works at maximum performance 24/7 may feel intimidating.
At Legal Cheek's latest virtual student event, 'Secrets to Success North', a panel of lawyers from Freshfields, Hill Dickinson and Pinsent Masons, alongside a former lawyer turned legal education expert at The University of Law (ULaw), unmasked this facade and offered insight into their career journeys as well as the setbacks they've encountered along the way.
Having grown up in Manchester, Sunil Singh, associate in the dispute resolution team at Freshfields, found his passion for litigation after completing various work experience programmes whilst at university. During his training contract, Singh sought opportunities to gain further experience within litigation and eventually qualify as a dispute resolution lawyer — an area he now specialises in at Freshfields' Manchester office.
Despite receiving an offer of a training contract at a London law firm, Amanda Hedayati, dean of ULaw Manchester, also chose to kick-start her legal career in the North. She qualified and practised as an employment lawyer at various firms in Manchester before, in 2006, entering the world of legal education, firstly in a professional development role at a law school before moving to ULaw as a lecturer in 2009. She subsequently became the dean of ULaw's Manchester campus, as well as its Liverpool and Chester hubs.
By contrast, Pinsent Masons property partner Jon Riley's legal career began in London. Having trained and qualified in the City, the decision to move to Leeds was brought about by a desire to spend more time in the great outdoors. Ultimately, the move has enabled Riley to explore the Yorkshire Dales, whilst working on nationally significant projects such as a nuclear power station and major football stadia. Riley moved to Pinsent Masons 16 years ago, where he remains today, and now heads its Leeds office.
Like Riley, Hill Dickinson's head of banking and finance Richard Capper also started out in the capital after his university careers advisor told him to "go to London, go to London, or go to London". Despite enjoying life in the City, Capper soon became fed up with the culture of long hours and presenteeism, which in turn prompted him to move back North in search of a better work/life balance. But with a portfolio of high-profile clients including commercial banks Santander, HSBC, NatWest and Lloyds, the move to Liverpool hasn't come at the expense of top-quality work, he said.
Despite their impressive career journeys, all panellists acknowledged that it has not always been plain sailing. The popular interview question regarding resilience was turned on its head at this point, as each speaker offered a personal example of when they have had to overcome setbacks in the workplace.
Riley reflected upon an incident he experienced as a trainee, when he mistakenly sent the wrong document to Companies House, in relation to a global business setting up their UK branch ahead of a vital deadline. Thankfully, the mistake was remediable and so no major harm was caused. "We all make mistakes", he encouraged our audience of over 200 students, "but if you think you can correct it — then do it!"
As Capper reflected upon the setbacks he's faced throughout his career, one that stood out was an experience as a trainee when a multimillion-pound bearer bond went missing. To the team's dismay, they realised that it had accidentally been thrown away — a realisation that turned into a long journey through the City, following the rubbish first to a barge, and then to a tip, before spending the night sifting through the waste until the bond — thankfully — was found. Although quite an extreme example, Capper had a valuable lesson for the audience: "Don't panic! There's always a way to get through things and persistence will get you there."
Following on from this, Singh highlighted the importance of communication when you find yourself in difficult situations: "You are always going to have good days and bad days, however, you can guarantee that all the partners and senior associates you're working with will have been through the same thing, and so reaching out to others is the only way to really learn and overcome the issue you are facing."
For students attempting to secure a training contract in a competitive market, Capper highlighted how prospective lawyers might show resilience when dealing with rejection: "Rejection is hard, but you just have to stick at it. I like seeing people that keep on applying, as this shows a resilience that will stand them well in the future."
Hedayati expanded upon this with reference to her own experience of training contract rejection. In her view, "the ability to adapt to change with a positive mindset and have the determination to move beyond rejection or rise to any competition" is what shows real resilience. "Do you give up right then and there?" she asked, "or do you push on to create and secure that next opportunity?"
Amanda Hedayati, dean of @UniversityofLaw's Manchester campus, discusses the importance of resilience and how aspiring lawyers can demonstrate this quality in their applications. #LCCareers pic.twitter.com/H2iist9s9K

— Legal Cheek (@legalcheek) August 6, 2021
About Legal Cheek Careers posts.