Burges Salmon's Liam Edwards discusses his varied work in the firm's projects department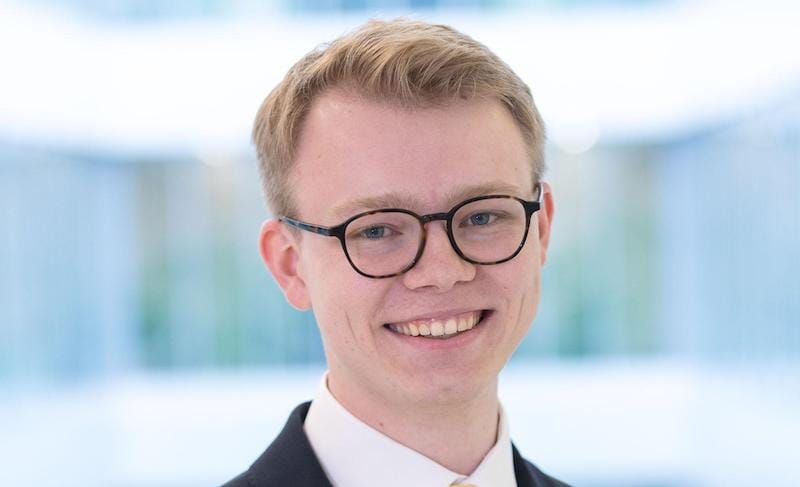 "The common aspect underpinning projects work at Burges Salmon is that everyone generally deals with long-term, complex commercial contracts," says solicitor Liam Edwards. Within that sphere, the team focuses on a number of different sectors, including defence, public procurement, energy and environment, transport and healthcare. As a junior lawyer, you are strongly encouraged, though not required, to fill your desk with work from whatever interests you across these areas. So, if you come in wanting variety, as I did, there's ample opportunity for that."
Edwards qualified into Burges Salmon's projects department in September 2023 after having completed the final seat of his training contract with the team. In the nine months that he has spent in projects, most of his work has come from defence, healthcare and public procurement projects, he tells me. "I find this breadth quite freeing, so my day-to-day now is very varied. I work across these sectors, but there's also no expectation for me to continue doing so if I develop a focused interest in another area over time," explains Edwards.
I was keen to ask Edwards about his work in defence, and whether working in this sector brings any particular challenges. "Contracting in the defence sector is a heavily regulated area. So, as a junior, you're coming in with perhaps a broad familiarity with how commercial contract negotiations work, but you're then faced with a regulatory backdrop that's very new to you. The same goes for public procurement. Having to get to grips with this background is crucial, because you've got to understand how the legal-regulatory, commercial, and policy factors interact with each other to inform the parties' decision-making," Edwards says.
He goes on to discuss stakeholder management, and how to advocate for a client's position in large-scale public sector and defence projects. "The key principle is communication. As a junior, this applies to you twofold — not just in terms of communicating with clients, but also internally. A lot of people find it easy to slip into the habit of not saying anything when things are progressing as planned. The reality, however, is that getting a simple email across to let someone know that things are on track can be hugely reassuring, and it doesn't take much time". He tells me that it became apparent to him during his training contract that a lot of the best lawyers communicate quite heavily with their clients and recommends getting to grips with this approach in the early stages of one's career. While client contact is not likely to be too prominent at a very junior level, this skill can nonetheless be sharpened by managing expectations and keeping people up-to-date internally, explains Edwards.
We also discussed his thoughts on Burges Salmon's six-seat training contract (most law firms take a four-seat approach) and how he's finding the transition from trainee to solicitor. "By the time I reached the third or fourth month of a seat, I usually felt confident that I could make a well-informed judgement on whether I could work in that department long-term," he says. For Edwards, having the additional variety was a valuable opportunity to explore more areas of the firm and gave him the comfort that he was making the right choice when applying to qualify into the projects team.
Moreover, the six-seat training contract usually entails sitting in five, rather than six, different practice areas, with final-seat trainees generally going back to sit in the department they are planning to qualify into.
"I think that's a huge advantage for trainees transitioning to an NQ role — with three or four months left on your training contract, you're about as good a trainee as you can be. While the type of work and degree of involvement intensifies as an NQ, the transition is much smoother as Burges Salmon NQs have the sense of continuity that they are working on the same matters as they were in the final months of their TC, explains Edwards. "It's really useful that this is a gradient process, rather than a sudden change in expectations," he says.
So, how does a junior lawyer find their feet when pulled into a long-term project? "You often come into one when it's been rumbling along for months or even years, so it can be quite difficult to get your head around how you now fit into it," notes Edwards. He advises being proactive and asking for time from one of the more senior lawyers to get an overview of how things have progressed thus far and why. "You might question whether this is a good use of their time or your own, but you'd be surprised at how often a discrete bit of drafting or research in a very large project can be informed by having that broader contextual view," he says.
To finish off our conversation, I went on to ask Edwards what advice he had for junior lawyers to make the most of their training contract experience at a given firm.
"In terms of skills that hold a trainee in good stead, communication and time management are key. You should generally be able to deliver the outputs expected of you on time without compromising on standards," he points out. "You also need to remember that you're going to make mistakes which are often unavoidable — as a trainee, you're not going to perfectly understand how an agreement works in a really complex circumstance. You need to give yourself time and space to reflect on mistakes. Part of your job is to evaluate your work to understand how and why it got changed before being sent off to the client."
Liam Edwards will be speaking at 'Life as a projects lawyer — with Burges Salmon', a virtual student event taking place on Wednesday 11 October. Apply now to secure your spot.
About Legal Cheek Careers posts.