A panel of experts discuss coding, AI and how soft skills remain paramount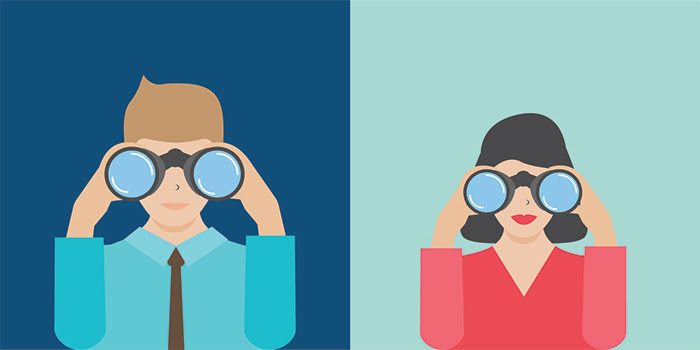 Should aspiring lawyers, aiming to woo over increasingly tech-savvy firms, learn to code? For training contract seekers up against fast approaching summer deadlines, it's an important question. According to Rif Kapadi, a senior associate in Pinsent Masons' privacy and commercial team, fluency in computer code is an impressive quality to possess and one which will no doubt catch the eye of graduate recruiters. Speaking at last month's 'Secrets to Success' event at The University of Law's (ULaw) Manchester campus, panellist Kapadi explained:
"It shows me that they've done something above and beyond the law; that they are driven and possess an aptitude to learn new things quite quickly."
Indeed, such specialised skills will go far in a profession which is currently in the grips of a tech revolution. "Tech is here to stay", it's not simply a fleeting-fad that lawyers can wilfully ignore, Kapadi told an audience of over 80 students. As more clients want everything done yesterday and for a very cheap price, emerging tech is an appropriate tool for improving efficiencies, hitting deadlines and ultimately getting more value for money, he explained.
Sharing his examples of innovation-in-action was Michael Black, a Freshfields M&A associate currently on secondment at the magic circle firm's Manchester hub. Black, who works within a team of lawyers, legal technologists and project managers, explained how the legal industry's new 'out with the old, in with the new' mentality has led to the greater automation of simple tasks, particularly through the use of artificial intelligence (AI). Black also cited common examples of firms using smart algorithms to give trainees and paralegals the head start on document-heavy contract reviews or initial drafting exercises — freeing them up for more challenging, higher value work.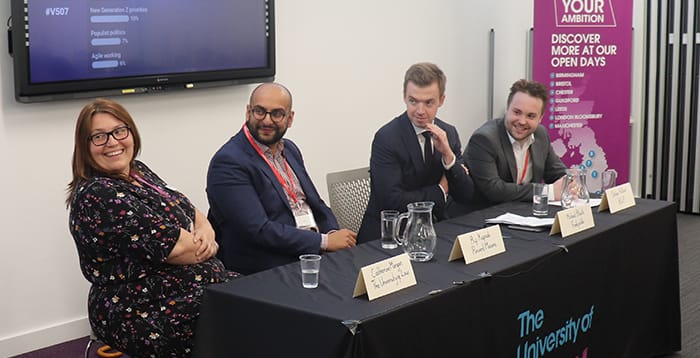 Bringing together people with non-traditional expertise, such as legal technologists having the capacity to code, alongside lawyers would prove useful for incumbent firms seeking to avoid complacency and as part of a general move to shift away from traditional tried-and-tested workplace practices. This movement is especially key, Black stressed, to remaining ahead of the curve and staving off mounting competition from alternative legal service providers — including from the so-called 'Big Four', whose experience handling large accounting and consulting projects efficiently could attract value-seeking clients.
Coding aside, both Kapadi and Black, whose firms are among several key players in Manchester's thriving lawtech scene, noted the far-reaching implications of everyday innovations that the digital native generation often take for granted. Smart phones, Skype, Wi-Fi and email are indispensable tools for the modern, agile working lawyer, they stressed.
A danger exists, too, in allowing trendy tech-talk to distract you from seeing the bigger picture: law firms want intelligent, business savvy lawyers capable of building rapport with clients.
Although coding is a useful skill to possess, aspiring lawyers shouldn't lose sight of the fundamentals, said Catherine Morgan, a former Weightmans and DWF solicitor who currently heads up ULaw Manchester's careers centre. Although students can tailor their degrees to reflect their budding interests — for example, through ULaw's new MSc in Legal Technology — don't forget about the core skills. As Morgan put it:
"Tech is simply a tool. If you haven't got the basics, if you don't know the law, if you don't know what you're doing, then it doesn't make any difference at all — you need those basics."
In agreement was Declan Hollows, a trainee solicitor in Bryan Cave Leighton Paisner's Manchester risk and regulatory team. Although being tech-savvy is certainly useful, it's ultimately not what a lawyer is, he said. "If a client phones you out of the blue and asks you about a document or for an update on a matter that you've been working on, Google or a form of AI are not going to help you — they will expect an answer like that [clicks fingers]," Hollows explained. "Sure, you can say 'I need to look into this further before I fully advise you', but a client is not going to sit on hold and patiently wait for something they're paying you a lot of money just to know whilst you sit down and boot up a piece of tech."
Similarly, while code-speak may come in handy in striking up conversations with tech-focused clients, it's not the be-all and end-all in building relationships. After all, Morgan believes, being a good lawyer demands more than talking shop — expect to have a friendly chat about football or even Love Island before doing business. Indeed, it was these soft skills that saw the former solicitor's clients follow her when she moved firms. Adding her final thoughts to the coding debate, Morgan said:
"It's all about being as personable as possible. That's why a lot of firms when they're interviewing you, they want the personality. You can be a straight A student, you can have black letter knowledge, but you need the personality because that is what's going to connect with the clients and will make the business fruitful in the future."