How tech is changing the way trainees work
Four lawyers cut through the hype at our latest student event in Reading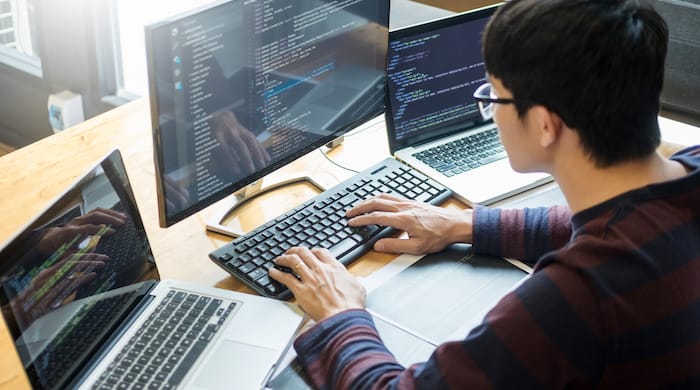 When Matt Walker, a partner in Shoosmiths' real estate team, first started in law, there wasn't internet access in his office and email did not yet exist. Lawyers didn't type (or touch-type for that matter); they would dictate to a secretary who would type for them. For Jeff Chang, a partner in Osborne Clarke's corporate group, amending contracts by hand and perusing swathes of lever arch files to analyse due diligence risks contained within clients' contracts was the norm.
Two decades later and both lawyers, who were two of four panellists at this month's 'Innovation and the law' event held at The University of Law (ULaw) in Reading, noted the marked shift in the way in which they work largely in part due to the 'digital revolution'.
"The pace of change has been quick," said Walker. "Real estate lawyers were notorious for having paperwork lying around. I now work entirely paperless: all deeds are now stored in our online system. I can work from anywhere: I don't need a desk or a work phone; my work is entirely driven through my laptop and that has been an enormous change over the span of my career," he added. Now that contracts can be drafted and uploaded electronically, and intelligent contract review platforms can analyse thousands of documents in a matter of minutes, the cost of carrying out a typical due diligence exercise for Chang's clients has reduced significantly.
So what are some of the innovations that have brought about this change?
Shoosmiths' Spotlight is one such innovation. The smart due diligence tool has changed the game when it comes to reviewing and negotiating commercial contracts — a menial task which would have previously kept the firm's trainees and paralegals toiling away for hours on end, explained Walker. Matters+ is another tool developed by the firm. The cloud-based app is targeted at in-house legal teams to track, analyse and manage their workloads.
Spearheading the digital revolution at Osborne Clarke is partner and innovation specialist Dan Wright, Chang explained. Wright leads the firm's service innovation programme, 'Osborne Clarke Solutions': a twelve-member (and growing) team that helps clients explore how they would like legal services to be delivered to maximise value to their businesses. "It's one way we keep our clients sticky," noted Chang, who advises high growth tech businesses.
Appearing alongside Walker and Chang was Christopher Cameron, a newly qualified corporate and commercial solicitor at Blandy & Blandy. He told the audience of over 30 students that the Thames Valley outfit has recently revamped its website to include an intelligent chatbot feature which directs potential clients to a relevant lawyer within the firm. A new online portal is also in the pipeline which will serve as a tool for fee-earners to interact swiftly with and update clients on a transaction.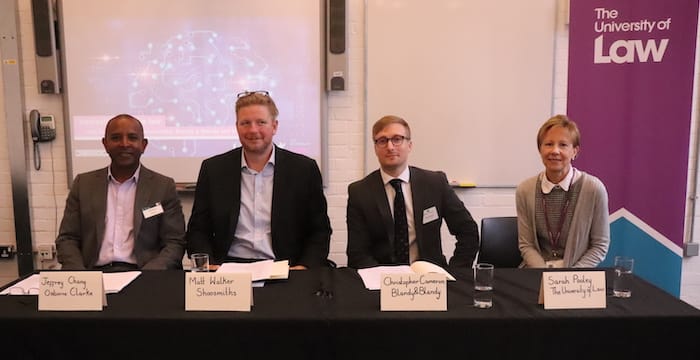 Of course, tech is not without its limits. That natural thought process, the ability to innovate or look your client in the eye and bestow confidence in them simply cannot be replicated by robots. "Tech helps drive efficiencies to get to an end point but the lawyer-client relationship will always be paramount," said Chang.
As law firms embrace innovation through technology to keep up with the pace of change, it's imperative that law schools, who prepare lawyers of the future for the world of work, do the same. Sarah Pooley, dean of ULaw's Reading and Guildford campuses, who was also on the panel, explained that ensuring students are informed about the developments taking place in law firms are central to the curriculum offering. Last December the leading education provider announced plans to launch in Nottingham. This, alongside its city centre campuses of Leeds and London Moorgate, have been termed 'legal tech hubs' where a new MSc in Legal Technology covering everything from artificial intelligence (AI) to cyber law, is available to students with an appetite for tech. ULaw also has a new undergraduate LLB in Law with Legal Innovation and Technology which will be delivered at its London Bloomsbury site in addition to the Nottingham, Leeds and Moorgate campuses.
The present wave of innovation has facilitated the agile working movement. The panel were in agreement that lawyers truly can work remotely from anywhere, even if, as Chang put it, that is "in the car connected to any one of our offices from your phone" or "at a client's office."
This is in part reflective of an increasingly more diverse workforce and culture within law firms. At Osborne Clarke, for example, lawyers have embraced connected working, which means they work more flexibly, collaboratively and responsively with one another and clients.
There has, however, been a slight "pushback" to the movement, noted Shoosmiths' Walker. "Most law firms are as agile as they can be: people are increasingly all over the place in terms of where and how they work. We've got to a point where we're not seeing enough of everyone. The majority of the time only half my team is in the office. There's a balance to be struck and we're considering how best to make it work. We think everyone should be in the office at least one day a week as a touchpoint," he said.
What then does this mean for trainee and junior lawyers, who require an element of supervision in their early years? The panel agreed it's important they are in and around the office developing networks and at the forefront of seniors' minds when it comes to getting on the meaty deals and transactions. "Sure, you can ping over an email or pick up the phone but it's just so much easier when someone is sat there right next to you," said Cameron. Chang agreed: "You hear and pick up a lot from colleagues talking around the office. I wouldn't want a trainee to spend two hours tackling a problem a partner could help them with in two minutes."
It's fair to say technology is changing the game within law firms. But don't let an over-reliance on tech cast aside your knowledge of the law. Chang closed out with some words of warning:
"There may come a time when you do not have access to the internet or one of your precedent documents and will have to draft a contract freehand. It is very important — and I cannot stress this enough — to know your black letter law. Being a slave to tech won't make you a very good lawyer."