Aspiring solicitors should seek the skills robots can't replace
A sneak peek of some of the hints and tips BPP innovation chief Adam Curphey will share at Wednesday's 'Commercial, digital and data awareness' event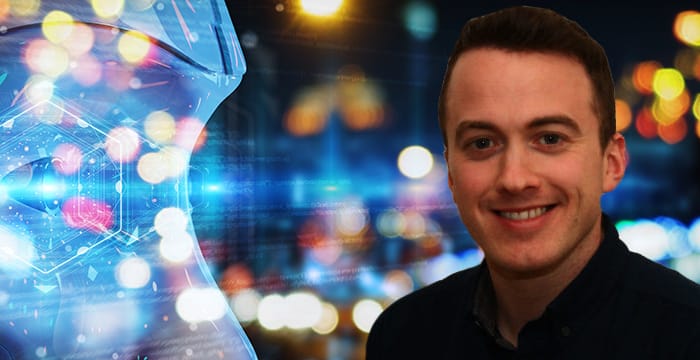 BPP University Law School takes tech and innovation seriously. Adam Curphey, BPP's head of development (innovation technology), is the man behind the movement.
Such is its tech-savvy that last September, BPP launched a legal technology innovation and design module in a bid to plug the notable innovation skills gap among junior lawyers. The course, which was very well-received, paves the way for similar future developments to the school's Graduate Diploma in Law (GDL) and Legal Practice Course (LPC) offering, and of course, the impending solicitor super-exam, the finer details of which Curphey is currently busy working on. "We're looking at how we can embed technology into legal training rather than it be bolt-on," he says.
The legal profession has embraced artificial intelligence (AI). A clutch of City law firms have launched their own in-house tech hubs, while others have invested large sums in externally-developed products. We've seen all manner of 'rise of the robot' headlines but what does BPP's innovation chief make of the so-called hype? Curphey delved beyond the PR puffery and sought to simmer the marketing noise:
"There are pressures for legal organisations to be more efficient and find innovative solutions — tech can certainly help with that but it's not always the solution. Solutions involve 'a what, a how, and a desired result'. People will often get the 'what' — they'll buy a new shiny piece of kit — but tech is a solution in search of a problem. It should only be the solution if it is the best fit for a desired result.

Most people are not aware that a lot of what AI systems do can be replicated by a simple Microsoft Excel function — if people can understand basic digital literacies, we can then leverage everyday tech capabilities."
On the flipside, technology has created a wave of new jobs. "The digital revolution means it's now all about the 'blended legal team' rather than the 'lawyer'", says Curphey, "and innovation managers, legal technologists and design specialists all increasingly play a role in the future law firm."
BPP's new module goes some way in preparing lawyers of the future for this change. The jargon-busting course decodes tech talk. But it's not just about tech; the course includes innovation and design elements to give students access to a wider skillset.
How else should students seeking to enter the legal profession during this time of change engage with tech? On whether future lawyers should get to grips with coding know-how, Curphey says: "If we think of coding as a language, you'll be a 'conversational' coder during your legal education or training at best." By way of comparison, "a law firm wouldn't let a 'conversational' French speaker loose on a complex French document!" If the option is available to you it's a great skill to have, but does he think it's a must-have skill in every lawyer-to-be's toolkit? "No way!"
The strength of lawyers is their intellectual and analytical skills but also their emotional intelligence — the ability to gauge a client's reaction and tailor the legal advice accordingly. Skills such as these will continue to be central to legal practice and may even be valued to a greater extent as more routine tasks are commoditised, notes Curphey. Students should therefore seek to develop the skills that robots can't replicate.
In today's ever-changing legal world, Curphey reveals adaptability tops his list of skills lawyers of the future need to succeed. It's why those 'rise of the robot' headlines irk him — "they refuse to acknowledge that people's skillsets change overtime: they can adapt, retrain and continue to learn — that's what I did."
Indeed, Curphey firmly believes "no one is ever too late to learn". The Oxford law grad practised as a capital markets solicitor at White & Case before making the switch to teaching. He joined BPP first as a lecturer, teaching business law and finance, before his interest in innovation took hold. "I always had an interest in tech and innovation but I didn't have the expertise so I started to learn about the industry. I did my own research and spoke to people — that's how I carved out my niche in innovation tech", says Curphey, who is currently completing a masters in education and technology.
Commercial awareness is another buzzword law students will be familiar with — it's the overarching theme of Wednesday's event, 'Commercial, digital and data awareness'. It's imperative students keep a close eye on the goings-on of the commercial world, particularly how legal tech is reshaping legal services, Curphey says.
How might they go about doing this? Consider working for a tech start-up before moving across into legal practice, to get a flavour of how things work, he advises. Take part in tech-themed initiatives, too. BPP, for example, recently hosted a series of legal tech events during its Employability Week. YouTube videos also offer great insights, says Curphey, who has published a series of two-minute tech talk tutorials explaining concepts such as blockchain using easy-to-understand analogies. "Digital literacy is expected much the same way as ground-level business acumen."
Another way is to reach out to techies online. "Connect with them on LinkedIn and Twitter, see who they follow and build up a network this way," advises Curphey. "The legal innovation community is not massive — if you want to get involved come find us and join us!"
Students would also be well-advised to brush up on cyber security and the major data and privacy scandals of recent months — a sticking point for law firms, whose trade revolves around handling highly sensitive data.
The rapid pace of tech innovation creates exciting opportunities for the next generation of lawyers. Curphey has plenty of tips for students hoping to leverage tech in their applications, more of which he'll share at Wednesday's 'Commercial, digital and data awareness' event. But for now he leaves readers with this snippet:
"Don't do the same as everyone else — find what it is that drives you and makes you unique. STEM students, for example, will think differently to law students, other students might excel at problem-solving, and some may choose to carve out a niche in a particular area of law."
Adam Curphey will be speaking alongside lawyers from Allen & Overy, Bird & Bird, Freshfields and Norton Rose Fulbright at Wednesday's 'Commercial, digital and data awareness' event. You can apply for one of the final few (and free) places to attend now.
About Legal Cheek Careers posts.