Ahead of tomorrow's event, 'Life on the frontline of the global economy', White & Case counsel Catherine Andrews looks back on her career in capital markets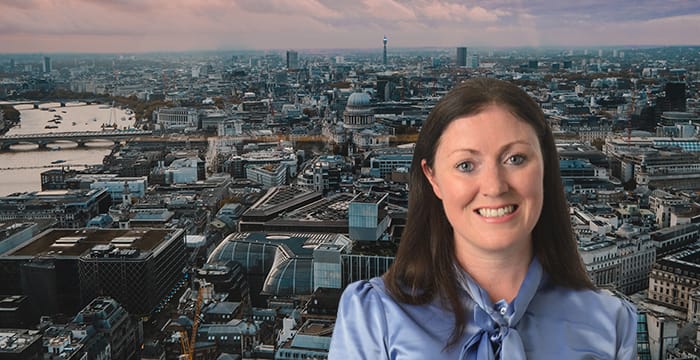 Despite fears that global economic growth is slowing, investment into emerging infrastructure markets remains buoyant. According to White & Case counsel Catherine Andrews, the demand for increased spending on roads, ports and energy facilities often follows a so-called "infrastructure funding gap", where governments look to institutional investors to enable them to realise their extensive energy and infrastructure requirements. Bridging this funding gap, however, is costly and requires external advice and structuring, as Catherine explains:
"There's only so much funding a government can give for an energy or infrastructure project. So, there's always a need for private investment and financing — regardless of the state of the global economy."
As a capital markets lawyer specialising in infrastructure, Catherine advises government entities and corporations on accessing the international capital markets to raise the required funds by way of a bond issuance (effectively a form of debt security). This type of transaction gives investors a steady return of interest and principal over a prescribed period of time, and provides government entities and corporations with a viable and cost effective way of funding large projects as an alternative or complementary source of funding to traditional bank loans. Catherine, along with her team, help prepare the underlying legal documentation, including a bond prospectus which "drills down into the detail" of the project and explains the transaction to investors.
In the past year, London-based Catherine has represented a number of high-profile oil and gas and infrastructure clients from the Middle East issue bonds worth billions of dollars. Africa's capital markets, too, are seeing heightened activity. "Africa is a key area of focus for White & Case — huge infrastructure is on the agenda," says Catherine, who's currently advising a Nigerian oil and gas company on its debut capital markets issuance.
But this buoyant practice area remains "extremely sensitive" to shifting geopolitics and market confidence Catherine explains. "The difficulty is that when you're having to access the markets at a time where there is underlying turbulence or uncertainty, a number of uncontrollable external factors can have an immediate negative impact on market conditions on any given day. This means that ultimately, issuers can be forced to agree to a higher rate of interest on the bonds to be issued in order to successfully close a deal with investors, or risk waiting for market conditions to improve before closing that can cause an unlimited amount of delay."
Amid ongoing US-China trade tensions, and an increasing use of economic sanctions by governments worldwide, capital markets lawyers must remain aware of what is going on in the world and where the introduction or expansion of sanctions legislation could impact a transaction. "Sanctions were hardly mentioned when I qualified but are now a big part of every transaction we do," says Catherine, who studied modern history at the University of Oxford.
Being proactive in advising clients aligns with the entrepreneurial mindset typical of lawyers at leading US law firms, such as White & Case. Catherine explains: "It's about being able to pre-empt challenges and offer advice before market developments hit news headlines, so you can immediately ring up your client and say, 'I don't know if you've seen this, but it may impact you. Would you like me to prepare some advice for you on this?'"
This readiness to act stems in part from Catherine's experience of the 2008 financial crash. "I qualified in September 2008 — Lehman Brothers collapsed two months later. The international credit markets were effectively frozen. For us lawyers, it was an extremely difficult time," recalls Catherine.
The crash signalled an end to the economic boom and the seemingly endless supply of work for City lawyers. "When I entered law, I saw it as a job for life. You could go in, train at a big firm and then you're set up with a 'guaranteed' job. But the economic crisis was a big wake up call to everybody. Work is not guaranteed; you can't take it for granted."
Fortunately, Catherine qualified at a magic circle law firm in Dubai, whose economy remained relatively robust during the crisis. "In the fall-out from Lehman, the Middle East, which was traditionally seen as a risky commercial environment, was now regarded as a safe haven for bond investors, and was somewhat shielded from the financial crisis. So, while my colleagues were twiddling their thumbs back in London, I was extremely busy and cutting my teeth on some really interesting and novel deals," she tells us.
In 2012 Catherine joined White & Case's Abu Dhabi office, which offered greater opportunities to specialise in government-led project financing. Three years later, she transferred to the firm's London office.
Despite the long hours and the challenge of overseeing several deals at once, Catherine enjoys the "thrill" of building new client relationships. "When you represent a client on a bond transaction, you have the ability to become their trusted legal advisor. Walking them through the steps of issuing a bond also means you get a real insight into their business, which offers up plenty of opportunities to cross-sell other legal services to them."
So, what does it take to make it at a big US law firm? Well, according to Catherine, it's showing that you're a team player:
"It doesn't matter how much you know about a practice area; always remember that you are a vital part of a team. Regardless how mundane the work you are set, a whole team of partners and associates deeply rely on you carrying out those tasks extremely well. We can teach you how documents can be drafted, but what we can't teach is good work ethic."
Demonstrating such diligence from the get-go is vital. "Trainees should view each seat on a training contract as a six month job interview. By the end of your seat, you should be regarded as someone that's indispensable in the team and ultimately a safe pair of hands who can be relied on to execute at the highest level," Catherine advises.
Catherine Andrews will be speaking alongside other White & Case lawyers at 'Life on the frontline of the global economy' tomorrow, Wednesday 2 October, at the firm's London office. This event is now fully booked, however you can still apply for the waiting list.
About Legal Cheek Careers posts.