Goodwin Procter's Ravi Chopra talks AI, ESG and why good commercial lawyers are the ones who truly understand what drives their clients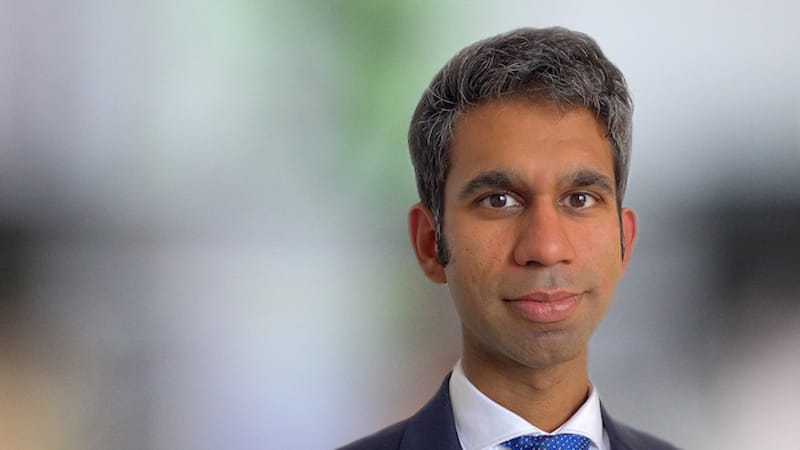 "It is important for aspiring solicitors to have a general awareness of macroeconomic trends like inflation and geopolitical developments," says Ravi Chopra, funds partner and UK early careers co-chair at the London office of US law firm Goodwin Procter. "Developing your commercial knowledge will help you connect with clients on a deeper level. You will be able to appreciate what drives them and their business. This will ultimately make you a better, more well-rounded lawyer."
As a funds lawyer, Chopra often works with fund managers looking to raise capital from institutional investors, such as pension and sovereign wealth funds. This money is then invested in sectors like private equity, technology or healthcare, which is where commercial awareness comes into play.
Chopra explains this with an example. "We are seeing growth for our healthcare clients internationally," he explains. "One reason for this is that governments may be budget-constrained, or open to private partnerships, and this has opened avenues for alternate providers. The scale, pace and innovation required in this space can be driven by private equity players."
Chopra also keeps an eye out for the demographic trends that impact the healthcare sector. "Life expectancy has risen considerably in recent years and people want to have the best possible care. Facilities like semi-assisted living spaces, with a mix of healthcare support, catering and leisure amenities, are now increasingly in demand in the UK and the US. We also see increasing demand for life-enhancing, as opposed to life-critical, medical procedures, such as laser vision correction," he explains.
Another trend is the heightened focus on healthy lifestyle choices, in particular across the younger demographic. "There is a trend to look after themselves. Alcohol and meat consumption seem to be at an all-time low in the UK, while  discretionary spending on healthcare is rising, which is naturally of interest to my clients," explains Chopra.
How ESG impacts clients
When we speak about topical business trends, Chopra walks me through the impact of environmental, social and governance (ESG) on his practice. "I am talking about ESG with clients a lot more than I used to," he says. "We are also seeing investors increasingly conscious about making ESG-friendly investments decisions. It is great to see stakeholders across the board approaching the area with good intentions – there's a real sense that they are adopting ESG because it is a win-win for society as a whole, as well as a pragmatic commercial choice."
That said, it is important to 'rationalise' the approach towards ESG in transactional work. "Not every investment is going to improve the environment and the impact can vary from industry to industry. If you are buying an office or residential building, for example, there are clear implications around energy efficiency and building materials. This is to be contrasted with something like acquiring a research company where energy consumption and environmental impact may be more limited," says Chopra. Lawyers must therefore apply a 'common sense' approach and tailor their advice to each specific transaction.
Is AI changing the legal sector?
Another major issue impacting the profession is technology — particularly artificial intelligence (AI). Chopra tells me that technology has been "increasingly helpful" for process and document management in his practice. At the same time, it is unlikely that AI will replace what he describes as "the humanity of business relationships".
"If people are investing in a fund, they are investing in a team of executives who run the fund. They do their due diligence on those people, before entering into a long-term business relationship with them. Legal discussions and negotiation of terms form part of that dialogue, where clients appreciate a high quality and personal approach. There's no denying that AI can complete certain due diligence tasks efficiently, but there is always a human oversight element involved. Plus, specialist clients often desire a high degree of tailoring, which AI may not be able to offer."
'Sector focused approach'
With the application season for vac schemes and TCs in full swing, Chopra also offers guidance on developing a commercial mindset. "I would encourage students to read economic and finance news from multiple sources. The more you read, the more likely it is that you will stumble upon a sector or two that interest you more than others. You can then start focusing on specific developments relevant to these sectors and develop a real depth of understanding."
So what should your commercial awareness prep look like in practice? Chopra helpfully breaks down the process: "Let's say you read an article about an innovation or change in a particular sector. Once you're done reading, take a moment to consider what the challenges that a client could face around such a development are. First, think about how inflation, interest rates, or other macroeconomic developments might impact such a company. Then move on to consider how a client in that sector would respond. With sector-specific news consumption, you might also be able to point to the latest headwinds or best practices that businesses in the industry may be adopting," he says.
Following this approach, you would be better able to 'connect the dots' when you read news pieces. "Consuming information in such a way is an important skill for a corporate lawyer," says Chopra. "When a client comes to you with an issue, you can appreciate it in the context of both macro and micro-economic trends. Good corporate lawyers go way beyond just completing the tasks at hand. They are the ones who can work the broader context and see what the client cares about. This gives you the texture to be able to discuss the client's business needs in much more detail and depth. And, of course, it improves your drafting and negotiation and, over time, makes you a better lawyer," advises Chopra.
About Legal Cheek Careers posts.