Three pupil barristers at Hardwicke reveal how they made it over the line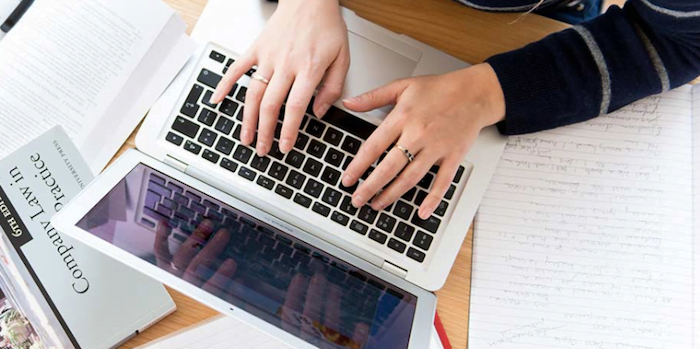 Understand your audience
Your application will most likely be read by a barrister and graded according to the criteria laid down by the chambers to which you apply. Some chambers now explicitly state what these are. Read, understand and digest them before you commit to your application.
First and foremost, remember that barristers are advocates not recruiters, and that they are contributing to chambers' recruitment process alongside their caseload, rather than instead of it. They may well be carrying the paper sift out at odd hours of the day, and so a rambling answer will be less appreciated than something succinct and well-thought-out — both stylistically and practically.
Treat every application as an advocacy exercise in which you are also the client. Plan your application as a whole, and structure your responses so that each shows off key skills or experiences — without hesitation, deviation or repetition. Avoid flattery: barristers are immune, and it may undermine an otherwise strong application. Wherever possible include a hook: provide a complete answer, but one which leads your reader to want to find out more from you at interview.
Don't stop being 'you'
Writing your pupillage application is probably the only time in your study of the law, and your future career, when you can be expected to know everything about the subject: you. For every chambers you apply to, understand what you have to offer them in terms of skills and experience and make that a 'golden thread' running through each and every section of your application. Demonstrate the best version of you, even where the question asks about your weaknesses, without embellishment or unnecessary padding.
Every workplace has its own culture, and this is just as true of the bar and each chambers. Make sure that your research has covered this aspect, and that you are able to cover this too: explaining your motivations or demonstrating previous experience can be a very good way to fit this in. A mismatch between the 'you' in your application and you at interview could be embarrassing on the day.
Show, don't tell
Judges decide on the evidence, so barristers are used to presenting their own and analysing other people's. You may be tempted to make bald assertions in your applications as the deadline approaches and you have your exams, work and, occasionally, social life to consider, but you should avoid this at all costs.
Nobody will believe that you wanted to be a Chancery barrister thanks to Bleak House, and you may find that claiming "excellent advocacy skills" or "a passion for addressing inequality" will cause the reader to recoil. They may be more easily persuaded if you can provide them with brief and relevant examples of your abilities:
"Volunteering with FRU, Judge X in the Social Security Tribunal complimented me on my knowledge of the facts and my concise and accurate submissions, which led to the reinstatement of my client's benefits."
Above all, make sure you can satisfy the panel's follow-up questions about issues in the case, or what you learnt from the experience.
Minis and more
When you are applying for pupillage, it is important not to lose sight of the fact that if you receive and accept an offer you are signing up to spend a substantial amount of time in that chambers. Indeed, your next goal will be to earn an offer of tenancy, which would bring with it the promise of more days (and nights) spent in and around that set. For this reason, it is extremely important to ensure that you learn as much as possible about chambers while you are helping them to learn about you.
Mini-pupillages are an excellent way of doing this; they provide an opportunity to experience day-to-day life in chambers and to meet members of all levels of seniority in a more informal setting, without as much pressure as an interview. It is a very good idea to try to do a mini-pupillage at a set you think is a good fit for you. At best, your suspicions will be confirmed, and you will be supplied with a well of application form and interview enthusiasm. At worst, you will be able to make an informed decision about whether to send off the form when the time comes.
Of course, it is not possible to do a mini-pupillage everywhere. No set has capacity to offer mini-pupillages to every applicant — most are unable to offer minis even to all those who have a strong chance of getting pupillage there — and your time will be pressured as well. It is therefore a good idea to try to meet members of chambers informally in other circumstances. Lots of chambers host events for exactly this reason, and these are great opportunities to meet a range of members and to ask as many questions as you like in order to understand whether you'd be happy to build your career there.
Take every opportunity you can to find out at which set you'd be happiest — it will pay off in the end. Despite the intense competition for pupillages, you should still try to know where you would go if you got an offer from everywhere you applied.
Standing out
The timeless question: what will help me to stand out? It is easy to get overwhelmed with the number of different things you could be doing to strengthen your applications. Mini-pupillages, pro bono, mooting, debating, employment… The thing to remember is that you aren't doing these things to tick boxes. You are doing things in order to have some experience you can point to in your applications and interviews in order to say "yes, I have that competency as demonstrated when I did X".
The good news is that as well as doing the above you can gain those experiences every day in your studies, in your part-time job, through your hobbies, through your caring responsibilities. Think outside of the box. How have you shown an ability to strategise, assimilate a lot of information or sort through a complex factual pattern in the things you have already done? How could you achieve these competencies in the things you are doing right now? Telling your assessors that you have learnt how to manage the expectations of a client in your part-time job as a waiter is likely to interest the panel as much as hearing about how you read a set of papers during a mini-pupillage. Be creative. Make your examples relevant to your life. Be personal.
For more advice from Christopher Burrows, George Eyre and Helena Drage, check out their pupillage application open thread.