The University of Law academic manager Nicole Kalli discusses what it is like to work and study in the capital, ahead of her appearance at 'Secrets to Success London'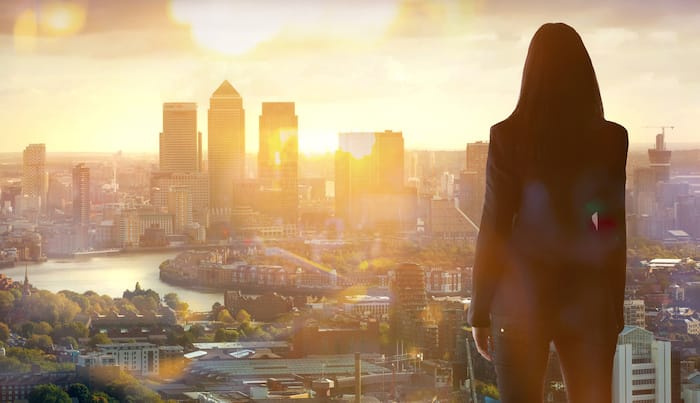 How do you build a legal career in the UK's bustling capital? Nicole Kalli, academic manager at the The University of Law's (ULaw) Bloomsbury campus, gives us her advice and perspective on life as a lawyer in the City.
Legal Cheek Careers caught up with the former property litigation solicitor ahead of her appearance at 'Secrets to Success London' to get her take on the capital's "constantly evolving" legal market.
Can you briefly tell us about your background and your role as an academic manager?
I joined The University of Law in September 2020 as a tutor. Prior to joining ULaw I was a solicitor specialising in property litigation and leasehold enfranchisement. As an academic manager, I manage the visiting lecturers for London Bloomsbury. Alongside my management role I also teach. I currently teach on the LLB and SQE but have also taught on the LPC.

What prompted your move into legal education?
As a solicitor, I enjoyed working with the trainee solicitors and NQs. Particularly, teaching them new skills and watching their progression. I also enjoyed presenting to potential clients about leases. Naturally, I started thinking about how I wanted my career to progress and made the decision to apply to ULaw. I was successful in my application and joined in September 2020.
How does the time you spent working as a property litigation solicitor inform your current work?
My time spent working as a property litigation solicitor is invaluable to my current work, particularly teaching LLB and SQE. I can provide students with an insight to life as a solicitor. It has also assisted me in my role as an academic coach. As an academic coach, I am the first point of call for my allocated groups of students for any queries.
You are a former ULaw student yourself, having completed the LPC at the Bloomsbury campus. How has the university changed since you studied there?
Naturally, because I previously studied at ULaw and thoroughly enjoyed my time here I was excited to join as a tutor. I think the biggest change since I studied here is that we now offer a wider range of courses.
As a Londoner, what do you think makes the London legal market an exciting place to work? What about the South East, given you practised as a solicitor in Tunbridge Wells?
I enjoyed both working as a solicitor in London and Tunbridge Wells. Both provided me with intellectually challenging and interesting cases. Working as a solicitor in both areas was particularly exciting because of the opportunities to work on high-profile cases. The legal market is constantly evolving and therefore constantly adapting making it an exciting place to work.
Your previous role was as a tutor at ULaw, how has the transition to SQE from LPC been from your perspective?
I enjoy teaching on both the SQE and LPC. I have found it interesting teaching on the new courses and watching the students develop. It is exciting watching the transition between the courses take place and I'm proud to be a part of that.
London-based training contracts and pupillages are notoriously competitive, how can students stand out in this crowded market?
It is important that you show a genuine interest and enthusiasm for the particular firm or chambers you are applying for. Please do take your time to complete applications in detail and ensure that your application demonstrates why you are interested in that particular place of work.
Nicole Kalli will be speaking at 'Secrets to Success London Bloomsbury — with Reed Smith, RPC, Radcliffe Chambers and ULaw', an in-person student event taking place on Thursday 13 July. You can apply to attend the event, which is free, now.
About Legal Cheek Careers posts.