From ChatGPT to the SQE, The University of Law's Deputy Vice-Chancellor Peter Crisp looks at the major talking points among aspiring lawyers, ahead of next week's Legal Cheek Summer 2023 Virtual Vacation Scheme and Law Fair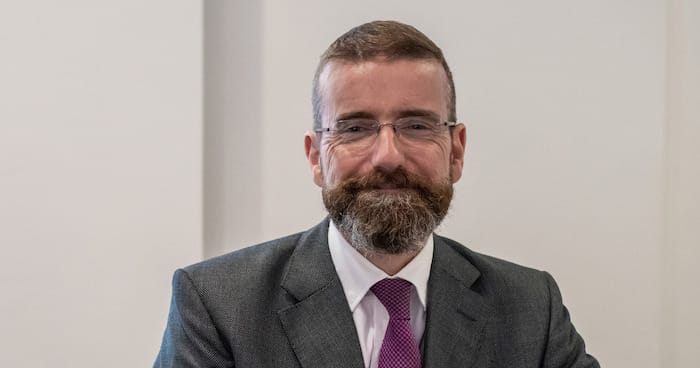 As we approach the halfway point of the year, Legal Cheek writer Divyansh Sharma caught up with The University of Law Deputy Vice-Chancellor Peter Crisp, to discuss the issues that have impacted the legal sector so far and what's to come in the months ahead. Here is his top four list.
1. The SQE
Most aspiring solicitors will now be familiar with the Solicitors Qualifying Exam (SQE), the new two-part assessment to qualify as a solicitor in England and Wales. Next year is "big" for the centralised assessment, according to Crisp, as this is when many law firms start their transition to the SQE. "2024 is the year when the training contract will most likely start to disappear and become Qualifying Work Experience (QWE), a term used to denote the mandatory two-year work experience under the new route," says Crisp. QWE is more flexible and does not require compulsory experience in areas such as litigation, unlike a traditional training contract.
But with the SQE come new challenges. One of the top ones is preparation to sit and pass the exams is not enough, with law firms requiring future trainees to undertake additional practice area and skills-focused modules and courses so they are practice-ready. In fact, a recent Legal Cheek survey found more than 85% of the law firms surveyed require this from their future trainees. Expanding on these findings, Crisp says: "This is a very strong message from the profession. SQE does not have modules like M&A and banking. This means you would struggle as a trainee in a corporate-heavy law firm."
Crisp advises students complete additional courses beyond the SQE which can make them more attractive to law firms. He explains: "There are two things to be mindful of as a student seeking to qualify through this route: First is completion of the regulator's requirements, which include passing the SQE and completing the mandatory QWE. The second is to understand what will make you more attractive to law firms — and this is where students must go beyond the SQE and think about what will prepare them for legal practice."
2. ChatGPT
Amidst the rhetoric around ChatGPT's potential to replace lawyers, Crisp remains positive. "The concerns we are raising around ChatGPT today are similar to the ones that were voiced when Google search came about," he remarks, adding that "human intervention cannot be completely done away with."
Recently, a lawyer in the US who relied on ChatGPT ended up citing non-existent cases in the courtroom, which Crisp tells me "is a classic example of why human oversight is needed on artificial intelligence (AI) tools". But given AI's potential, "we must look to exploit it to enhance the profession, including legal education", he adds.
That said, Crisp doesn't completely negate the concerns around common lawyer tasks being replaced by AI. "There is no reason why some legal tasks cannot be undertaken by AI. Flotation, or offering a company's shares to the public, is a good example. This involves a series of compliance steps that lawyers are required to check. In principle, a lot of this can be done by AI," he adds.
3. The future of remote-working
As the profession adjusts to the post-Covid era, law firms are gradually beginning to tweak their remote-working policies in favour of more in-office days. Recently, Skadden mandated its lawyers to work from the office four days a week. This follows similar moves by firms such as Davis Polk in their US office.
According to Crisp, there are a lot of good sides to working from the office, especially for junior lawyers. "As a trainee, you pick up a lot osmotically. You are observing how people behave and react to different situations," he says, adding that the 'socialisation' of a trainee goes missing in work-from-home set-ups. "You can of course easily do lots of work remotely, for example due diligence, and pick up many legal skills remotely. But what you can't learn is how to interact with clients and behave as a solicitor in the real world."
More facetime in the office also means you can ask 'stupid' questions, Crisp jokes. "It is much easier to get small queries clarified when you are working from the office. You can simply go to a senior and say, 'This may be a really stupid question but I wondered…' and that is all it takes!" This isn't always the same in a virtual set-up as juniors often don't want to put their small or perceivably 'stupid' questions in writing in emails or texts.
4. ESG on the agenda
Environmental, Social and Governance (ESG) is hot on the agenda for law firms and their clients. As businesses seek to improve their ESG credentials, they are asking law firms more detailed questions around areas such as supply chain management, data privacy and green finance. This, of course, also drives ESG commitments within law firms.
According to Crisp, aspiring lawyers must keep up to speed with the latest trends and market movements in this space. "Social responsibility is not just about pro bono and volunteering, but now involves things like climate change and the move towards net zero," says Crisp. "Anybody going forward in a legal career should be aware of these trends and how they impact law firms."
Building commercial awareness around up-and-coming areas like ESG is an integral part of becoming a better lawyer. "Ultimately, no client is coming to you because they love the law. They are coming to you because they want to do something, go on a journey, perhaps buy a business or even take a loan. As a lawyer, you must have clarity on your role here, which is to understand their business and help them achieve what they want to achieve," explains Crisp.
Ahead of his appearance at next week's Legal Cheek Summer Vacation Scheme and Law Fair, Crisp encourages students to be proactive in their participation and network with firms and lawyers. "Don't just be a passenger but try to be actively involved. Law firms want to get to know you and what shapes you as a person. Events like these are great opportunities to show your personality and learn more about your potential workplaces."
Peter Crisp will be speaking at The Legal Cheek Summer 2023 Virtual Vacation Scheme and Law Fair, run in partnership with The University of Law, which takes place next week from Monday 19 June until Friday 23 June. You can apply to attend the scheme, which is free, now.
About Legal Cheek Careers posts.