What we learnt from an hour listening to partners from Kirkland & Ellis and Skadden, as well as associates from Shearman & Sterling and Cleary Gottlieb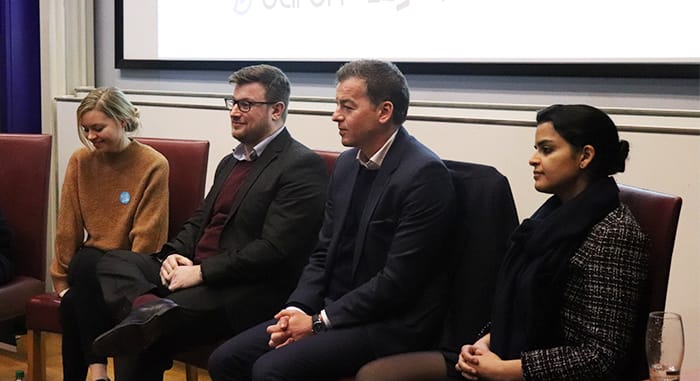 Skadden's co-head of private equity Richard Youle joined Kirkland & Ellis partner Aprajita Dhundia and Cleary Gottlieb and Shearman & Sterling associates Eloise Skinner and Michael Poolton at Legal Cheek's latest junior lawyer event, sponsored by US bar exam prep course provider BARBRI.
They reflected on their respective career journeys, telling the audience of 90 rookies what they learnt along the way. Here are the best bits.
Richard Youle, partner and co-head of Skadden's private equity group
"I'm probably the least academically qualified lawyer on the panel," quipped Skadden's Richard Youle, kicking off the evening's TED-style talks. Yet, there aren't quite as many career journeys quite like his.
Skadden's private equity co-head graduated with a 2:2 from Newcastle University in '95 but didn't let that limit his career progression. He moved back to Hull where he is originally from and secured a training contract with local firm Stamp Jackson & Proctor.
Two years later and by then a newly-qualified associate, his next career move was to Eversheds in Leeds focusing on private equity — a growing sector in the northern region at the time. Another two years later Youle moved to London to work for SJ Berwin (now King & Wood Mallesons) at which he was headhunted by Linklaters and made partner in five years — the firm's youngest-ever.

He went on to lead the magic circle firm's private equity practice before moving on to US firm White & Case and then take his current role at Skadden.
"The moral of my story is that you always have time," said Youle. "A career is like a river: you can't stop it flowing but you can always block it with a dam. Don't panic and don't rush — take your time and surround yourself with good mentors."
He also shared five traits he believes all future US lawyers need to succeed: 1) being super smart; 2) working hard; 3) able to work in teams; 4) a pro networker; 5) and finally, keeping a smile on your face whilst you do all this!
Aprajita Dhundia, partner at Kirkland & Ellis
Readers of Legal Cheek may recall Aprajita Dhundia's career story: from India's biggest law school to Kirkland & Ellis private equity partner.
To recap, Dhundia accepted a training contract at SJ Berwin in London having interned with various firms during her five-year law degree at the National Law School of India University and wanting to try something new much further afield. Seven years later she made partner at Kirkland & Ellis.
She shared with the audience two reasons for joining Kirkland: 1) she sought to grow the private equity practice she had built up during her time at SJB and so Kirkland, renowned for its top-tier global private equity, seemed the obvious career move; 2) she wanted to accelerate her career and so the firm's transparent six-year track to partnership appealed to her.
"Don't be afraid to change your environment — self-reflect every six months or so and ask yourself whether you're happy in your current job and if not, what you're going to do about it," encouraged Dhundia. "It's how you achieve your goals," she added.
On the importance of networking Dhundia offered this nugget of advice: learn something new (no matter how trivial) about every person you meet (no matter how long for) so that next time you see them you have something to talk about. And don't forget your personal support network, i.e. friends and family, since "a career in law is not something you can do on your own", she concluded.
Eloise Skinner, associate at Cleary Gottlieb
Eloise Skinner arrived at Cleary Gottlieb having grown up on an East London council estate. Both her parents are musicians which was the path she initially intended to pursue. But she soon set her sights on the law having realised her skillset was better suited there.
The Cambridge University triple-first grad completed a total of seven vacation schemes alongside her studies at US, silver and magic circle firms, which she said enabled her to gather broad insights into her eventual firm of choice. This was Cleary Gottlieb and she qualified into the firm's corporate tax department three years ago.
In her talk she outlined some of the reasons why she chose to train at a US law firm. These included the small trainee intake which often translates to greater responsibility at the junior-end, and once qualified, the chance to work across a sector as a 'generalist' rather than a 'specialist' early on in your career. And while so-called 'white shoe' firms are synonymous for having less structured and more on-the-job training than magic circle and other global UK law firms, Skinner said this enables rookies to help shape their own development.
Skinner is also a qualified Pilates, yoga and meditation teacher, and a trained Mental Health First Aider. She emphasised the importance of maintaining good mental health and wellbeing during her talk. Don't beat yourself down if you're faced with rejection, she advised, it's part and parcel of the training contract process and "failure is an opportunity to learn from it".
Michael Poolton, associate at Shearman & Sterling
At only six months qualified, in Shearman & Sterling's finance group, Michael Poolton was the most junior speaker on the panel, but definitely not devoid of advice to share.
Poolton reached Shearman via a law with French law degree at Oxford University followed by the Legal Practice Course (LPC) and a masters in law, business and management at The University of Law.
He reflected on his training at Shearman which included seats in competition; project finance/M&A during a secondment to Abu Dhabi; a client secondment to Intercontinental Exchange's legal team; and finance.
"Know your client's business," he stressed. "They'll know it better than you'll ever hope to know it so put in the hard yards and make the effort." It'll help you build rapport, explained Poolton, who'd spend the start of every phone call with Shearman client Liverpool FC in his finance seat chatting about football — despite his first love being rugby!
Be conscious of your attitude and how you're perceived within the firm, was another helpful pointer courtesy of Poolton, as was "if you don't back yourself then no one else will".