Aprajita Dhundia shares her career story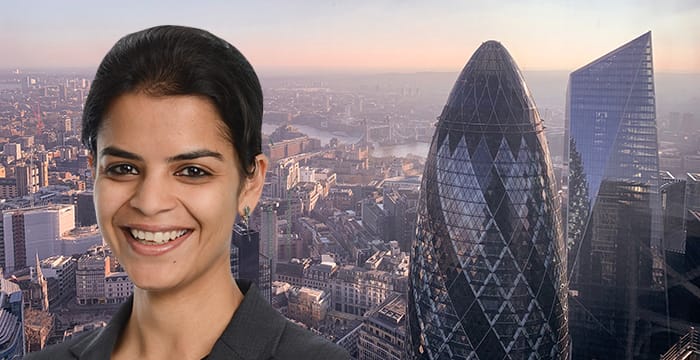 Ahead of 'How to build a career at a US law firm', our first junior lawyer event of the year, held in association with international legal qualifications provider BARBRI, and featuring lawyers from Cleary Gottlieb, Kirkland & Ellis, Shearman & Sterling and Skadden, we caught up with Aprajita Dhundia, a corporate partner at Kirkland, who will be speaking at tonight's event.
Tell me about your journey from one of India's biggest law schools to SJ Berwin trainee and associate to partner at the London office of US firm Kirkland & Ellis.
When I graduated, many British firms came to India's law schools to recruit from campus — SJ Berwin was among them. Having interned at various Indian firms, I wanted to try something new and I accepted a training contract there. However, after a couple of years as a private equity (PE) associate at SJB, I was keen to step up for a bigger challenge — in particular at an international firm that focused on top-tier global private equity and one which was built upon empowering and accelerating the careers of young lawyers — and so I joined Kirkland. I was fortunate to join the firm just as the London office started its recent meteoric growth trajectory. Since then, the team has gone from one strength to another, and I have been privileged to be a part of that.
What are some of the advantages to being dual-qualified having undertaken the Qualified Lawyers Transfer Scheme (QLTS)?
Being dual-qualified is a great asset. It helps you understand and work across legal systems well, which is an important skill given most of our work is cross-border/international.
You made partner in just six years from qualification. That's some speedy progression — what's your secret?
It is a combination of things — firstly Kirkland is a firm that has the fastest, most supportive and transparent six-year track to partner — it's culture where young lawyers can have opportunities to lead client relationships at an early stage in their career, and is focused on progressing lawyers to leading positions as soon as they are able. It is meritocratic and without rigid hierarchies. I was fortunate enough to be able to take advantage of this platform, to learn from many amazing lawyers and to work with a number of very special clients in my journey to partner.

What drew you to corporate law in the first place?
I was introduced to corporate law after participating in a couple of internships and vacation schemes both in India and in London. Private equity is a unique area of law — it is fast-paced, dynamic, with a variety of work, sophisticated clients, all combined with new intellectual challenges on each deal. All of those things still make me really enjoy being a private equity lawyer!
What are some of the standout deals you've advised on?
Most recently, the sale of the BMI hospital group and its properties to two separate buyers. We advised the PE clients first on the restructuring of this business, and then over several months on a very complex M&A process, involving multiple stakeholders. I would also include KKR's acquisition of TelePizza in Spain, the €800 million (£684 million) public to private, one of the first deals of its kind in Spain.
Looking back on your career journey, what have you learned so far?
Lots of things! And there are a couple that I will expand on in my talk this evening. Firstly, don't be afraid to change your environment (not making a change is a choice); and second, focus on the things you can control in your career such as hard work, responsiveness, not being afraid to work outside your comfort zone (including the type of work you do, the business development side of things or any other aspect of our job).
What are your plans for the future?
I like the law and I really enjoy what I do, so the plan is to keep learning, doing great work and contributing to Kirkland's success.
If you weren't a lawyer, what would you be doing now?
My dream alternate job is to run Daunt Books (a chain of bookshops in London)! Or start an independent bookshop of my own.
Aprajita Dhundia will be speaking alongside lawyers from Cleary Gottlieb, Shearman & Sterling and Skadden at tonight's 'How to build a career at a US law firm'. You can register to attend the event, which is open to trainees and junior associates, now.