Hill Dickinson associate Natalie Hong on standout deals, dual qualification and speaking eight languages, ahead of her appearance at this afternoon's in-person junior lawyer event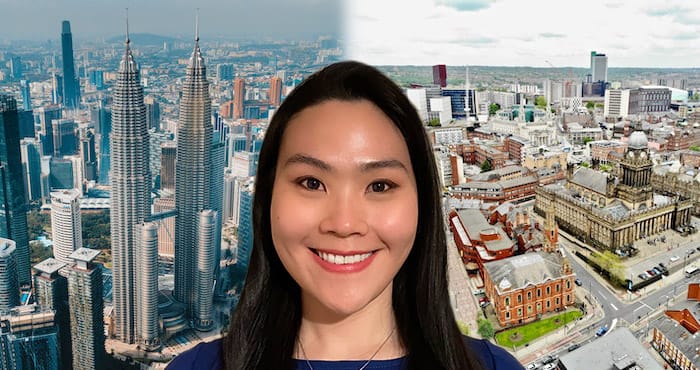 Ahead of 'How to build an international career at a global law firm in London', our first junior lawyer event of the year, held in association with international legal qualifications provider BARBRI, and featuring lawyers from Skadden, Quinn Emanuel and Hill Dickinson, we caught up with Natalie Hong, a corporate associate at Hill Dickinson, who will be speaking at this afternoon's event.

Legal Cheek Careers: You've had a varied and international legal career so far, studying law and training for the bar in Leeds, qualifying as an advocate and solicitor of the High Court of Malaya (Malaysia) upon completion of pupillage, and now practising as a lawyer in the Leeds office of Hill Dickinson — back in the city where it all began! What prompted your move to Malaysia and how does practising as a lawyer compare between the jurisdictions?
Natalie Hong: I'm Malaysian so naturally I wanted to qualify as a lawyer in my home country. As Malaysia is a commonwealth country, both Malaysian and UK laws are principally the same. Unlike the UK where barristers and solicitors are separate professions, it's a merged profession in Malaysia so Malaysian lawyers are trained to deal with all aspects of the legal journey. The Malaysian court system is also bilingual. Malaysian lawyers need to master the Malay language, as it's a requirement for admission to the bar and used extensively in government dealings, as well as in the lower courts of West Malaysia. I speak eight different languages, so using them interchangeably when dealing with clients from multi-cultural backgrounds can be challenging but fun.
LCC: You're a dual-qualified lawyer in Malaysia and the UK having undertaken the Qualified Lawyers Transfer Scheme (QLTS). What are some of the advantages to doing this?
NH: Besides the awareness and additional practical knowledge of the laws in both jurisdictions that I have qualified in, I've also built a multi-jurisdictional network and connections. Hill Dickinson does a large amount of international work too, so I'm sure this will be helpful to me in the future when I do more cross-border work in Malaysia and will allow me to connect my contacts to one another, or even ask for their help. Of course now that the QLTS has come to an end, all qualified lawyers from overseas should take the Solicitors Qualifying Exam (SQE) if they wish to qualify into England and Wales.
LCC: You're now working as an associate in the corporate team at Hill Dickinson. What drew you to this area of law?
NH: I personally enjoy transactional, task-based and administrative work, so corporate law sits really well with me. I enjoy learning about different businesses in terms of both size and sectors. Our Leeds office has only recently expanded its offering to include corporate work so that we can better serve our local client base in the UK in the same way that our corporate teams in Liverpool, London and Manchester do. So we're a relatively new but highly experienced team in Leeds and raring to go.
LCC: What are some of the standout deals you've advised on to date?
NH: I joined Hill Dickinson in January 2022 and since that time I have assisted the team in completing a few deals, including for Dr. Oetker, Freixenet Copestick on its acquisition of Bolney Wine Estate and Mina Digital on its follow-on investment from US giant, Fleetcor Technologies. I am involved in a number of exciting cross-border deals at the moment and I'm learning a lot and enjoying the work.
LCC: In corporate, more than in other practice areas, the workflow is cyclical and the hours unpredictable. What advice do you have for aspiring corporate lawyers?
NH: Like any other area of law, gain some work experience in corporate law first before committing to it. And be careful in choosing the law firms you want to work for to gain that experience. Hill Dickinson recognises that a good work-life balance actually makes for better business, so while you can't avoid the fact that some deals require an enormous amount of work and long hours, we're encouraged to balance that with downtime once the deal is done.
You may also find that some mid-tier firms allow you to work on key transactional documents sooner in your career than in some of the larger firms. Speak to corporate lawyers if you get the opportunity and ask them about their roles and the current market — these are the type of people you are likely to be working with and learning from. These work experiences, albeit short, give you a preview of the type of work you'd be working on as a corporate lawyer, which some may find enjoyable or draining. It's a great opportunity to observe colleagues, the team and the wider firm, and to ask for feedback on tasks you've been given to help you ascertain your strengths and weaknesses, likes and dislikes, and whether you are suited for corporate law. If you're afraid of long and unpredictable hours, you're in the wrong profession, my friend!
LCC: If you weren't a lawyer, what would you be, and why?
NH: This is a no-brainer — I would be a singer. I think I'm a pretty good one but obviously not enough to make it big, otherwise I wouldn't be sat behind a laptop now, ha!
Natalie Hong will be speaking at 'How to build an international career at a global law firm in London — with lawyers from Skadden, Quinn Emanuel and Hill Dickinson', a junior lawyer event taking place in-person this afternoon (Thursday 21 April). Register for one of the final few (and free) places to attend the event.
About Legal Cheek Careers posts.