Mike Kennedy, associate in Addleshaw Goddard's innovation and legal tech team, shares his career journey to date and offers advice to aspiring lawyers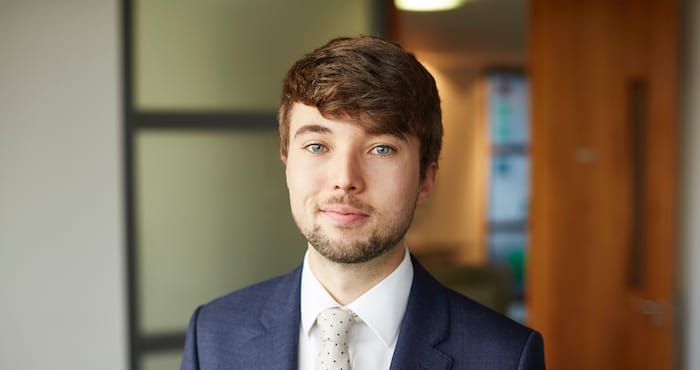 Mike Kennedy, now an associate in Addleshaw Goddard's innovation and legal technology team, began his journey as a law student at the University of Kent.
Whilst at university, Kennedy tells me he enjoyed the critical evaluation aspect of his degree. "I enjoyed reasoning an argument," he says. "My favourite modules were those focused on 'asking why' as opposed to learning black letter law."
When we speak, Kennedy emphasises the value of working whilst studying in terms of the transferable skills he gained. For example, he supported himself during his studies through a series of stints as an assistant in marketing, sales and even as a chef.
From talking to him, it's clear that no experience was wasted in terms of the skills that can be developed in any job. Whilst seemingly unrelated to law, Kennedy's various jobs greatly benefited him: through working with clients and pushing himself out of his comfort zone Kennedy developed confidence in his own abilities which he explains was one of the most beneficial aspects of working whilst studying.
It was also through these experiences that he was able to develop his time-management skills. "In my final year I completed two dissertations whilst working 40 hours a week", he tells me, adding that how he was able to effectively balance his heavy workload with his job.
To get his foot in the door in the legal world, Kennedy decided to work as a paralegal at the Manchester office of Addleshaw Goddard. This was an opportunity for the law grad to get a taste of life at a law firm and to learn more about the profession: "I didn't know anyone who worked in the legal sector and so working as a paralegal was a way for me to learn more about the process of becoming a solicitor", he explains.
He began his legal career as a litigation paralegal. "I spent much of my time making bundles, working on discovery projects but there was also an administrative side to things," he shares. The latter led Kennedy to take a step back and think about how to improve the systems that were currently in place. Kennedy tells me that he always had in interest in tech, stemming from his time at university living in a house of computer scientists. The self-taught coder then sought to make efficiency gains at work.
Whilst working in the litigation team Kennedy used e-discovery tools and other methods to automate processes. "After a couple of months I worked on a big due diligence project and we looked at how tech could help us in our work. We brought in document review technology — we'd review the documents, using a combination of the tech and a paralegal team, store the information in a database, that database would gradually get built up and when it was time to report back to the client, you'd be able to provide them with raw data." Kennedy adds that this really appealed to the client who was eager to have statistics and data as opposed to the more detailed narrative in a report.
Kennedy went on to secure a training contract and started as a trainee at Addleshaw Goddard in 2018. His training contract was equally geared towards tech: he completed a mix of traditional work whilst also looking at ways to implement tech solutions. For example, he spent time working with the real estate and finance teams, learning about their work and then looking at ways to automate processes or apply machine learning. "I also did a more traditional seat with the commercial team. I did traditional trainee work, but I was always looking at ways to bring tech into the space," he says.
Now a qualified solicitor, Kennedy works in Addleshaw Goddard's innovation and legal technology team, working to help drive the development, introduction and adoption of technology into the legal sector. Kennedy tells me that his work involves pitching to clients and taking part in marketing drives for products his team has created for clients. He also focuses on research and development; looking at what the team should develop next and how to widely implement the existing tech available to the firm.
Kennedy will be speaking at today's 'Different paths into the law' event. There's no one route to becoming a solicitor, he stresses, adding: "I felt like I was falling behind but, actually, taking a tiered approach was the best thing I could have done. A lot of people that I work with now, and in my intake as a trainee, took a similar route to me, working as a paralegal before starting as a trainee."
Mike Kennedy will be speaking alongside other lawyers from Addleshaw Goddard at 'Different paths into the law', a virtual student event taking place today (Tuesday 24 November). You can apply for one of the final few, and free, places to attend now.
About Legal Cheek Careers posts.