Ahead of her appearance at Tuesday's careers event, 'The Northern Powerhouse economy of the 2020s' in Leeds, Addleshaw Goddard's Carly Gulliver shares an insight into fast-growing practice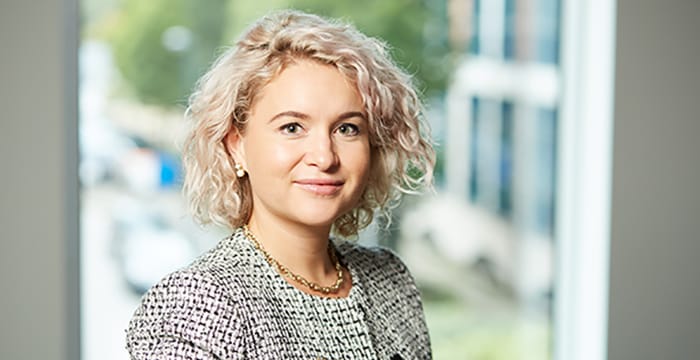 Corporate finance lawyer Carly Gulliver, managing associate at Addleshaw Goddard, specialises in the fast-growing tech, creative and digital sector. Her focus is on acquisitions, disposals and investments, often working with clients at the fledgling stage of their business and advising all the way through investment, launch and expansion.
"It is an exciting industry to be involved with," Carly says. "There is a real open, collaborative approach between different companies. Start-ups often have a mentor from a larger company or with significant experience on board, and this helps generate more innovation in turn. It is a very dynamic community. In contrast to some other industries which operate in a more closed fashion and want to protect themselves from competitors, there is a lot of knowledge sharing."
One important point to emphasise is that "you don't need to be techy to work in tech", she says. "I went to a seminar recently where they said the industry tends to fall into two camps: the first camp is the techie one, which does the coding, actual product, algorithms, service etc; and the second group is made up of people from all sorts of backgrounds, people with knowledge of business, of managing people, or me, a lawyer, all these people can work in the industry and they all bring their own unique perspective.
Ultimately, tech is about people, it's a people-oriented business, it's about how we manage people and manage our business relationships and it doesn't matter what your background is. I really love working with people, being able to demystify the law for them, being a trusted advisor and helping them implement their strategies and ideas. I find it exciting to be involved early on in the process, and it's always better to prevent problems than try to cure them further down the line."
Carly, who studied law with German law and language at Hull University, where she got a first, worked at Eversheds Sutherland and Squire Patton Boggs before joining Addleshaw Goddard. Her work can range from executing documentation for large companies to helping start-ups raise investment from high net worth individuals or funds by introducing them to the right people and ensuring the investment is structured in such a way as to enable the company to grow and scale up. "We help them all the way through their life cycle, making sure, for example, they have protected their intellectual property, have the right relationship with their consultants and employees and comply with all required regulations so they minimise their exposure to reputational risk. It is very good for tech companies to have a pot of money from investors but it has to be used properly. Our job is to help keep a company and its management team on track so that it can scale up, protect that value and prepare itself for sale or listing, whichever route they choose."
Despite an apparent slowdown in the business community due to political uncertainties and macro-economics, which is causing deals to take longer and people to be more cautious, tech continues to be an attractive sector for investors. This is true both on a national level and in Leeds, where Carly is based. From a technological and digital perspective, business is "very buoyant", she says. The city is home to a lot of up and coming tech businesses and has attracted well established giants such as Sky Betting & Gaming. Channel 4 chose Leeds for its new national headquarters, which officially opened last month, citing as reasons the city's "very diverse population", "very healthy digital creativity sector" and "reasonably strong independent production community".
This expansion of tech and digital in Yorkshire and the north is likely to continue, creating a wealth of opportunities for lawyers. For those hoping to work in this area, Carly's advice is to get to know the sector by attending events such as tech meet-ups, talks and programmes, for example, she recently went to a session on cookies and bots. "Arm yourself with sector knowledge because that will come in useful for your client. Get to know the work your clients do, and what's important to them. Having a good knowledge of the sector will always stand you in good stead whether as a lawyer advising digital and tech focused clients or applying to a firm with a view to working in that sector."
Addleshaw Goddard offers a particularly good training in this respect. The firm offers trainees a seat in legal innovation, where trainees can work with the tech team for six months. Secondments with tech companies are also available and could prove extremely valuable for a career in this sector.
Carly Gulliver, managing associate, Addleshaw Goddard, works with tech and digital clients, and is a speaker at Legal Cheek's 'The Northern Powerhouse economy of the 2020s' event at the firm's Leeds headquarters on Tuesday, 26 November. You can apply to attend the event, which is free, now.
About Legal Cheek Careers posts.