Ahead of Wednesday's student careers event in Edinburgh, Matt Finnie, a second-year trainee at Addleshaw Goddard, on how to forge a career in the law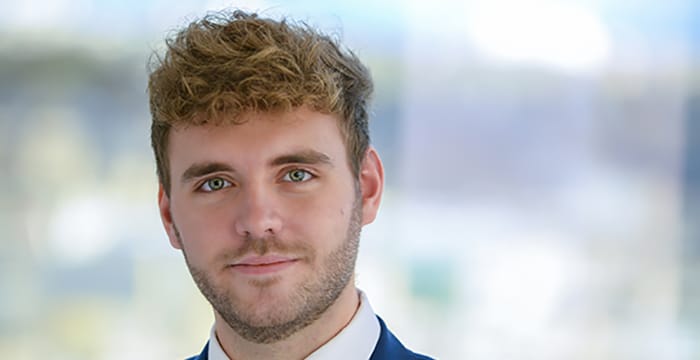 Matt Finnie, now in his second year as a trainee at Addleshaw Goddard, can remember a partner's advice from his second week as if it were yesterday.
"I recall a chat with a partner following a client conference call where he concluded the talk with: 'just fill your boots on this one, really'," says the 26-year-old graduate of the University of Aberdeen.
Finnie was initially a little surprised, albeit pleasantly so — but then the partner's advice crystallised. "It brought home to me the exciting challenge that faces you at the start of a traineeship with AG. You're encouraged, from day one, to bring as much as you can to the table. No idea is a bad idea, and no question is brushed off. There are always going to be opportunities for you to add value as a trainee, and the key is actively looking for these chances. The same ethos applies upwards, with senior team members always looking for best way to showcase AG's ability to provide a 'more-than' service to its clients."
To fast forward through two seats in AG's Edinburgh office — in business support & restructuring and construction, engineering & environment — to the present is to find Finnie loving every minute of life at the heavy-hitting firm, which merged with Scottish outfit HBJ Gately in June 2017.
"I'm now in litigation, and would like to work as a litigator when I qualify, possibly in London," says Finnie, who hails from a small village in north-east Fife. "I've received support from day one, in all kinds of ways, and the people at AG are great. The quality of work has been excellent. Trainees are encouraged to get involved in as many things as possible, which makes for a steep learning curve, but I wouldn't have it any other way. He continues:
"I've been involved in a lot: preparing bundles for court, instructing counsel, fielding calls, drafting, negotiating and reviewing contracts, organising e-files, creating inventories and tracker tables for incoming and outgoing documents, attending client meetings, attending court, drafting briefing notes, writing articles, presenting internally, and presenting externally."
A lot, to be sure — and that's not counting the social side. "We're a really sociable firm," says Finnie, who at the last count had five AG Christmas drinks events lined up in his diary. But if Finnie, a keen golfer in his spare time, is taking it all in his stride, it's perhaps because he is doing exactly what he wanted to do from his early teens.
"I knew as a teenager that I wanted to be a lawyer," he says, bagging part-time work with the Scottish Solicitors' Discipline Tribunal, as well as work experience in local firms, to gain experience of how the law works. "It's essential to do this," says Finnie, "both to demonstrate an interest in the law and to understand what the practice of law entails."
What, though, was the core appeal of the law? "I liked the idea of making my living by solving problems for people," says Finnie. With highers in history, politics, English, maths and drama, Finnie opted to stay in his native Scotland for both his undergraduate law degree and the Diploma in Professional Legal Practice [the Scottish equivalent of the Legal Practice Course]. He completed both at Aberdeen, where he was also an editor and a contributing writer to The University Law Review. Having received an offer from AG following a summer placement with the firm, in between his degree and diploma, Finnie didn't hang around: he started work as a trainee with the ink barely dry on his diploma, in August 2018.
What advice does Finnie have for those who would emulate him and forge a career in the law? "I think people need to be very focused and decide what they're aiming for, and what kind of law they'd like to practice," he says. "Research is vital. You need to research the firm and find out as much as you can about it, and then tailor your application accordingly. Try and bring across your personality in your application, too, and have things on your CV that demonstrate a genuine interest in the law."
Finnie, a keen writer who has published various scholarly legal articles, counsels paying close attention to your writing style, too. "Make sure it's fresh and interesting, and again, specific to the firm you're applying to. And however tempting it is, never, ever copy and paste. It's lazy, and shows that you're not really thinking about the firm you're applying to."
And above all else, fill your boots. "Reflecting on that phrase more than a year on, it's probably the best piece of advice I could pass on to any incoming or aspiring trainee," says Finnie. "I adopted it almost as a mantra, and doing so has paid off in spades."
Matt Finnie will be speaking at Wednesday's event, 'Scotland's place in the global economy of the 2020s — with Addleshaw Goddard in Edinburgh', alongside associate Jenny McHattie, managing associate Jamie Nellany and corporate partner Andy Ley. You can still apply to attend the event, which is free, now.
About Legal Cheek Careers posts.