Herbert Smith Freehills junior associate Jamie Ball shares his career journey and advice to students, ahead of his virtual appearance at next week's student event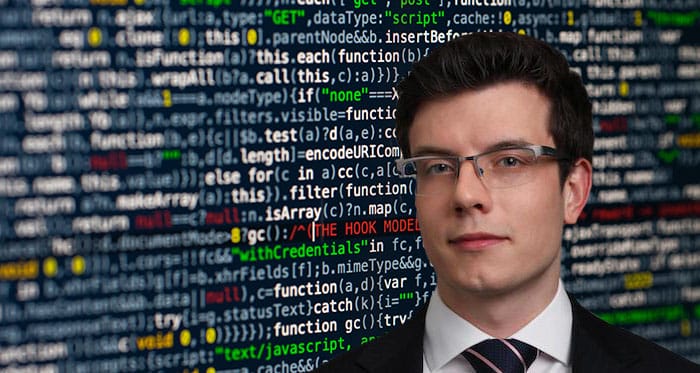 Jamie Ball, newly qualified (NQ) associate in Herbert Smith Freehills' (HSF) Digital Law Group, taught himself how to code at the age of 13. And, after a friend who owned a local shop offered to pay him for his newly learnt skill, Ball tells me that he found himself designing websites and developing apps as a fully-fledged web developer after word spread of his talent.
He then decided to set up his own business to deal with the demand. And during this time, a contractual dispute arose which introduced Ball to the idea of law. He then undertook a distance-learning GCSE in law and, enjoying the similarities between coding and contracts, he became set on a career in the profession shortly after.
Fast-forward a few years, and Ball has recently qualified into HSF's Digital Law Group, which has allowed him to mix his "inner computer nerd, with law". But, for those wishing to follow in his footsteps, Ball affirms that students do not need to know the ins and outs of blockchain, crypto assets or artificial intelligence (AI). "It's not about how much you know, but how much you are interested to know", he stresses.
Expanding on this further, Ball explains that, for example, future trainees are unlikely to be expected to code on top of everything else they already do. What is important is an enthusiasm to get under the skin of technologies that are changing the way that clients work and an excellent ability to grasp legal and commercial issues. Training contract seekers can also set themselves apart with strong interpersonal skills, Ball says, because at the end of the day, "lawyers are people that are instructed by people".
Elaborating on this, Ball explains that it was lawyers he met prior to applying to HSF that drew him to the firm in the first place. You can't glean from a website whether you will click with people, he says, this is only something you can discover by meeting face-to-face. Having attended firm-hosted events, Ball reflects that it is often "lots of little moments that piece together" that help you build a picture of the firm that is the best fit for you.
To make this stage of your research time-efficient, Ball encourages aspiring solicitors to spend time looking into what type of firm they want to work at. With such a "huge range" of firms, from regional to national, international to US and London-based, it is beneficial to weigh up the pros and cons of each different type of firm and discover what ticks your boxes before meeting with firm representatives.
HSF has proved to be a good fit for Ball's entrepreneurial spirit. He explains how he has been part of a group of trainees looking to speed up the firm's billing processes and taken part in the Financial Times' innovative lawyers hackathon, building a tool to simplify privacy policies and bring out potentially harmful terms in contract tracing apps.
On a typical day, Ball often finds a variety of client queries landing on his desk. He says one day he might be helping on a commercial deal involving a novel blockchain solution and on another day advising a client acquiring or investing in an exciting AI scale-up. With his clients demonstrating an increasing interest in adopting or advancing their offering of emerging technologies, Ball adds that regulatory aspects of the crypto assets space are a particularly hot topic now, especially given the current progress of the European Commission's proposed 'Markets in Crypto-Assets' (MiCA) regulation. As the first crypto assets regulation on a supra-national level, this would create a new standard and framework clients must work from.
Discussing what digital transformation looks like in the office, Ball explains that since the onset of the pandemic many more meetings are being conducted in a hybrid manner. With the international nature of the work at HSF, and early morning meetings with the firm's Australia and Asia offices, Ball has welcomed this shift.
On what's next for lawtech, Ball says that "it is so hard to predict — we'll just have to see". Though, he remains convinced that in the future tech will be integral to the work of all lawyers. This might not come with a tech lawyer label, Ball says, but it is undeniable that technology is "changing everything".
Jamie Ball will be speaking at 'Digital transformation and the law — with Herbert Smith Freehills', a virtual student event taking place on Tuesday 23 November. You can apply to attend the event, which is free, now.
About Legal Cheek Careers posts.