Herbert Smith Freehills senior associate Rebecca Perlman shares her story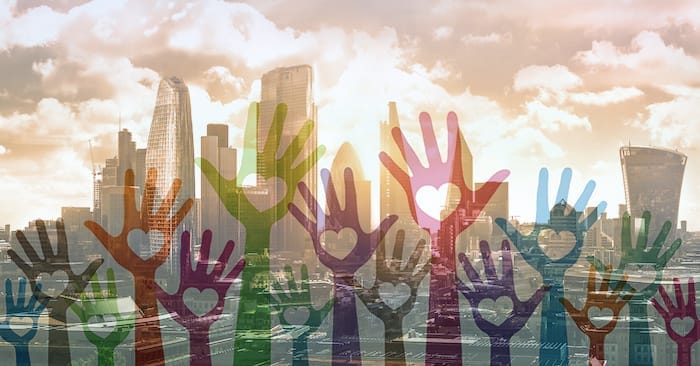 Ahead of tomorrow's virtual student event, 'ESG and the law', Legal Cheek Careers caught up with Rebecca Perlman, a senior associate at Herbert Smith Freehills (HSF) based in the global firm's London office, who will be speaking at the event.
You're a corporate and charities lawyer at a global law firm. Some wouldn't think it possible to combine the two — how did you come to specialise in these fields?
At HSF, we're proud to be one of the only major City firms to have a global charities practice, through which we advise a wide range of charities, NGOs, foundations, trustees and multinational corporate clients in relation to their charitable and philanthropic activities. Our charities practice spans a broad range of areas, as part of our dedicated full service offering.
A number of these areas overlap with skills that are core for corporate lawyers, particularly when advising charities in relation to their transactional activity (e.g. regarding their relationships/arrangements with donors, grantees, partners and suppliers; and matters relating to trading and investments, including social investment) and governance matters.
As a corporate lawyer, my focus is on ESG and impact investment. Given the critical role that foundations and other registered-charities play in the impact finance ecosystem, my specialisation in the field of charity law grew organically alongside my corporate focus and is very much complementary to my work on the corporate side.
What does a typical day for you look like? And what are some of the standout deals you've advised on?
No two days are the same. I'm fortunate to work with a wide range of clients tackling some of the greatest challenges facing the world today. From advising the Big Issue Group on its rescue of the Big Issue Magazine, a lifeline to its homeless vendors across the country which faced collapse in the face of COVID-19; to helping the UN Refugee Agency establish its global MADE51 consumer goods platform, enabling refugees across the globe to earn a living in the countries in which they find themselves displaced.
I've worked with incredible start-ups like Beam, which has launched the world's first crowdfunding platform to get homeless individuals off the street and into stable, paid employment. I've also enjoyed working with impact investors and social finance intermediaries which enable social enterprises to run and scale their businesses, including Big Issue Invest, the Social Tech Trust, UnLtd, the Esmee Fairbairn Foundation, AgDevCo and the Nesta Foundation.
You oversee the firm's pro bono network across 12 offices in the UK, US and EMEA. How did you get involved with this?
After training at HSF and qualifying into the Corporate Tax team, I went on secondment to the Government of Sierra Leone (GoSL) through a pro bono initiative that HSF has been running since 2010 to build legal capacity within the country and redress the imbalance that the GoSL commonly faces at the negotiating table with international investors.
My secondment happened to coincide with the Ebola outbreak. This meant that much of the work I was doing while in Freetown was focused on helping the GoSL with the legal implications of the crisis and the country's emergency response. This included renegotiating arrangements with key contractors providing essential services like water and power who were attempting to suspend or terminate their operations. It also included helping the GoSL address the medium- to longer-term impacts of the crisis, including the negative impact on investor interest in the region.
While I was in Freetown, I saw first-hand that there was a role for commercial lawyers to use their skills and expertise to drive positive social outcomes. I was also introduced to the growing but, at the time, fairly niche areas of ESG and impact investment through my work with development finance institutions and development agencies.
On my return, with the support of a range of HSF partners and business services professionals, I became the firm's first full-time pro bono lawyer outside of Australia. My practice management responsibilities stretched across our five pro bono pillars, and my legal practice focused on two of these pillars: impact finance and charity advisory. Over time, the pro bono team has grown significantly and we now have four full-time pro bono lawyers in London alone.

The Fair Deal Sierra Leone pro bono programme is still a core part of our global pro bono practice, alongside our focus on advancing access to justice, human rights, and the work of charities, NGOs, social enterprises and impact investors.
In 2014, you were seconded to the government of Sierra Leone as legal advisor in the office of the President, where you advised on the country's response to the commercial impact of the Ebola crisis. What did this involve? Did you learn any lessons which could be applied to the current coronavirus pandemic?
From a legal point of view, some of the issues that we dealt with during the Ebola crisis (in relation to force majeure provisions and crisis management for instance) have also arisen as a result of the COVID-19 pandemic and the measures that governments have been forced to introduce across the globe. More broadly, the Ebola outbreak underscored the need for international collaboration in the face of a crisis. (See above regarding what it involved).
2020 and the global pandemic has put huge focus on ESG — just look at the UK government's 'Build Back Greener' strategy to drive recovery. Why is this? And how has it impacted you and your clients?
The COVID-19 global pandemic is a humanitarian crisis first and foremost. Corporate purpose and ESG issues dominated headlines in the months leading up to the COVID-19 outbreak. The intense public scrutiny of corporate conduct, governance and investment behaviours during the pandemic has served to accelerate the conversation around ESG issues.
The pandemic has emphasised the symbiotic relationship between business and society, leading some businesses to revisit their corporate purpose. Such issues may have historically been viewed as dilutive to financial value. However, there is a growing acknowledgement that sustainable business practices are not only essential from a risk management perspective, they are also often accretive.
So, far from being eclipsed by COVID-19, ESG issues appear to have risen in significance, as the impact of the pandemic has become clearer. It has made businesses and investors more aware of the risks posed by "black swan" events and the need for strong governance and resilience. The effects of climate change were a key focus in the months leading up to the outbreak and it has, to some extent, revealed the potential for business to reduce the scale of its environmental impact. But the pandemic has also focused attention on supply chain practices, health and safety, and human rights. In doing so, the ESG dialogue has, in turn, drawn "S" factors out from the shadow of the "E" and the "G".
In addition, a growing number of regional and national legislators have committed to linking bailout support and stimulus packages to ESG standards. This includes the European Commission, which has placed its Green Deal at the heart of its recovery strategy and has established a sustainable corporate governance initiative as part of its proposed economic recovery plan. In the UK, we've had the Chancellor's recent announcement regarding the ten-point plan for a "green industrial revolution", which, according to the government, will create and support up to 250,000 jobs in the country.
Many of the challenges we faced pre-pandemic in relation to the mainstreaming of ESG integration still remain however, including the absence of a single, unified methodology for benchmarking ESG risks and behaviour. Nevertheless, the renewed and reinforced focus on ESG and corporate purpose that we have seen during the pandemic will likely shape the attitudes and approaches of businesses, investors, consumers, governments and regulators throughout the recovery.
What advice would you give to aspiring lawyers hoping to follow in your footsteps? How can they get involved in pro bono and ESG work?
In my view, it has never been a more exciting time to embark on a career in this area. ESG roles and legal pro bono roles have proliferated in the past few years and there are now a multitude of entry points. That includes within law firms, where opportunities in these fields are fast-developing.
I would suggest making the most of any pro bono opportunities on offer at law school and during your training contract. It's a fantastic way to give back and gain valuable legal experience, while also positioning yourself for longer-term specialisation in your area of interest.
Rebecca Perlman will be speaking alongside other Herbert Smith Freehills lawyers at 'ESG and the law', a virtual student event taking place tomorrow (Thursday 26 November). You can apply for one of the final few, and free, places to attend now.
About Legal Cheek Careers posts.