Allen & Overy's Peter Banks talks to Legal Cheek's Sky Martle about his career journey ahead of today's virtual student event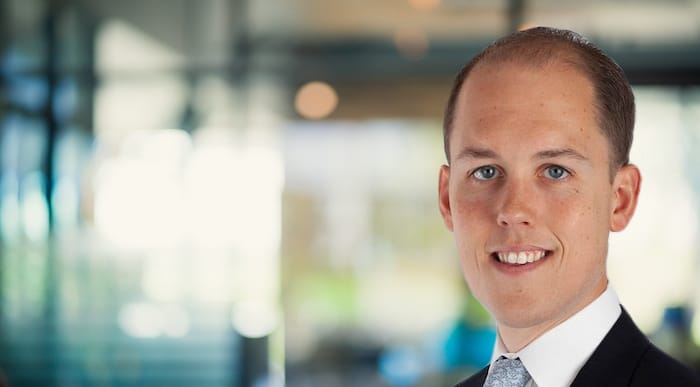 Joining Allen & Overy (A&O) over 14 years ago, Peter Banks, now a private equity partner, tells me he would never have predicted that he would stay at one firm for most of his career, initially thinking that he would end up going in-house after a couple of years.
This is down to the choices he made early on in his career, he says, which were "made on a step-by-step basis". Pre-university, he was torn between choosing a career in finance and his enjoyment of the arts, particularly politics and history. He eventually came upon law as a way to combine these interests and enrolled at Bristol University.
Following this, Banks outlines that he re-assessed his career trajectory in cycles, but never made a move away from A&O because his role has always evolved quickly enough to keep him on his toes.
Having made partner in 2017, Banks breaks down his current role into three components: running transactions, managing his team, and business development. The first aspect is what you might expect a lawyer to be doing, Banks says, adding that examples of this work include negotiating contracts, project management and resolving legal conundrums.
Also integral to his role as partner, Banks explains, is team management. This means ensuring that the morale of his 25-person team always remains high. Reflecting on this, Banks says that to deliver on deals and projects his team must be happy and cohesive to perform at their best.
On top of these elements, Banks must keep his finger on the pulse of business development, he says. This is his "off-transaction work", where he keeps up to date on changes in the markets, maintains contact with clients and expands business opportunities for future members of his team.
Banks points out that the common thread drawing together these three elements of his role as partner is building and managing relationships, which is something that has been impacted by the pandemic. Whilst the legal profession has been able to adapt quickly and maintain levels of work, the move to remote working has meant that some particularly enjoyable aspects of the job, such as managing relationships and meeting in person with clients, have been limited, Banks explains.
The day we speak is the day when A&O lawyers and staff returned to the office, and will remain for at least 60% of their working week. Banks describes the buzz in the office with two-thirds of his team full. As one of the firm's mental health advocates, Banks sees it is "utterly business-critical" to create an environment where individuals can work at their best. This is a key skill for future lawyers, Banks says, as those who can balance a demanding job with optimising their own and others' wellbeing will go far as a legal professional. A&O has an important role in facilitating this.
In terms of the skills and personal attributes that make a good private equity lawyer, Banks explains that the nature of his clients "defines the skills required more than subject matter". Expanding on this, Banks says that his day-to-day is dealing with investment professionals, so an ability to condense legal jargon into articulate and pithy advice is an in-demand skill for private equity lawyers.
On top of this, Banks explains that although clients make their own decisions, they come to lawyers for a reason — because they seek their advice. So, being prepared to give a view and willing to go out of your comfort zone will mean you are highly valued by your clients.
Turning to his work as a private equity lawyer, Banks describes how one of his favourite aspects of the practice area he works in is that it is "sector agnostic", meaning that his work covers a wide range of deals and business areas. Some of his career highlights include working as a trainee on the sale of a luxury sailing yacht manufacturer and the creation of a joint venture forming the world's second biggest ice cream manufacturer.
Having been at the firm from the global financial crisis of 2008 to the current global coronavirus pandemic, Banks is familiar with helping his clients adapt to periods of change. On what the future holds for his clients, Banks says that there is a "huge focus on ESG [environmental, social and governance] at the moment". He points to an ongoing awakening to the environmental impact of humans, which is shifting the focus onto ESG credentials and the types of investments that are being made.
There has also been a move in the past ten years of capital flowing away from traditional financial institutions to private capital, Banks says. Going forward, this poses both opportunities and threats for his clients, who must be disciplined in their investments in a highly competitive market where there is increasing pressure to deploy capital alongside navigating the high prices of an M&A boom.
Peter Banks will be speaking alongside other Allen & Overy lawyers at 'Adapting to a fast-changing world — with Allen & Overy', a virtual student event taking place today, on Tuesday 14 September. You can apply for one of the final few (and free) places to attend the event.