Full video: SQE v LPC: which route is best for me?
BPP University careers experts weigh up the options available to future solicitors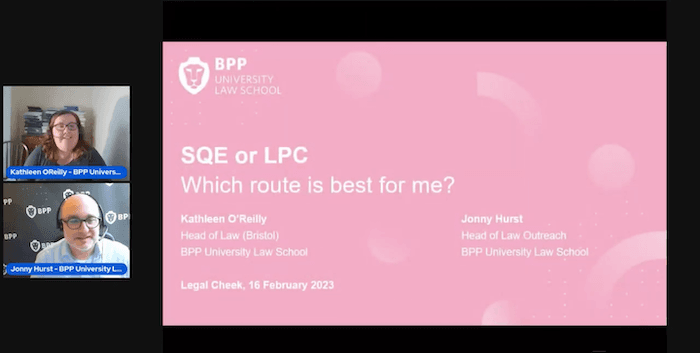 In the years until the Solicitors Qualifying Exam (SQE) replaces the Legal Practice Course (LPC) both routes are on offer meaning that many aspiring lawyers are eligible to pick which best suits them.
In the video (below) from our recent virtual event, two former solicitors and legal education experts from BPP University Law School discussed the differences between the two routes, and the factors students should consider when making their decision.
The event featured:
• Jonny Hurst, BPP's Head of Outreach and former City law firm partner
• Kathleen O'Reilly, Head of Law at BPP Bristol and former solicitor
Hurst and O'Reilly started off by discussing the structure and syllabus of the SQE and how it compares against the traditional LPC route. Through a case study segment, the speakers then walked students through the considerations they might want to take into account, such as university grades and degree background. They also answered some burning questions related to considerations including funding, work experience and conversion courses.

Legal Cheek is running 'The SQE series' with BPP University Law School over the next few months. The video of each session will be made available one month after each virtual event together with further FAQs arising from each session which experts from BPP are answering.
About Legal Cheek Careers posts.