Speakers from Flex Legal, Accutrainee and Reed Smith joined a legal education expert from BARBRI to discuss how qualifying work experience is presenting a new and exciting pathway into the profession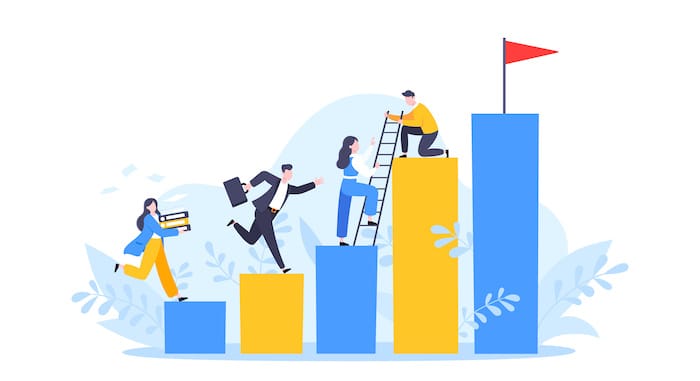 The Solicitors Qualifying Exam (SQE) came into force on 1 September 2021. Though in its infancy, it has masses of potential for the legal profession. At Legal Cheek's latest virtual event, 'How to use QWE to qualify as a solicitor', members from Flex Legal, Accutrainee and Reed Smith joined a legal education expert from BARBRI to discuss the changes brought by qualifying work experience (QWE), and the opportunities it brings for aspiring lawyers and the wider legal profession.
The speakers
• Robert Dudley, Vice President of Strategy & Marketing at BARBRI
• Will Long, Flex Legal's Head of Client Partnerships and Flex trainee
• Meera Ferguson, solicitor and Accutrainee's Director of Operations
• Rebecca Schrod, Graduate Recruitment Manager at Reed Smith
1. Gain QWE at multiple firms
Aspiring lawyers can acquire their two years of QWE at up to four different organisations. And they don't necessarily need to be law firms, with in-house teams, law clinics and unregulated providers of legal services, all now available to offer work that makes the grade. This is cause for celebration according to Meera Ferguson, solicitor and Accutrainee's Director of Operations. At Accutrainee, which employs trainees who are then seconded out to in-house teams and law firms, "the building blocks had already been set and relationships had been built" for trainees and its client businesses and law firms, she explained.
Will Long, Flex Legal's Head of Client Partnerships, also shared the same sentiment. Though newer in its inception and with a unique social mobility angle, Flex Legal has been able to capitalise on this shake-up by offering its Flex trainees experiences in a wide range of organisations, including Vodafone, ASOS, BMW and even the Church of England.
But the speakers all emphasised that QWE should not simply be viewed by aspiring lawyers as a tick-box exercise. Rather, "the combined total of QWE should be of a quality that helps you with the most opportunities for your future", stressed Robert Dudley, Vice President of Strategy & Marketing at BARBRI. When it comes to applying for positions as a newly qualified (NQ) lawyer, it is that quality of experience obtained that will "make you a well-rounded lawyer able to move into organisations and be a manager, a leader or even a CEO", Ferguson added.
It can be entirely possible for a newbie associate to enter the world of private practice with only paralegal experience under their belt, according to Rebecca Schrod, Graduate Recruitment Manager at Reed Smith. From the international firm's perspective, it is "very much about telling a story with your QWE, explaining why you've approached it in the way you have and why this will add value to the firm", Schrod explained. The work experience obtained by students must also look to develop skills beyond just technical ability: "it's the transferable competencies, emotional intelligence and human aspects of being a lawyer that tend to drive people forward in their careers", Long said. Wider business attributes like stakeholder management, sales knowledge, as well as "softer skills" like punctuality and being present in a meeting "is an accelerant to someone's legal career", he added.
When it comes to selecting opportunities for QWE, Dudley told the virtual audience of over 250 students: "Ask yourself, 'Does this combine well with other experiences for what you ultimately want to achieve in the end?'"
2. QWE: before, during or after the SQE?
Whether you choose to start QWE before, during or after SQE1 or 2 prep — or even during your undergraduate degree — this can all count towards the two-year requirement. But when is the best time to do this?
Some students will prefer to undertake QWE during the SQE. Subjects can be "conceptual and abstract when you're just studying them in isolation, so being able to apply it in work can be useful", said Long. The speakers agreed that studying while learning presents an opportunity to demonstrate your ability to deal with competing priorities and balancing them — an important skill for junior lawyers.
However, this approach is not necessarily right for everyone and ultimately comes down to personal preference and experience, the panellists stressed. "At the end of every stage in your career, you need to be able to tell a good story about what you have learnt and how this will contribute to the next stage of your career", Long told the audience.
3. Death to the traditional training contract?
As Dudley put it, QWE has the potential to "change the entrenched system" whereby after completion of the Legal Practice Course, trainees undertake a series of seats before qualifying into their desired practice area. Following the introduction of the SQE, Reed Smith made the decision to evolve its training contract model.
The firm's future rookies will first take part in a 'professional SQE year', which Schrod described as "a year-long blend of study and practical work experience". While trainees complete their SQE1 and 2 prep, as well as advanced electives, they will undertake two placements across the firm's professional services and pro bono teams. After completing this year, trainees will then undertake their QWE across different practice areas in the firm. The aim of this, said Schrod, is to give their trainees "a broader sense of life at a law firm". It was important to the international outfit that trainees learn about these different functions, "to develop new skills and really make the most of the opportunities the SQE has to offer", she expanded.
Schrod concluded by explaining that the firm's logic is largely underpinned by a question all firms and organisations should be asking themselves: "What are the good bits of the old system that we should keep, but also what opportunities could the SQE present us with?"
4. New opportunities for aspiring lawyers
The opportunities created by QWE "could have a really profound effect on the entry points", according to Long. Pointing to a statistic that showed last year there were some 35,000 applicants for roughly 5,000 training contracts, Long went on to explain that widening access to the profession through new and innovative training opportunities can only have a positive effect.
But equally as important is the recognition that private practice is not necessarily suited for every individual. Dudley emphasised that "we are now in a situation where new opportunities are opening up as a result of this new regime and we need to embrace it". It's no longer just "barrister or solicitor, City or high street", Ferguson added, with new opportunities for students to seek out QWE in exciting new areas such as legal operations, legal technology and legal project management. "Don't try and fit yourself into a box you think you ought to be in; the SQE can help you if you play to your strengths", she said.
Rounding off the informative discussion, the panellists were in agreement that there needs to be more awareness and engagement — from all parts of the legal profession. There are practical concerns but for Long, and the rest of the speakers, "the SQE and QWE is a valid and worthwhile path to a long-term career in law".
About Legal Cheek Careers posts.