Robert Dudley, vice president of strategy and marketing at BARBRI, looks at how the SQE is providing new opportunities for aspiring lawyers, ahead of his appearance at Thursday's virtual event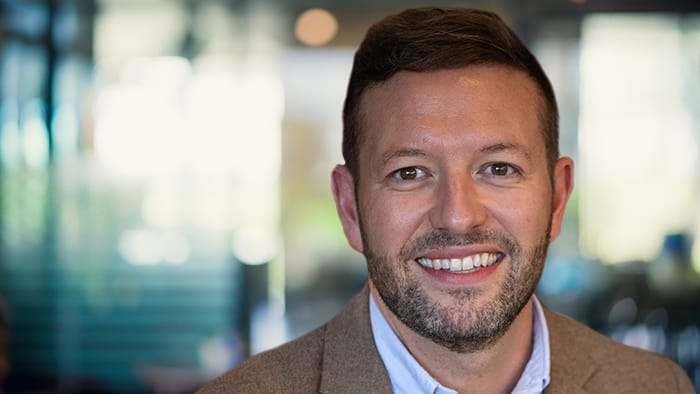 The first ever cohort of students to sit the Solicitors Qualifying Exam (SQE) are currently in that state of limbo familiar to all students as they await the results of their SQE2. It's not only the students who are in suspense, of course, BARBRI's vice president of strategy and marketing, Robert Dudley, is equally keen to hear how they all got on. The course provider was one of the first in the market to run preparation courses for the new exams and accounted for about one third of all those who sat the inaugural SQE1 in November, with excellent results published in January. The results of SQE2, which students sat in April, are not yet out.
"We were delighted, as a provider, to publish our SQE1 pass rate because we felt it was important to do so, and our students reported a 77% pass rate compared to the average rate of 53% recorded by the Solicitors Regulation Authority," Dudley explains. "While SQE1 tests the application of functioning legal knowledge, SQE2 presents different challenges, covering aspects such as legal research, drafting and advocacy, and we made sure the students were well prepared to sit this new style of exam."
Work experience
Future solicitors qualifying via the SQE route must also complete two years of qualifying work experience (QWE), which can be undertaken at up to four different workplaces at a time and in a way convenient to the student, for example, through full-time or part-time paralegal work. The onus of arranging this is on the student and, as it's all brand new, the process can be quite confusing. Dudley says students are given advice and help with choosing their work experience options and can also talk it over with the careers team and their mentors, all of whom are qualified solicitors or barristers.
"The aims of the SQE are to break down barriers, build a more inclusive profession and increase flexibility," he says "QWE lends itself nicely to flexibility because it moves away from this very entrenched system where students were traditionally working towards very similar goals of LPC, training contract and predominantly into private practice, Dudley says. "QWE provides new opportunities, new career paths and it gives flexibility to people who might otherwise not have been able to secure a training contract in the past."
Some of the students will be paralegals with years of experience under their belt. Others will be new to the job. Dudley points out that competency is addressed through the SQE1 and 2 exams. For students, therefore, "it's about being clever with QWE, looking for the most valuable opportunities, and we encourage them to look for experience beyond private practice into other areas of the legal profession."
In-house
One major (and growing) opportunity for SQE-qualifying students is the in-house market. According to the Law Society's annual statistics report, there were about 31,000 in-house solicitors in 2019, nearly three times the amount there were 20 years prior.
"That's a big number, and yet my concern is that a lot of students don't understand they now have the opportunity to gain work experience in-house with the removal of the training contract requirement. In-house legal careers and opportunities are growing and can be more flexible and agile," says Dudley. "In fact, they're not always aware of the opportunities outside of private practice. In-house teams are committed to retaining their talent so being able to offer paralegals an opportunity to qualify through the SQE route is fantastic for them. Hiring talent from law firms isn't always an option as it is often prohibitively expensive to do this."
Stints of three months or six months at in-house legal department would therefore be a clever addition to the QWE portfolio ahead of qualification. Dudley is also keen to point out that careers in legal operations, legal tech and legal project management are challenging and rewarding pathways to explore.
"Where the goal of the old system was private practice, there is now more choice and accessibility," he says. "We want to help our students understand their options and work with the wider legal profession to ensure opportunities open up for all. We want to be able to offer alternative pathways which is why we have formed partnerships with organisations such as Flex Legal and Lawyers on Demand. Improving diversity and inclusion is a core objective of BARBRI and of the SQE."
Too early to say
One controversy is whether QWE will result in a two-tier system. Will law firms who put trainees through a more traditional style two-year training contract route value them more than someone applying to them who has completed four experiences in different firms, corporates or 3rd sector for their QWE? "It is too early to answer that question," Dudley says, but he thinks ultimately that it is a consideration future practitioners should be conscious of.
Another area of discussion is the order in which stages are completed. The general expectation is that students do their QWE before sitting SQE2, because the exam tests your competences and you would expect to build on that through your work experience. However, there is no hard and fast rule so the industry is divided on this at present.
Dudley initially studied modern languages at university, followed by a GDL and LPC at the College of Law, and then to Oxford University's Saïd Business School. His career includes a stint as head of international programmes at IE Law School in Madrid and 14 years in various roles at the College of Law before joining BARBRI in 2015.
Robert Dudley will be chairing a virtual event, How to use QWE to qualify as a solicitor — with Reed Smith, Flex Legal, Elevate, Accutrainee and BARBRI, on Thursday 23 June. Secure your place now.
About Legal Cheek Careers posts.