Ahead of tomorrow's event, 'What comes next: practice area focus', CMS trainee Oliver Bristow explains why employment lawyers are more in-demand than ever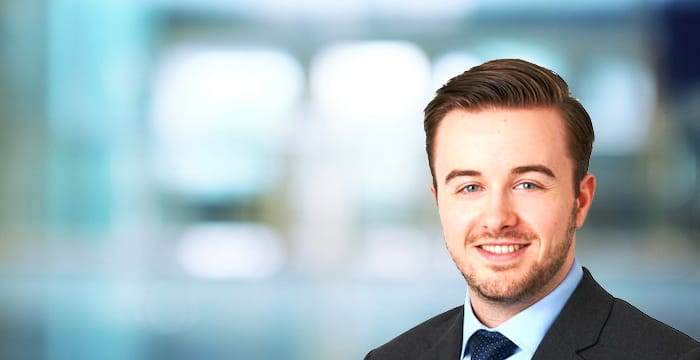 If a client asks you a legal question, don't respond with a purely legal answer. "They want you to answer their specific question, but they also want commercial advice, including on issues that perhaps they hadn't thought of," CMS trainee solicitor Oliver Bristow tells me.
It's a piece of lawyer logic that Bristow picked up early in his training contract. Within a month of joining CMS' Sheffield Employment team in late February, the rapid outbreak of COVID-19 saw lawyers inundated with ad hoc queries from employers around flexible working, the furlough scheme and later, mass redundancy.
For Bristow, then in his second seat, it was a "surreal" but "exciting" experience. "It quickly went from a normal employment seat to working remotely in my home office and alternating between there and my living room for the daily 4pm coronavirus briefing, which I would take notes on to understand what our work was going to be from there on out," he says.
Faced with novel and extremely technical questions that were unanswered by changing government guidance, employers turned to their legal advisors.
"What clients want is for lawyers to mentally step into the shoes of their business directors and give commercial advice based on what they would do if they were in the same situation," says Bristow, citing the firm's slogan 'Your World First'. "It's really about being a partner to their business rather than coming at it from a purely legal point of view."
Six months later, lawyers still face the challenge of applying employment laws from a pre-COVID era to a new world of remote-working.
One big legal question is how employers can monitor staff at home through surveillance software without being overly invasive. Another is to what extent employers are expected to provide a suitable working environment for remote employees — including the dual screen monitors, ergonomic chairs and desks, as well as the fast broadband, heating, cooling and lighting that you'd find in the office.
Savvy employers could recover these costs from reductions elsewhere, Bristow notes. Remote-working may see employers rethink corporate mobility — from international business trips to company cars — and their offices. Meanwhile, commercial landlords are likely to offer rent concessions to keep tenants from exercising their lease break clauses, adds Bristow, drawing upon knowledge gained from his first seat in Real Estate Transactions.
Remote-working has highlighted the importance of mental health, which employers must address, Bristow says. While remote-working has seen employees more productive and better connected than ever before, the physical distance between staff can increase isolation and blur work-life boundaries, including childcare responsibilities and shared home workspaces.
When reopening offices, employers must consider the day-to-day health and safety concerns for those unable to work effectively from home. One question Bristow raises is how workers can perform first aid given the risk of contracting coronavirus. It's a concern that the construction and maintenance industries have long contemplated, with sites remaining open during the lockdown providing they followed social distancing guidance.
"It's easy to talk about furlough and flexible working as the headline challenges, but there's a variety of additional considerations too," says Bristow, who studied law at the University of Leeds.
The closure of the furlough scheme later this month will present additional work for employment lawyers. Though the replacement Job Support Scheme will likely forestall some redundancies in November, it's far less generous than its predecessor — meaning not all jobs will be protected.
When dealing with mass redundancy, employment lawyers must take an "empathetic approach" as they help clients restructure the workplace, says Bristow. Not least because of the reputational risks with a heavy-handed approach. "Social media means disgruntled staff can publish any complaints immediately and tag that organisation," he says. "Complementing legal analysis with an emotional view, and predicting what the reaction to policies will be, is an important part of giving advice and steering clear of avoidable disputes."
Now in his third seat, in CMS' Environment, Health & Safety and Product Compliance team, Bristow advises clients on matters overlapping these three areas.
Government-led green investment packages, that will pump billions of pounds into environmental projects to fuel economic recovery, exemplify the increasing incentives clients have to 'build back green' by embracing sustainability. "We are seeing a shift towards sustainable, eco-friendly policies and practices from our clients, but this comes with its own risks," says Bristow. Putting such policies into practice is where lawyers step in. With consumers becoming increasingly sceptical of greenwashing, clients look to lawyers for advice on implementing and marketing any eco-friendly changes to their products or services, he says.
For Bristow, who worked as a paralegal at a high street law firm before joining CMS, the pandemic meant he didn't get the typical Employment seat he expected. What he got instead was a fast-paced five-month crash course on how to handle a crisis, watching as partners dealt with the unprecedented. And Bristow is now better for it.
"It's a great lesson for me going forward — I could be in a similar situation again in the future and I'll have a good idea of how to go about handling it."
Oliver Bristow will be speaking alongside other CMS lawyers at 'What comes next: practice area focus', a virtual student event taking place tomorrow, on Tuesday 6 October. You can apply to attend the event, which is free, now.
About Legal Cheek Careers posts.