From infrastructure projects to offshore windfarms, Womble Bond Dickinson managing associate Michelle Essen explains why there's more to the job than just bricks and building sites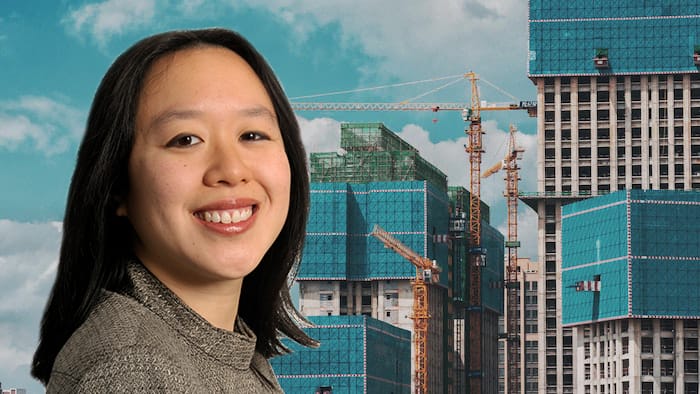 While many might think of a career as a construction lawyer as dealing with bricks and building sites, it is in practice much, much more. "Construction is very often at the heart of government strategy. Coming out of the pandemic, the focus is on building our way back to growth," explains Michelle Essen, managing associate and practice development lawyer in the construction and engineering team at Womble Bond Dickinson.
Essen's vast experience in the team has taught her first-hand just how important construction developments are. However, working in the industry was not originally a long-term aspiration of hers; having attained a training contract at Baker McKenzie, Essen did not, in fact, complete a construction seat. It was upon qualification that she made the move South-West and successfully applied to Bond Pearce's (as it was then) Plymouth office in the construction and engineering team. She has remained there, through the firm's multiple mergers, ever since. "I just had to learn quickly," Essen recalls. "I was always curious and willing to adapt, and it was a race to learn and excel."
Essen spent the following 13 years as a fee-earner in the team, from a newly qualified solicitor to managing associate. Essen highlights the fast-moving nature of this area as one of its main draws. "There is always a new skill to develop or fresh knowledge to build if you are willing to learn and try new things," Essen says. Indeed, throughout her career, Essen experienced a hugely broad range of work. "I started on projects that you would expect construction to involve, such as new commercial buildings, housing, and shopping centre refurbishments," Essen explains. Working in construction provided the opportunity for Essen to do both dispute and transactional work at this early stage, and she considers it very important for juniors to cover both aspects to develop the different skills involved.
Owing to the enhanced focus on renewable energy, Essen then worked on developments including onshore and offshore wind farms, tidal energy, and even helped establish the first solar park in the UK. She subsequently worked on numerous infrastructure projects, such as railways, roads and bridges. Essen reflects:
"So, during my time, I've worked on a whole range of matters. I've also worked for a variety of different clients, including local authorities and public bodies, landlords and tenants, as well as contractors and consultants, so it really is an interesting mix."
Essen made the move away from her fee-earning role to become a practice development lawyer in the team in 2017. On a day-to-day basis, Essen now looks more broadly at how the firm can provide better value for its construction and engineering clients, how the team can turn things around at a faster rate, and what is on the horizon in terms of the changes and trends within the sector. "This is something you're always doing on the side as a lawyer, and so the role came very naturally," Essen tells me. She continues: "It is a really important role because clients do not just expect amazing legal advice these days, but they want someone that they can trust and build good relationships with, and who can also give prompt commercial advice in line with their business concerns."
Essen recognises the intensified focus on environmental, social and governance (ESG) factors as a key trend affecting players in this space, as with all businesses. "Construction has a huge part to play towards the net-zero push," she says. For Essen, there is an exciting opportunity in the industry to explore innovative and different means of constructing in a more environmentally friendly way.
Essen's practice development role was the first of its kind in her team, and she emphasises the trust that Womble Bond Dickinson places in its people to utilise new opportunities and explore their ideas. In a similar vein, last September, Essen co-founded the firm's disability network, an area of diversity and inclusion that she feels very passionate about. "We work wherever we can with our Pride, REACH (BAME) and other networks, and on other firmwide initiatives such as social mobility, to share experiences and learnings, and support one another," she says. "It's great to have those conversations right across the firm, as it brings us all together."
For those embarking on a legal career who have a particular area where they would like to gain experience, whether in construction and engineering or otherwise, Essen recommends reading up about that area as much as possible to build your knowledge and insight. More broadly, Essen encourages those seeking to enter the profession to consider their personal brand:
"Think about what your elevator pitch is, what makes you interesting, different from others and why a firm would want you in particular."
Michelle Essen will be speaking at 'Sector focus: the practice areas driving growth in 2022 — with Womble Bond Dickinson', a virtual student event taking place on Tuesday 22 February. You can apply to attend the event, which is free, now.
About Legal Cheek Careers posts.