Ropes & Gray counsel Alexandru Mocanu discusses his experiences at the firm as an LGBTQ+ lawyer and shares his advice for aspiring solicitors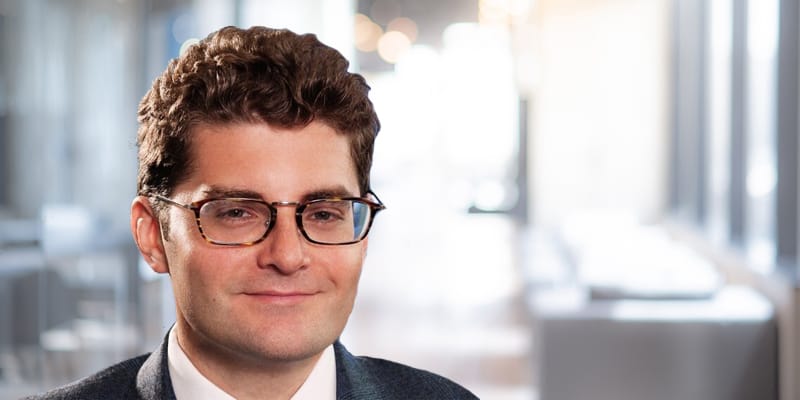 Having started his career in 2008, Alexandru Mocanu notes that there were not too many openly LGBTQ+ lawyers at the time as the culture was more conformist. But fast-forward nine years and what's occurred is a dramatic culture shift. "It's no longer odd to talk about my own situation at client events or dinners, when the conversation comes on to family and kids. With more clients and lawyers being open about their sexuality, there's certainly more awareness on the matter," explains Alexandru.
The Ropes & Gray counsel also credits the firm for being forward-thinking and mindful of LGBTQ+ issues, an attribute Alexandru illustrates by pointing to the firm's pro bono work on the US Supreme Court cases dealing with marriage equality. "I also recently got the chance to meet the partner who brought and argued those cases", he tells me. He also flags the firm's global pro bono work focusing on LGBTQ+ rights equality as a further facet of its support for LGBTQ+ issues and awareness.
The New York-qualified lawyer finds the firm's culture friendly and supportive, noting the wide range of diversity and inclusion initiatives hosted by Ropes & Gray. Alexandru points out that although the London office has a smaller LGBTQ+ community on account of its smaller size compared to some of the firm's US locations, its initiatives are marked by a high participation rate.
"These really do have a massive impact on the work environment, as they create greater awareness around matters of sexuality. I have never felt as if I am treated differently than anyone else at the office since I joined Ropes & Gray in 2015," he explains. "What these initiatives contribute towards is a strong and genuine acceptance for all varieties of gender and sexual orientations, as well as personal and family arrangements. The support that the firm offers in this regard is one of the major reasons why I have been here for more than eight years", Alexandru says.
When speaking about LGBTQ+ role models within the legal industry, he mentions that he didn't have any such figures to look to when he was starting out, as the culture was starkly different. But due to greater openness now, he is optimistic that more role models will be brought to the spotlight.
"I really do encourage LGBTQ+ individuals who are considering a career in corporate law to join the profession. The legal profession is one of the friendlier LGBTQ+ professions. I would definitely recommend anyone to join it and my advice is to be open about your gender and sexual orientation. People are very accepting of alternative lifestyles and personal arrangements," he reassures.
We also touched upon Alexandru's life as a corporate lawyer at Ropes & Gray. "Generally speaking, you have to think of yourself as an advisor to corporate clients. You're not always necessarily working with black-letter law — sometimes, it really is just common sense. What's key is developing a trusting relationship with your clients, so that they know that you have their best interests at heart all the time".
Alexandru explains that his work as a corporate lawyer stems from this mindset. He points out responsiveness, accuracy and timeliness of advice to clients as key skills. Although based in the London office, Alexandru says his clients are hugely varied and global, so juggling time zones is also essential in his role. "As counsel, my day-to-day generally involves conference calls with clients where we discuss issues in ongoing matters. As a junior, however, there's likely to be more by way of due diligence and document review. You start to focus more on the analytical tasks as you progress and get more senior," he explains.
Working in Ropes & Gray's finance team, Alexandru's primary focus is on private equity. "A major reason why I ended up in finance is because I started my career at a difficult time for capital markets. I joined my first law firm in September 2008", he says, alluding to the global financial crisis that gripped the world that year. Mocanu notes that when starting out, there is a steep learning curve — "it takes a few years to get comfortable with the jargon and the types of agreements in this area, but it's hugely interesting, and certainly shouldn't put you off a career in private equity," he reassures.
Alexandru spent a few years of his early career in the US, and he commented on some of the differences he finds with the UK. "The UK-based transactions are more interesting and way more complicated. We deal with clients from all over the world here, so there are a lot more moving parts to consider. For instance, we need to think about differences in legal culture and time zones. The US-based transactions, on the other hand, are more domestic, with very few international components. This made it easier to identify the issues," he explains.
There's also a difference in the way workload is structured, notes Alexandru. "The timelines for transactions in the UK are more compressed so instead of consistent heavy workload, there are slow days and there are really crazy days. It's more peaks and troughs, than a consistent line, if sketched," he says.
Moving towards the end of our chat, I asked Alexandru for his advice on how to stand out in applications. "The work we do in commercial law is practical, so we look for people who exercise good judgement and practicality. Pragmatism is important. You'll be working with big companies, and their expectations are to get a solution that sets a precedent for future transactions, and they value that predictability. So, they look for us to prioritise that element and provide advice that is practically feasible. At the end of the day, these businesses like to be pragmatic, so would like their lawyers, to be pragmatic with their advice as well," explains Alexandru.
Alexandru Mocanu will be speaking at 'LGBTQ+ lawyers share their stories – with Ropes & Gray', an in-person event taking place at the firm's London office on Wednesday 1 November. Apply now to attend.
Follow @ropesgraygrads on Instagram 
About Legal Cheek Careers posts.