Former barrister turned ULaw Deputy Vice-Chancellor, Professor Peter Crisp, shares with students how to build commercial awareness and the skills they need to succeed, ahead of next week's Legal Cheek-ULaw Spring Virtual Vacation Scheme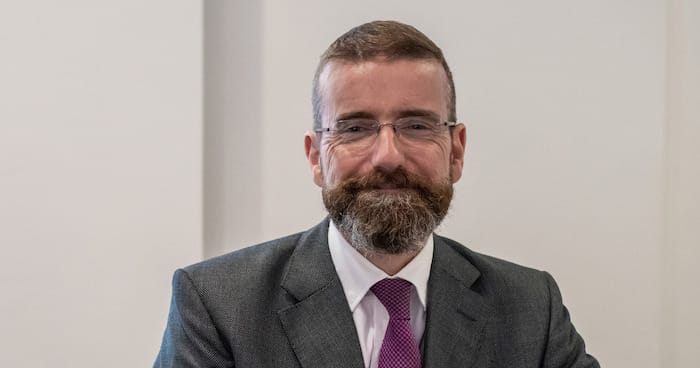 It was while studying philosophy at King's College London that Peter Crisp, now Deputy Vice-Chancellor at The University of Law (ULaw), found himself drawn to the legal profession. Crisp notes the parallels between philosophy and law, telling me it was the intellectual rigour and the understanding of the validity of an argument that appealed to him. The independent nature and the variety of work presented by the bar, led Crisp to become a barrister specialising in land law.
After three years in practice Crisp made the move to the legal education sector, co-founding BPP University Law School and working as Dean and CEO at BPP. He then joined ULaw in 2018. Crisp's years of experience in the sector make him perfectly placed to reflect on the changes seen in the legal profession over the past quarter-century and share how aspiring solicitors can stand out in today's legal market.
Undoubtedly the legal market has changed throughout Crisp's career. In particular Crisp notes the effect of the pandemic and the increasing emphasis firms place on adaptability. "Students need to demonstrate how they have taken the disruption and change from the pandemic in their stride and how they have developed as a result of it," he highlights.
Not only do aspiring solicitors need to be able to demonstrate their adaptability, but Crisp notes that 'commercial awareness' is crucial for securing that all-important training contract. Crisp breaks down the buzz words further, explaining what exactly students need to demonstrate: "Employers want people who understand what a transaction means both for the law firm and for the client", he says, adding that clients are very often not interested in the law itself, but the legal implications for their business. "Commercial awareness is such an important topic at interview — make sure you can demonstrate you are business savvy!".
To boost your commercial awareness Crisp advises reading the business section of newspapers such as the Financial Times and getting involved in business-focused opportunities offered by your university. ULaw, for example, runs a twice-yearly Commercial Awareness Competition for students. Crisp encourages taking advantage of these types of opportunities which show employers that you have actively engaged with the concept of commercial awareness.
Crisp goes on to encourage students to take advantage of schemes such as next week's Legal Cheek-ULaw Spring Virtual Vacation Scheme, to help build commercial awareness. However, the key to getting the most out of these types of schemes is to be an active participant, says Crisp. "Don't be a passenger — ask questions, engage with other attendees and network effectively."
Being business savvy is only one element when thinking about how to stand out. Crisp goes on to highlight the importance in today's legal market of shared values and a shared ethos — namely ESG (environmental, social and governance). "ESG has always been valued, but in today's market this carries an even greater weight," he shares.
So what does ESG encompass? Crisp explains that the term brings together many factors such as an understanding of the importance of sustainability and how firms can act sustainably, as well as good citizenship which students can demonstrate by getting involved in pro bono, legal charity work and volunteering opportunities.
Having a support network is a vital component for success when on the hunt for a training contract, a process that requires determination and resilience. Crisp advises making full use of your university's employability service and maximising the resources available to you. "Be strategic", Crisp emphasises, "think about where you want to get to and then go to your employability team to find out how they can support you in your strategy". Employability teams can support you in all facets of the application process, Crisp highlights, from written to interview skills, to how you interact with your peers and work in a team.
Crisp reflects that while today's legal market may differ from when he became a barrister, "now has never been a better time to enter the legal profession". The buoyant market coupled with the eye-watering salaries offered by City law firms has resulted in firms fighting over the available talent, he comments.
So for those seeking a training contract, first and foremost: "Make sure the role is right for you. It takes planning, tenacity, focus and hard work but importantly it also takes authenticity — be who you are and develop your skills to be the best version of yourself."
Peter Crisp will be speaking at The Legal Cheek Spring 2022 Virtual Vacation Scheme, run in partnership with The University of Law, which takes place next week from Monday 4 April until Wednesday 6 April. You can apply to attend the scheme, which is free, now.
About Legal Cheek Careers posts.