DWF technology, media and telecoms partner Ben McLeod shares his thoughts ahead of tomorrow's 'Secrets to Success — Birmingham' event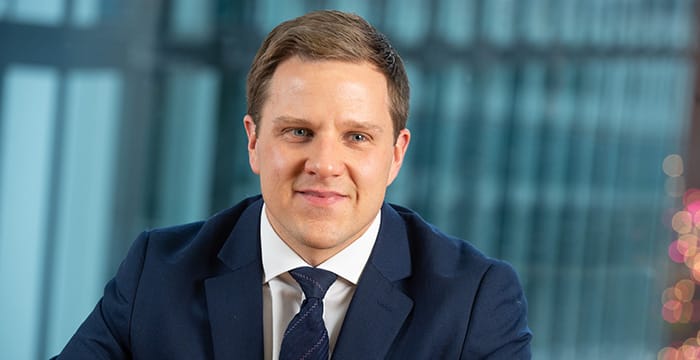 "It's a cliché, I know, but no day is like another," says DWF technology, media and telecoms partner Ben McLeod.
In the past three days, as well as advising clients and liaising with colleagues on ongoing work in the Birmingham office, he's held several interviews, travelled to Manchester for meetings then to London for a legal tech workshop with an incubator for start-ups. He's also attended a networking event, dealt with PR for the firm's appointment to the Severn Trent Water panel and joined the firm's lunchtime running club for a 5k to the Birmingham and Fazeley Canal and back. Generally, he tends to spend about three days a week in the Birmingham office, working the rest of the week remotely from another DWF office, or home.
McLeod specialises in the drafting and negotiation of commercial contracts in the technology sector, particularly contracts for IT outsourcing arrangements. Since joining DWF as a partner in October 2018, he has focused on developing relationships with clients, selling the firm's services and growing the firm's technology practice in the UK.
So, how techy do you have to be to work in tech law? McLeod says:
"I'd like to think I'm an expert on the legal side of most technology deals. More generally, I know enough about how the underlying infrastructure works and what the technology does, for example, who has access to what data, in order to inform the legal points. However, both a legal and a tech answer are required for every question, and data protection and cybersecurity are usually at the heart of any deal in this sector. One of the benefits of DWF's business is that we have both legal and technical experts, which means that all of a client's requirements on a particular deal can be dealt with. A traditional law firm approach would be to concentrate on the legal aspects only to the potential detriment of the overall transaction."
McLeod's journey from qualification in 2008 to partnership at a global legal business took a fairly speedy ten years. Ever modest, however, he says his career has benefited from "a lot of serendipity and luck". He studied law at Sheffield University, completed the Legal Practice Course (LPC) at the College of Law, Birmingham (now The University of Law), and did his training at Shakespeare (now Shakespeare Martineau) spending more than four years there overall, followed by seven years at Eversheds Sutherland before moving to DWF.
"I didn't have a laser focus on commercial law from an early age," he says. "Sometimes people think if they don't have it all planned out, then they're behind the curve. My career was not mapped out from the start, but I made the best of the opportunities that came my way, worked hard and formed good relationships with people." While on the LPC, for example, he volunteered for a pro bono Birmingham rights advice helpline alongside a senior associate at Shakespeare who not only told him about an imminent deadline for training contract applications at the firm but later became something of a mentor to him.
He wanted to move to London a year after qualifying and as a stepping stone decided to take "an unusual role" at Eversheds, where he formed part of a secondment pool to help in-house clients where the need arose. This was a pilot programme at Eversheds at the time, and has since been discontinued. "One of the clients I went to was Severn Trent Water," he says. "This is a good demonstration of the value of building up good relationships at junior level and maintaining them — I formed strong bonds with a number of people I met there, and continued to work with them following my secondment." DWF recently successfully tendered for appointment to Severn Trent's panel.
After a year and a half in the secondment pool, where he could be dispatched to Manchester or Riyadh, Saudi Arabia, for months at a time, he decided he'd like a more stable role and was offered a place in the firm's Birmingham commercial practice.
"I moved towards a technology focus when I was applying for senior associate," he says. "My interest began when I did a training course as part of being selected to be a member of an international cloud computing supplier's extended legal team. This helped me understand the legal and commercial rationale involved in what was a relatively novel business model at the time. This was incredibly helpful and has informed a lot of my work since." He continues:
"I was on the partnership track with Eversheds when I was approached by DWF. It was a hard career decision to make but I knew pretty quickly that I wanted the job. I am running my own team, tasked with establishing Birmingham as a centre of excellence for tech at DWF as the business looks to grow. DWF does things differently. For example, the business is forward thinking in its approach to diversity and has embraced agile working. DWF has 76 apprentices, including solicitor apprentices as well as for roles in IT and finance, and I think that's a great option for those who don't want to take the traditional university route. If we really want more diversity in law then the more routes into qualification as a solicitor the better."
For students looking to enter the profession, McLeod advises: "Be yourself, be authentic, and don't think you have to be a certain type of personality to succeed if that's not really who you are. The world, in terms of how business is won and retained, is changing. The way our clients work is changing."
Finally, for anyone not familiar with Birmingham, McLeod says the city has an emerging tech scene and thriving tech start-up landscape, while the legal sector is "competitive".
Ben McLeod will be speaking alongside lawyers from Gowling WLG, Hogan Lovells, Pinsent Masons and ULaw at tomorrow's 'Secrets to Success' event in Birmingham. You can apply for one of the final few (and free) places here.