Partners from Arthur Cox, Matheson and Pinsent Masons join an expert in legal education from BARBRI to discuss Ireland's position as a global hub in the post-Brexit economy and the opportunities arising for lawyers and students alike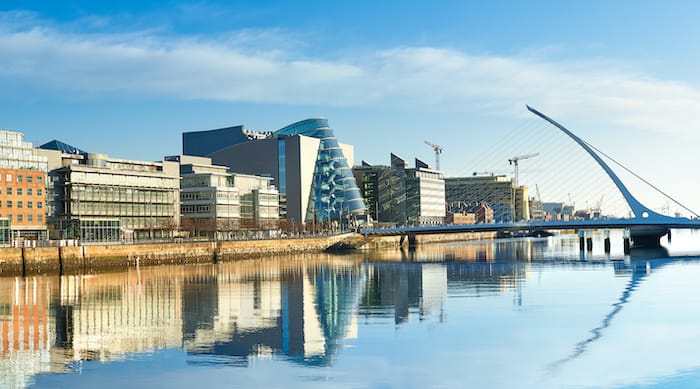 At Legal Cheek's latest virtual event, 'How to build an international legal career in Ireland', lawyers from firms with a significant presence in Ireland, Arthur Cox, Matheson and Pinsent Masons, joined an expert in legal education from BARBRI, to discuss the opportunities arising for lawyers and students in the country's booming legal market.
---
The speakers
• Deirdre Sheehan, partner in the real estate department and member of the Trainee Steering Group at Arthur Cox
• Odessa Alm, manager of international student support at BARBRI
• Mark O'Sullivan, partner in the tax department at Matheson
• Michael Finn, partner specialising in the life sciences and TMT sector at Pinsent Masons
---
Dublin as a global player in the post-Brexit economy
With many international law firms setting up shop in Ireland following the 2016 Brexit referendum, Dublin's legal market has taken off in the past five years. International firms such as DLA Piper, Pinsent Masons, and Dechert were quick to expand their operations, with Dentons opening its Dublin office at the start of last year. Michael Finn, a partner specialising in life sciences and TMT at Pinsent Masons, explained how, having originally started out as a three-person team in 2017, Pinsent Masons' office in Dublin is now 55 people strong, with other law firms seeing a "similar trajectory". "Law firms are expanding into Ireland more and more as their clients move here," Finn explained to the virtual audience of over 150 students.

For real estate partner Deirdre Sheehan this has resulted in a "noticeable uptick in interest for office space". Within her practice area Sheehan is also seeing more investment from Asia, with Ireland offering a "steadier ship" for foreign investors than London in the present climate. Having qualified in the property practice amid the financial crash, Sheehan said she witnessed a major FDI (foreign direct investment) boom at the time as international investors began to displace the national players. She explained, "everything was changing hands really quickly — over the course of a few years I'd worked on every shopping area in the greater Dublin area."
Brexit uncertainty is also having positive knock-on effects for talent retention in Ireland. Indeed, all panellists noted that their trainee retention rates are up, with more newly qualified (NQ) solicitors continuing their careers in Ireland instead of relocating to the UK. Mark O'Sullivan, partner in the tax department at Matheson explained, "we have a lot of trainees from Asia which would typically train with us and then move to London, but less of this is happening now." Looking to the future, Finn offered this projection — "Brexit will be both a driver of growth and opportunity, making the level of choice for students more fruitful than ever in the Irish market".
Opportunities for an international legal career in Ireland
Brexit aside, Ireland has long been an FDI hub given its low corporation tax rates. Many US and global companies are therefore incorporated across Ireland and Europe, in order to benefit from these favourable tax structures. For O'Sullivan, a partner in Matheson's tax department, this has led him down a wholly international career path. Qualifying as a tax consultant and beginning work in the tax group in 2001, O'Sullivan spent six years working in Dublin before moving to the firm's Silicon Valley office where he worked for three years. Spending two years back in Dublin, he then returned to Palo Alto, Silicon Valley, and has spent the last eight years working there.
Odessa Alm, manager of international student support at @barbri, discusses the benefits and challenges of technology in legal education #LCCareers pic.twitter.com/zNEteOMhuu

— Legal Cheek (@legalcheek) May 4, 2021
As a major FDI economy, many of the global tech players are also increasing their presence in Ireland. O'Sullivan remarked, "Dublin is becoming the new Silicon Valley, with the office having a very similar design and feel to those in Palo Alto." As a result, the Irish courts have become central in litigating key aspects of European law impacting the big tech companies. Big tech's presence in Dublin is also producing new in-house opportunities, with many of the large law firms offering secondment opportunities with these companies. Data protection work is also rife. O'Sullivan advised, "if you have an interest in data protection law, then double down on that because the opportunities in Ireland here are unlimited."
Tech has also become essential to delivering legal education in the past year. Odessa Alm, manager of international student support at BARBRI, told the audience how "legal education has been forced out of its comfort zone", with providers made to rethink how they can relate to students over a screen. BARBRI, which has operated via blended online models for some time now, was therefore one step ahead of the game, with other providers having to play "catch up". "This last year has been a case of convincing the traditionalists that online legal education works," she said.
We are live at 'How to build an international legal career in Ireland' – with @barbri, @ArthurCoxLaw, Matheson, and @PMgrads ! Here are some of the key themes on the agenda for the panel discussion:#VirtualLegalCheek pic.twitter.com/yYe2KfKgrX

— Legal Cheek (@legalcheek) February 23, 2021
Given Ireland's position as global legal hub, especially for US-based companies, dual qualification is also more valuable than ever. Alm continued, "having a range of options is all the more important during uncertain times, and we've seen this across our enrolments." Having herself been a licensed US attorney for the past 17 years, Alm is also seeking to diversify her own skillset here, currently undertaking the Qualified Lawyers Transfer Scheme (QLTS) assessments to qualify as a solicitor in England and Wales. Discussing her route to dual qualification in the UK, she explained, "I wanted to be a resource to both myself and my company, so I set my sights on qualifying in the UK too."
About Legal Cheek Careers posts.