BARBRI's Odessa Alm discusses one way candidates can gain a competitive edge in Ireland's booming legal market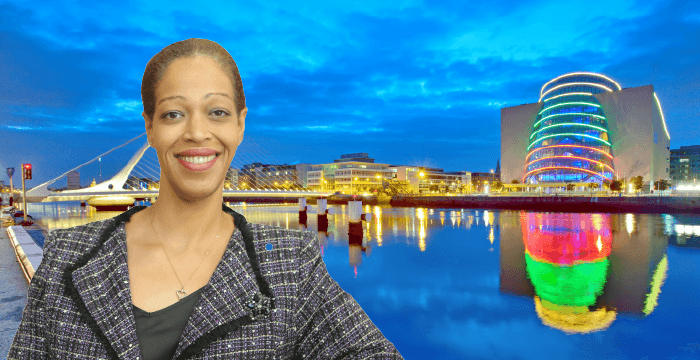 In his late fifties, after a long career as an established physician, Odessa Alm's father decided to retrain. He wanted to become a lawyer.
"Who would have thought?" says Alm, BARBRI's manager of international student support. Together they enrolled in the Florida Coastal School of Law and while she often avoided sharing the same classes — "it was really weird" — the duo studied for the US bar exam side-by-side. He was over 60 when he qualified.
To Alm, her father, who had recognised a demand for lawyers with vast medical expertise, is proof that no matter how old we are, we still have our whole careers ahead of us. "I think it's nice to think that we'll be at one company our entire careers, but the world we live in is so different now. People have multiple careers," she tells me when we speak.

With that in mind, Alm continues, one way that legal professionals can "open the doors to new opportunities" and realise their full potential is through dual qualification. Here, she speaks from personal experience: after taking BARBRI's exam prep courses, Alm is halfway through the Qualified Lawyers Transfer Scheme (QLTS), which allows international lawyers to practise as solicitors in England and Wales.
Though Alm has spent the past 17 years in US legal education preparing aspiring attorneys for the bar, she, like her father, wanted to broaden her horizons. "I'm not limiting myself — and that's why I encourage others to do it, especially early-on in your careers," she says. This is the message Alm hopes to convey at next week's virtual event, as she explains how dual qualification can lead to an international career in Ireland, where the legal market has grown rapidly in recent years.
Since the 2016 Brexit referendum, UK and international law firms have expanded their physical presence in Ireland, partly to ensure they're able to continue practising in the EU. With Ireland left as the EU's only English-speaking common law jurisdiction, Dublin has become an attractive destination for those looking to move business out of London, the usual hub of choice. As a result, Ireland's legal market, traditionally dominated by a handful of domestic firms, is booming as newcomers compete for the uptick in post-Brexit work and the country's top legal talent.
A US qualification could offer Irish candidates a competitive edge in Ireland's increasingly international legal sector. By demonstrating knowledge and understanding of different jurisdictions, you can make yourself "more marketable", especially to global law firms conducting cross-border deals, Alm explains. This, she says, is the number one reason her students enrol at BARBRI, which offers a range of online prep courses for US qualification, including the New York State and California bar exams. Last month, the education provider also launched its prep course for part one of the Solicitors Qualifying Exam (SQE), the new route to qualifying as a solicitor in England and Wales which will be introduced this autumn.
Beyond Ireland, the global legal market itself is in a state of flux. Travel restrictions and social distancing measures brought about by COVID have forced traditional law firms around the world to fully embrace video-conferencing technology. The result: a sector-wide realisation that lawyers can still serve clients and collaborate with colleagues, regardless of where they actually work. "Remote working opens up the world — we understood that before COVID but now we're actually living it," says Alm.
With the great WFH experiment an overall success, remote working, or at least a blended approach once the vaccine is fully rolled-out, could be here to stay. And so, being dual qualified, Alm stresses, will allow lawyers to capitalise on their new-found flexibility.
For those contemplating dual qualification, Alm finds the question is rarely, 'should I?', but rather 'can I?' A common concern is whether people already working long hours could make time for studying. "Time is not an obstacle with the right support," says Alm, noting that BARBRI's courses offer 1-1 mentoring with a qualified lawyer.
But as a mother to three children, Alm knows first-hand the challenge of fitting studying into your routine, having undergone a six-month QLTS exam prep course while working full-time at BARBRI. "I studied after work, Monday through to Thursday. I didn't want to take time out on the weekends — I wanted to spend time with my family instead," she says, continuing:
"But I'll tell you, it took me a while to figure it out myself — which is interesting as a legal educator, who helps someone else do this, to take my own advice. I didn't have a great start — I wish I had a better start because I would've got going quicker. Instead, I ended up getting a little bit behind."
This is the benefit of having the option to sit BARBRI's six-month or ten-month programme. "You have time to find your rhythm," she says.
Odessa Alm will be speaking at 'How to build an international legal career in Ireland — with Arthur Cox, Matheson, Pinsent Masons and BARBRI', a virtual student event taking place next week, on Tuesday 23 February. You can apply to attend the event, which is free, now.
About Legal Cheek Careers posts.