Solicitors from Arthur Cox, Matheson and Pinsent Masons join international bar qualification provider BARBRI to discuss the key commercial topics shaping the legal profession in Ireland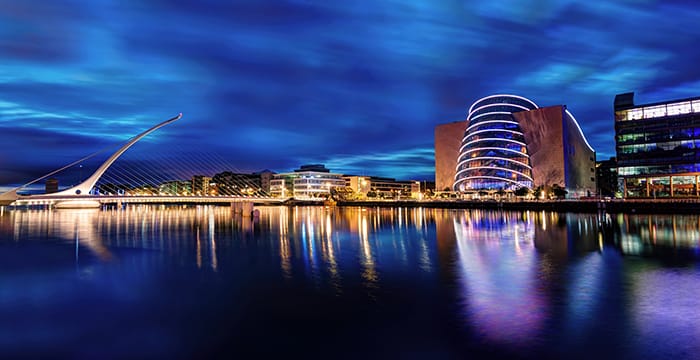 Last month saw a panel of lawyers from Arthur Cox, Matheson and Pinsent Masons, as well as BARBRI's director of UK programmes, gather at The Law Society of Ireland, Dublin, to share insights on hot commercial awareness topics impacting the Irish legal market. Here are four key takeaways.
What Brexit means for Ireland's growing legal market
Dublin's legal market is quickly expanding. The recent arrival of Dentons, the world's largest law firm by lawyer headcount, follows that of various UK and international firms seeking to gain foothold since the 2016 Brexit referendum — including DLA Piper, Pinsent Masons, Simmons & Simmons, Fieldfisher, Dechert and Covington & Burling.
But are there enough opportunities for aspiring Irish lawyers? Last year alone saw 1,893 solicitors from England and Wales join the Irish roll, with many seeking to preserve their right to represent clients in EU courts amid Brexit uncertainty. "It became the thing to do — that number are not and will not be practising in Ireland," observed Sally Anne Stone, commercial real estate partner at Matheson.
Yet, these reports can be "misleading", cautioned Maura McLaughlin corporate M&A partner at Arthur Cox, who featured alongside Stone on the panel. "Reports are slightly irresponsible in suggesting that there's a ferry load of newly Irish-qualified lawyers arriving at Dublin every day," she said.
Many of these newly added lawyers won't even enter the market, the panel agreed. Freshfields, for example, is the sixth largest law firm in Ireland by number of practising certificates, despite not actually having any offices there.
Besides, Brexit continues to offer plenty of work for Ireland's lawyers. Businesses reliant on imports and exports from the UK, such as those in construction or food and agriculture, could have to rethink their supply chains if border checks are introduced between Ireland and Northern Ireland once the Brexit transition period ends in December. "We've been working hand-in-glove in helping our clients develop their contingency plans," Stone said.

Another "silver lining to Brexit" is that Dublin's financial services sector has seen an influx in investment managers, banks and insurance companies all seeking to establish or increase their presence in Ireland in order to retain their EU passporting rights post-Brexit, said Niamh Murray, asset management and investment funds senior associate at Pinsent Masons.
Overall Dublin's burgeoning legal and financial services hubs, as well as its established global tech sector, presents plenty of opportunities for budding legal talent. "The market here is so diverse and there's so many opportunities here for people. The generation coming through is very talented and there's lots of opportunities for them," McLaughlin concluded.
Competition from the Big Four
Just as Dublin's legal market is adapting to the influx of non-Irish firms, it's also facing increasing competition from alternative legal service providers.
Although the Big Four accountancy firms — PwC, KPMG, Deloitte, and EY — have strengthened their presence in Ireland, Stone was unfazed by this development. "The Big Four target a particular part of the market — they don't provide the full range of services that firms, like Matheson, can provide," she explained.
That said, McLaughlin warned of the dangers of being "complacent". Through their deep industry experience, global network and integrated business, the Big Four may be able to provide some kinds of legal service at a cheaper rate than traditional law firms.
"If your firm strategy is to do that type of work, then alternative legal service providers will be effective competitors, as will the international firms opening up in Dublin," said McLaughlin.
More broadly, increasing competition is forcing Dublin's traditional law firms to widen their focus on business development, while still delivering high quality legal advice, so "that as an Irish law firm you can go toe-to-toe with any top independent law firm in any jurisdiction in Europe or the world," McLaughlin added.
The SQE and QLTS
Although Ireland currently has no plans to introduce the Solicitors Qualifying Exam (SQE), which is set to overhaul the route to qualification in England and Wales, how the super-exam will impact Irish lawyers seeking dual qualification is unclear, said Victoria Cromwell, director of BARBRI's UK programmes and former magic circle lawyer.
Set to come into force in September 2021, the SQE will remove the Qualified Lawyers Transferred Scheme (QLTS) exam as a route for foreign qualified lawyers to become a solicitor in England and Wales. While lawyers from Northern Ireland and the Republic of Ireland do not currently have to undergo the QLTS, it's uncertain whether this will change under the SQE.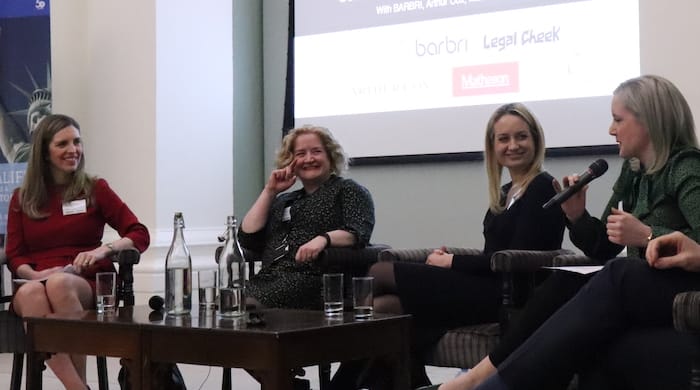 "With the SQE still in its planning stages, there is very little clarity over the position as regards foreign qualified lawyers once the QLTS is no longer available. My working assumption is that nothing will change and that the same rules will apply in some form post-SQE," Cromwell explained.
Aspiring Irish lawyers looking to set themselves apart from the fierce competition should also consider qualifying further afield, Cromwell advised. BARBRI, for example, continues to roll out new online education programmes that prepare students to undertake US bar exams — including the New York and California bar. "If you want to work internationally or to work for a US law firm, qualifying into the US is never a bad thing," she said.
How lawtech will shape the modern law firm
Looking to the future, the panellists all agreed on the important role that technology will play in the modern law firm. Matheson, for example, has recently launched a digital services group that will use machine learning, among other technology, to efficiently complete large volume legal work.
Increasing automation will be welcomed particularly by junior lawyers tasked with time-heavy document review or due diligence, the panel agreed. That said, Murray recognised the risk of freeing trainee lawyers up from work they have traditionally cut their teeth on. "I think it's important for law firms to take care, particularly where documents are being automated or technology is used to cut out the drudgery, to ensure that trainee lawyers are getting the grounding that they need," said Murray.
Law firms using technology should ensure that trainees are instead given more time with clients, allowing them to "move up the value chain", McLaughlin added. "Understanding what clients want and being as close as possible to the delivery of advice is actually a much better skillset to have and makes you much less replaceable by AI or by automated document production."